Also, the restaurant organizes the order of the self-service strategically – normally expensive buffets offer you first the carbs and the proteins, you serve yourself and then it comes the salad at the end – here, it is a bit upside down, you start with all the greens whether they are flavored or cooked. Proteins are placed in the very end of the line which makes guests eat a little bit healthier, both for themselves and for the nature by tuning them to have more greens than protein-based dishes. If you start with an empty plate with chicken, you will probably add a couple of breasts. However, if your plate is full of green most probably you will add half one," explains Jens. That in fact, is sustainability and it helps to protect the planet a bit better.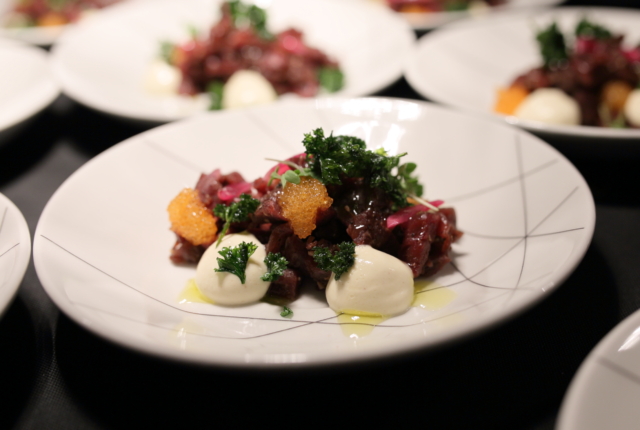 We wanted to know how it works when it becomes to more delicate food which needs to be really fresh, like fish for instance, "We don't call and ask for 60 kg of salmon, we ask for 60 kg of fish. Our supplier serves his other costumers, and at the end he sees what he got left. Since we haven't promised to our guests any menu, it doesn't matter if we get 25 kg of mackerel, 20 kg of salmon, 18 kg of cod, because we can turn them into different courses, different dishes, and we can serve any of it into the guests. I have a friend in Gothenburg who claimed to have a problem, he had a field plenty of purple carrots. And I said, what's the problem? A purple carrot is beautiful, more expensive, it is more trendy… He said, well the problem is nobody wants to buy it, supermarkets and so on. 90% of the people wants to buy the orange carrot. So he was on the verge to through it away and I said, no, we can buy the whole lot from you. That was like four pallets. We were serving purple carrots for weeks, it was toasted, roasted, flavored with dill, flavored with lemon, we made soup… in the end, we managed to save those carrots because his option was turn them back into the dirt."
Another aspect which was interesting to know about was the option of serving some more fancy food without increasing or dramatically changing the price of the menu, we wanted to know whether that was an option or not. Jens explained, "I have another example here, scallops. The most expensive ones are the ones picked up by scuba divers, they are picked up by hand and are extremely expensive. Basically there are just four restaurants serving scallops like that in Sweden. We managed to serve them here one day. Our supplier had 60 of them left on a Monday and realized next time someone will buy these from him it will be Friday and by then they will be due, in bad condition. So he called us and made an offer and they were served in the lunch that day. Including the weight of the shell it turned out like 30 SEK each, that's like $3 for a scallop hand-picked by scuba divers – pretty low price for Sweden, it's like nothing, really cheap."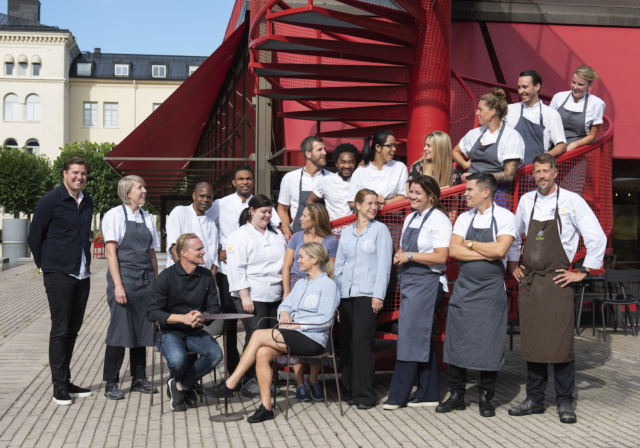 Regarding the process of scouting all these good suppliers, Jens could explain us a bit too, "at the beginning we were calling all the suppliers, asking and asking. Now we do nothing but just sit and wait for them to call. Because they have learned that we are here, so when they have some "situation" with the food, they give us a call, and we buy it.
The average price for a lunch at K-Märkt Garnisonen is about 100 to 150 SEK, depending how hungry you are. That's is a very good price for how prices are in Sweden, but also for eating some award-winning dishes. Your pocket will be happy, your palate more than satisfied, and you will contribute to protect the Earth more. In addition, the delicious desserts and the gorgeous backyard with a fountain included will help to enjoy the experience.
K-Märkt Garnisonen
Address: 100 Karlavägen, 115 26 Stockholm
Open: 9:00 – 16:00 (Closed on Saturday and Sunday)
Tel: +46 (0)8 466 8890
info@kmarkt.se
http://www.kmarkt.se
Text: Victor Moreno
Photos: Courtesy of K-Märkt


1
2
[Help wanted]
Inviting volunteer staff / pro bono for contribution and translation. Please
e-mail
to us.