K-Märkt Garnisonen offers a unique offer of lunch in Sweden. Arguably it is the best value for money restaurant in the country. This is due to their policy on fighting against food waste. The concept comes down to what you see is what you can eat, there is no menu. You pay your lunch by weigh, if you eat more you pay more, if you eat less, you pay less. This is pretty uncommon in Sweden, at least for a lunch restaurant. The idea is each commensal gets the quantity which feels right in order to not leave food to be thrown away. The restaurant is not open to the public by night but private events are held then, if they have an event the capacity is up to eight hundred guests.
We had a chance to speak with Jens Dolk a former waiter and sommelier who currently operates K-Märkt Garnisonen together with pastry chef Daniel Roos – who has done the Nobel Prize dinner's desert for the last four years – and Hanna Normark, who is the actual chef at K-Märkt Garnisonen. The restaurant opens 9 am to 4 pm during weekday only.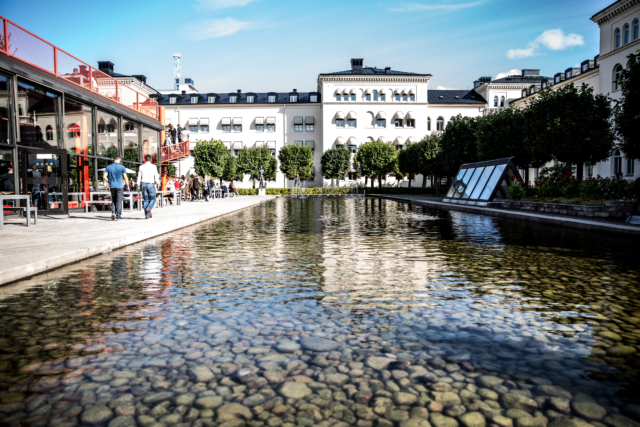 Another important attraction in K-Märkt Garnisonen is the building, built in 1971. K-Märkt means "listed building" in Swedish, it is an important building whose architecture cannot be changed without permission from the government, so to speak. The architecture belongs to the Structuralism movement. Architect students pay visit to the building now and then. The original plan was to become the parliament house of Sweden. Instead, they turned it into a government own house, so they moved all the governmental companies to this building. This was somewhere between the end of the 60's and the beginning of the 70's. it was a remote area with cheap rents and today it is in the heart of one of the most exclusive areas in the city. Everything in the restaurant is kept as its original: floor, windows. Of course, the kitchen is the only part new with modern equipment.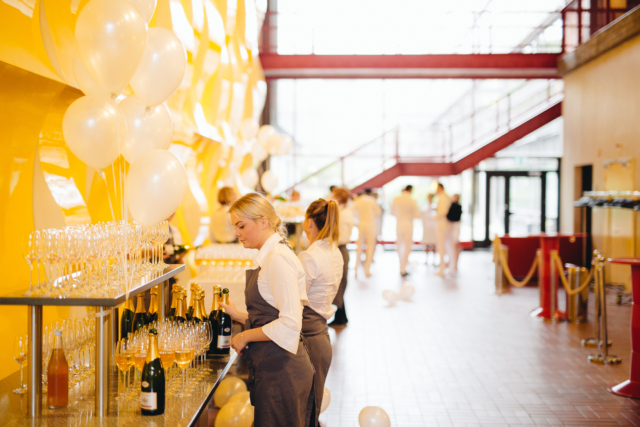 "We work with a focus on sustainability but not in a classic way to do it. The classic way would be to use locally sourced ingredients, using bio food and things like that. Instead, our whole mission is to fight against food waist. It is not a completely new idea but for Sweden it is perhaps," explain Jens.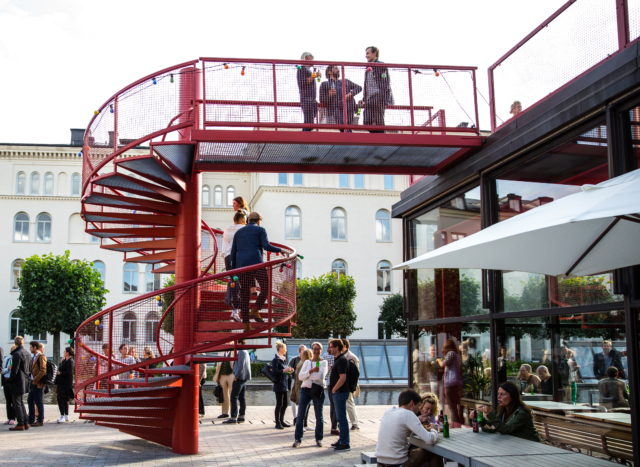 We wanted to know a bit more about how this process against food waste actually works: "We never know what to cook" Jens said, and he continued, "Basically, when the chefs arrive at 6:30 a.m. they have no clue what they will cook for about 600 guests during the day from 11 o'clock onwards. We buy things which our suppliers have problems with: maybe they have too much of it, it could be stuff nobody else wants, it could be food which is perfect right now but it will get bad tomorrow or have already expired or it will very shortly. Some people gets afraid like hey! are you cooking old food? No, we are not. We are cooking food, if we didn't buy it the way we do it, it would become old and would be thrown away. Since we buy I exactly the way we do, we can actually save it. One example, our supplier of vegetables, we have several of them but one of them they always have a trolley at the warehouse which is says "K-Märk". We never order what we want, we just say, we need 300 kg of vegetable for tomorrow. What we get, it's depending of what they put in that trolley. They put things which are perfect now, but it will be bad tomorrow. When they ship it here, we will use it immediately, serve it the same day and it would be gone in the same night. That's not the way how they work in another restaurants because they have a plan and have to serve it the day before, and there's a menu, and you don't know if you will sell all of that," he concludes.
Read more ...

1
2
[Help wanted]
Inviting volunteer staff / pro bono for contribution and translation. Please
e-mail
to us.