Originally from Shikoku, Japan, Japanese-Australian artist Hiromi Tango has been living and working in Australia since 1998. Her works have been exhibited not only in Australia but also Singapore and Japan. We had an opportunity to ask her various questions about her ideas on her projects, collaboration works with Craig Walsh (who is her partner for both artistic creation and private life), her project for ART SETOUCHI 2013, some advice on traveling in Australia.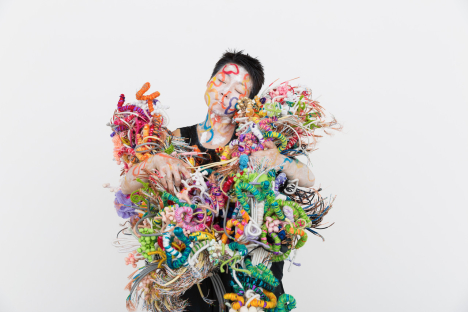 Hiromi Tango, Electric Human Chromosomes 1, 2017, Pigment print on paper 80 x 114 cm, Edition of 6 + 2AP
First of all, please introduce yourself.
I am a Japanese Australian artist, originally from Shikoku island, and have been living in Australia since 1998. I am primarily interested in generating healing conversations and strengthening a sense of connection through arts and performative engagement. I am interested in 'What it is to be human' and our delicate relationship with technology and artificial intelligence, and how we maintain the humanity of our engagement.
My studies were in humanity and culture of arts at Japan Women's University in Tokyo. While living in Tokyo I met artist Craig Walsh, who is now my husband, and we have two young daughters. Sullivan+Strumpf Galleries in Sydney and Singapore have generously represented me since 2013.
What is the reason why you chose fiber as the main material for your artworks?
My earlier works were often inhabitations, where I collected stories, drawings, poems and other forms of narratives from members of the public who engaged with me. I began stitching them together – both figuratively and literally – as part of a transformative process. The shift to textile was in some ways a logical evolution of stitching, but also another transformation, as I sought means of changing narratives by acts of wrapping in fabric. At times, this was to keep a votive object, photo or note, safe and preserve it. At other times, it was to create a symbolic separation from a particular memory or thought.
As my practice evolved away from ephemeral inhabitations to more substantial sculptural installations, textiles also became important as they have more longevity.
I have always loved working with textiles, and have many pieces of vintage silk kimono from my family in Japan. It is interesting for me that it is only recently that I started engaging with Japanese Kimono silk from my family. It has been a psychological and emotional shift for me to be ready to use them to transform as an art, not as traditional formal clothes.
I grew up with grandmothers who both made their own Kimono, so I was always playing with off-cut silk, and making things right next to my grandmothers. I was also surrounded by creative people from childhood, who taught me an appreciation for the rich variations in colour, texture, movement, layering and structure. My grandmothers took me to traditional art galleries and theatre shows which were very influential to me.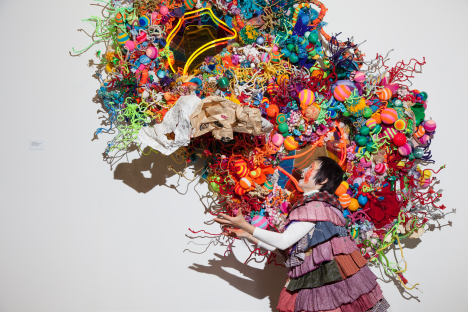 Hiromi Tango, Art Basel Hong Kong 2016 installation
You are expressing your art with a wide range of sculptures, photographs, installations, performances, etc. In many cases, I got the impression that the distance between art and people is intimacy and sometimes unity. Does this have anything to do with the subjects that are based on your activities?
I am interested in what art can do for our perception, and its transformative quality – the "aha" moment or "pi pi" moment. I cherish the moment, how art engagement can hold your mind gently, massage, and transform it. As an audience member, I enjoy art that evokes my sensitivities and touches me, so this is an aspect that may be important for me to create an artwork as an artist. However, I do not apply too much logic when I am making artworks, preferring to work intuitively and letting things evolve organically and naturally – the way we build relationships in everyday life.
My work is often an exploration of deeply personal narratives – sometimes my own and sometimes community participants' stories that they share with me. I ask myself sometimes what it is to be human and how we might better maintain healthy human engagement and relationships?
These human experiences, and the act of sharing them through art-making processes, is an act of intimacy. For example, I may have a particular preoccupation with how people with dementia experience colour, and whether different colours may evoke more positive emotional experiences. In sharing these ideas, many other people connect who perhaps have a personal experience with a loved one who has experienced dementia, or a diminished ability to experience the world around them due to brain disease or disorder. My hope is that these narratives connect people in unexpected ways, to create a different kind of unity, and transform their experiences.
Read more ...
[Help wanted]
Inviting volunteer staff / pro bono for contribution and translation. Please
e-mail
to us.