A comprehensive festival of Media Arts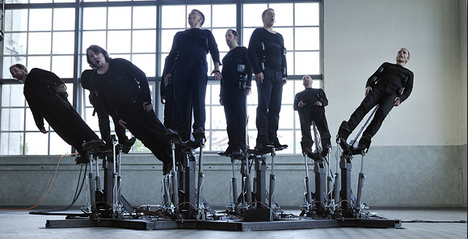 The Japan Media Arts Festival has established itself as a fixture on the international scene and was held from February 13th to 24th.
The Festival received a record 3503 entries from 71 countries and regions around the world and gives awards in each of its four divisions: Art, Entertainment, Animation, and Manga. The Exhibition and events were held at main venue, The National Art Center as well as Cinemart Roppongi, Tokyo Midtown and Super Deluxe.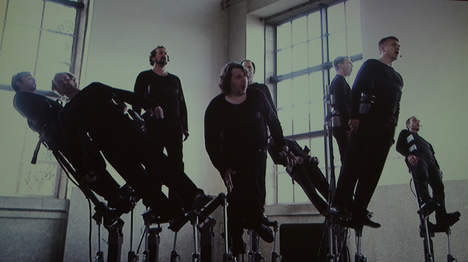 "Pendulum Choir" Cod.Act (Michel DÉCOSTERD / André DÉCOSTERD)
The Grand Prize for Music performance, Pendulum Choir, was garnered by the group Cod.Act in the art division. Under the label Cod.Act, André and Michel Décosterd combine their know-how of more than 15years. They develop artistic productions such as performances and interactive installations. The choir with microphone stood on platforms and sang together. When I looked at them carefully their bodies were locked into mechanical devices and the choir sang with expressiveness. Even though they were humans who wore the same black clothes, they reminded me of the bionic man called "Rexx" that went on display in Britain's Science Museum. The work was an abundance of unpredictable and experimental elements.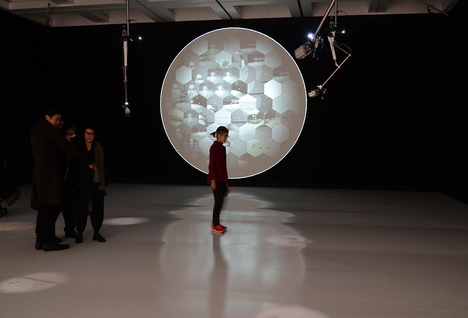 "Desire of Codes" Seiko Mikami
A huge installation appeared when I went into the space. Desire of Codes was created by Seiko Mikami, and it received the Excellence Award in the Art Division. Stretching across a white wall was an array of 90 cameras. Hanging from the ceiling were six surveillance arms with built-in cameras and laser projectors. The arms tracked visitors' location and actions. Images from cameras were combined in a database with those from surveillance cameras in public places and these images were projected on the circular screen, which looked like a beehive. When I was there, I felt like I was monitored by a camera. However I also monitored myself. It was weird.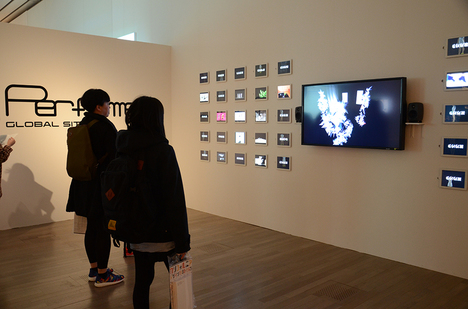 Perfume "Global Site Project" Daito Manabe / MIKIKO / Yasutaka Nakata / Satoshi Horii / Hiroyasu Kimura
The Grand Prize winner, Perfume's Global Site Project displayed 50 ipads on the wall with CG screened in them.
The techno-pop group, Perfume had cutting-edge technology in their performances. Their commemorative project was developed for the global debut of Perfume and distributed motion capture data, music data for original tunes and over 500 projects were birthed in countries around the world. This project adopted new technology and developed a new frontier through which fans and artist could work together.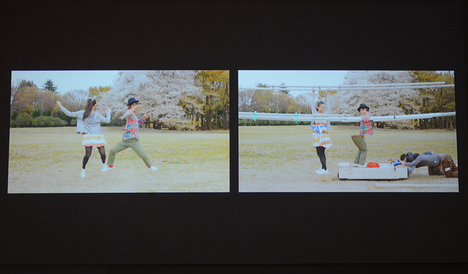 Ryo Nagano "HAJIMEYOU" Fuyu Arai
On the other hand, the music video "HAJIMEYOU"(Let's Begin) by Ryo Nagano was surprising because the video was made through the use of an analog device. Fuyu Arai is a director and has achieved the act of levitation in the video through the use of a simple device. He provided viewers with a behind-the-scenes look at the filming, allowing comparisons with the finished product in the National Art Center. You could see the DIY spirit. Music and movies in the video inspire happiness.

"COMBUSTIBLE" Katsuhiro Otomo
Kastuhiro Otomo is the director of Akira. He made "COMBUSTIBLE" and his animation was selected for the Grand prize in the animation division. This animation received another prize, The Mainichi Film Awards Ofuji Noburo Award. The panoramic scenes of Okawabata in the official movie trailer attracted people. Using hand-drawn animation with 3D computer graphics, the creators have developed an innovative form of expression though moving images.
It was also very valuable for fans that key animation was exhibited with explanations of the camera work and details of the scenes and script.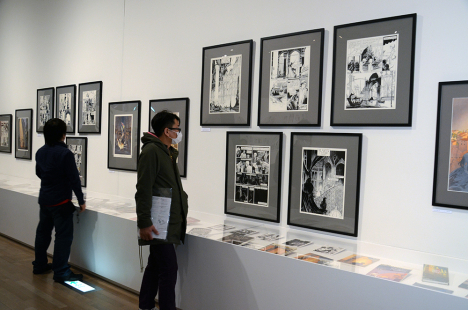 Les Cités Obscures (Cities of the Fantastic), Benoît PEETERS / François SCHUITEN, Translation: Shin-ichi Furunaga / Masato hara
"Les Cités obscures (Cities of the Fantastic)" is the popular French-Belgian comic-book series, which won a Grand Prize in the Manga Division. Benoit Peters and Francois Schuiten's signature were on the wall at National Art Center. They have already worked together for more than 30 years. Rooted in a profound knowledge of all manner of creative arts, these intense stories were illustrated with meticulously and exquisitely drawn images. And it is said that their works were produced at a pace of one week per page. The work served as the backdrop to the strange events in the mysterious group of city-states. It also provided a platform for appreciation of the award winners including "Les Cités obscures" and other notable works at the Manga library in Cinemart Roppongi.
The works with advanced technologies were sophisticated. They portrayed a fierce scrutiny of the darker aspects of the heart and also the profound spirit and warmth of humanity in modern society.
Japan Media arts festival was held until the 24th of this month and honored outstanding works from a diverse range of media, from animation and comics to media art and games. Award-winning Works were held at other events, such as a symposiums, screenings, and showcases. The Festival provided visitors a full range of enjoyable experiences.
This is a festival of such quality that I sincerely believe it has something for everyone to enjoy because visitors could see creative works from around the world.
The 16th Japan Media Arts Festival
Date: February 13th – 24th, 2013
Opening hour: 10:00 – 18:00 (Friday till 20:00)
Main venue: National Art Center (7-22-2Roppongi,Tokyo)
Satellite venue: Cinemart Roppongi, Tokyo Midtown, Super Deluxe
Organizer: Japan Media Arts Festival Executive Committee
http://j-mediaarts.jp
Text: Tomomi Sakuma
Photos: Tomomi Sakuma

[Help wanted]
Inviting volunteer staff / pro bono for contribution and translation. Please
e-mail
to us.