A new magazine, +81, has been launched featuring articles about creators' workshop and process to complete their work. The first issue features Tomato, Dazed&Confused, a creative director of Parappa the Rapper, fashion designers in Hong Kong, an editorial department of Paris-based magazine. It's a new type of magazine which has contents in Japanese and English language…
+81 is the number for the oversea call to Japan. 81 originates in an idea of linking between creators throughout the world via the internet on the telephone line, which is embodied in the magazine.
SHIFT visited the editorial department of +81 in Akasaka, Tokyo and asked a chief editor, Toru Hachiga, about the unique bilingual mag.
Could you tell us about how you set up +81?
I'd committed myself to a project, called Timing Zero, which was my work on graphic design with Gento Matsumoto. It was part of my indies activity in visuals in collaboration with Tycoon Graphics and Gento Matsumoto, and the first one was really underground. And then I worked on poster type, Ken Ishii's interview, an event for BEAMS and so on. Basically, I have been working in the field of visuals and graphics. What I wanted to do in this mag was to sort of mingle every creative category such as fashion, music, graphics, make-up art, game creation, regardless of boundaries in creation.


TIMING ZERO
Rare and valuable visual/design magazine out in '94. The issue one featured stunning visuals done only with the colour of red and blue on tracing paper contributed by 9 graphic designers, Senichiro Azuma, Shinji Noto, Gento Matsumoto etc. Issue two had three kind of posters, one by TYCOON GRAPHICS, one with an interview article of dextro printed and one with an dialogue between Ken Ishii and a graphic designer, Katsuhiko Kimura, printed.
And other than those two issues, there was issue 0 that is now impossible to get. Picture above is from TIMING ZERO issue two by dextro.
Unlike other stereo typed magazines, +81 has a different approach to the creators, it focuses on how they work on their mags and visuals. I think it's quite an interesting mag you make when many have been drawn to creation and involved with it.
Glad to hear that. (laugh) Everytime I am abroad, I am frequently asked by magazine editors about Japanese mags. Actually, they know a lot about the Japanese mags. And they can't get what's written there in Japanese, which is, I believe, unfair. Now many use the internet which makes you require English language. Jyappu purposely uses the Roman letters and In Natural features English with all articles. I thought it's best to put English along with Japanese to get it across to foreign people. So +81 makes the bilingual magazine both in Japanese and English. And 81 is the country number of the overseas call for Japan. Basically, I'd like to focus on creators in the mag. Creators, their envoironments and works, these are three main focuses of +81.
Are you trying to emphasise the term "from Japan"?
As you know, TOKION, Jyappu, In Natural are all based in Japan. My goal is not only just sending information, what's happening in Japan but connecting with each other via +81. It happens to be in Japan we make the mag. I had this idea that people can connect with each other by dialing 81. It's a link to someone else, you know. So, I didn't mean to stress on "from Japan", really.
And, +81 sticks to do what only paper mag can do and be a paper mag, which naturally means we tend to feature mainly graphic designers in there.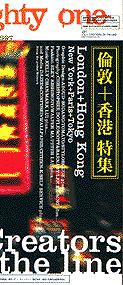 How come did you decide to cover British and Hong Kong graphic designers for the first issue?
For one thing, Hong Kong's return to China and the other is that current British graphic scene is so intense. What's interesting about Hong Kong graphic designers is they don't care about British graphic designers, but care about basically Japanese designers. Like, in the interview, their favourite artists or designers are mostly Japanese like Issey Miyake, Ryuichi Sakamoto etc… They talked a lot about Japanese fashion trends when I took a series of interviews.
On the other hand, the graphic designers in London don't care about Hong Kong scene, they are keen on the Japanese scene.
How was taking the interviews in London and Hong Kong?
Yeh, I did. Though I had to take 5 interviews a day in Hong Kong. I enjoyed it in London, too. The studio of Dazed&Confused had moved to the suburb and it was almost like a big gymnesium. There was a ladder beneath the groundfloor, and there were graphic designers underground working on a logo of ABC magazine. It was their part time job.(laugh)
It seemed they didn't like WALLPAPER in London. Supported by a big enterprise, Wallpaper is designed in Vienna and selling well in Europe, which causes a bad reaction to London's subculture scene. I quite like it, though. It's neat and fashionable and can attract Japanese people.
Are you thinking of featuring any Japanese artists at all?
I think I'll pick up some CG artists in Tokyo and San Francisco for the next issue. It'll be out in December or next January.
Who are you planning to feature?
It's still on progress, but I'd say Nobuhiko Kitamura from Hysteric Glamour, a href="http://www.groovisions.com/">Groovisions and a few designers working for Pizzicato Five. I am very much interested in Konishi's(Leader of Pizzicato Five) visual works. I am sure he is a great editor as he used to work for Visage which was published by Men's Bigi. I'd really like to introduce him with a different approach from music magazines now that Shibuya-Kei(mecca of the Japanese youth culture) is over. He should be regarded as a great editor as well as a famous musician. Also, Kitamura is a perfect editor who can deal with photography and graphics of fashion. They are outstanding in Tokyo as far as I am concerned.
Have you got any other editors you like in Japan?
I'd say Masanobu Sugatsuke who started out a mag called COMPOSITE is quite unique in the way he does the selection of a suitable person. Also, he is very knowledgable about photography and graphics.
Any photographer and art director?
Definately, Tycoon Graphics. They are master at it. They've always been a great team, and still now.
As for photographers, I really like Nick Knight who photographed for Yohji Yamamoto. Nothing will ever surpass it. It's a state-of-the-art kind of stuff. And my favourite Japanese photographer is Takashi Homma.
Who works for this +81 magazine?
Yamashita works as the creative director, and I edit it basicaly. And the rest of the work is for other companies we know.
So, what kind of readers are you making the mag for?
Those who are interested in creativity, who find creation interesting, who can enjoy creation regardless of any categories.
I heard that you are supposed to release +81 in foreign countries?
We are now working on that. They'll have it in Hong Kong. Maybe London, too.
What's your foresight in Japanese magazine scene?
It's been long since the mag featuring photos of popular celebrities and idols got into the scene. As for design itself, it can't go any further now. I think magazine editors will realise the importance of reading articles, not viewing visuals. The next generation of editorial designers will emerge soon.
How about the internet? Are you…
If you think about sending infomation to the whole world, you can't ignore the possibility of it. We'll do something different from the paper mag. It'll be completely different from the mag.
I went to Hong Kong to take the interviews before its return to China, and +81 was out after the return. You see it'll take sometime to get a paper mag published. On the internet, it's possible to feature the latest information as soon as possible, which we'll try to achieve.
You have to take a right medium for a right purpose. The internet has a certain advantage that paper mags don't have and vice versa.
Could you specify your plan about the internet?
Article pages will have no visuals because it takes more or less sometime to view the page if they have Shockwave, Flash etc. It's best to be read with no irritation. You often feel disappointed, after a long surf, to find out a site that is unexpectedly boring, don't you? That's what I want to avoid. As I sometimes taIk with Natsume from Gasbook, I think it's a good idea that each medium such as paper mags, CD-ROMs and the internet can have a constant interactivity and shared content in common.
Are you willing to do business with the internet?
I think mail-order is convenient. You can sell books, CD-ROMs, fonts etc on the net. It's also convenient to be able to purchase fonts through the net because you don't have to go get floppies any more. If it sovles security problems, it will be useful. And, as I always think when I use search engines, you see being on the net is almost like swimming in the vast sea serching for a piece of stone, not as comfortable as saying net surfing. You have to find out the stone while nearly choked to death in the sea. It can take ages to get to a site you like, you know. So, what I want to do is simplify the whole messy process and let them make a shortcut to get where they want to go straight away. Also, another problem is the fact that not all emails are welcome . Once it's adressed, any emails just come to you even if you don't need all of them.
Wouldn't it be good there's some search engines which specialises in detailed categorisation?
Yeah, that's right. That was what I talked with a guy from SO-NET the other day like, for instance, there's an icon of Konishi on a search engine page which you can click through to his favourite sites. It could be +81 or SHIFT, you know. I think there should be a salon-like place on the web that applies membership.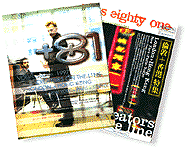 +81VOL.1 Autumn 1997
The first issue released on 25th August, 1997
Quarterly, 880yen
Editorial Department: DD WAVE CO., LTD
Published by Korinsha Press & Co, Ltd.
Interviewer & Text Atsuko Kobayashi (spin! mag)
Translation: Satoru Tanno
The editorial department of +81 is located in a calm residential area in Akasaka, Tokyo. As it is next to D.D.WAVE, a design firm for Tower Records' gears, at first glance, It looks like a press room of a fashion brand full of gadgets and goods. like T-shirts, bags and stuff. While answering frequent phone calls from one to the next, Hachiga responded to the questions in a kind manner. I was amazed to see the huge amount of booklets, magazines, photo books etc he brought to show me one by one. Then I knew that is where creators in the whole world meet and join forces, and Hachiga is the server of +81 himself.
Though it's been a while since the term, borderless, became a cliche, has it ever been possible for creators around the world to share valuable information and great creation? +81 is the only domestic mag that has the right answer to it.
Should keep an eye on Hachiga just about to launch +81WEB and release the next issue of the mag with a special feature about 3D graphics in Japan and U.S.
[Help wanted]
Inviting volunteer staff / pro bono for contribution and translation. Please
e-mail
to us.