One of the most visited historical landmarks in the world, La Sagrada Família (formerly known as Basílica i Temple Expiatori de la Sagrada Família) has always marveled architects, artists, historians and visitors for centuries. Designated as a UNESCO World Heritage Site in 2005, its early construction in 1882 was led by architect Francisco de Paula del Villar, then passed on to master Antoni Gaudí from 1883 until his death in 1926. The "unfinished church" finally foresees its estimated completion in 2026, owing to the continued efforts of subsequent architects who have held the baton. Today, architect and site manager Jordi Faulí carries on Gaudí's endeavor that will erect the projected 172.5-meter central tower, making Sagrada Família the tallest church in the world.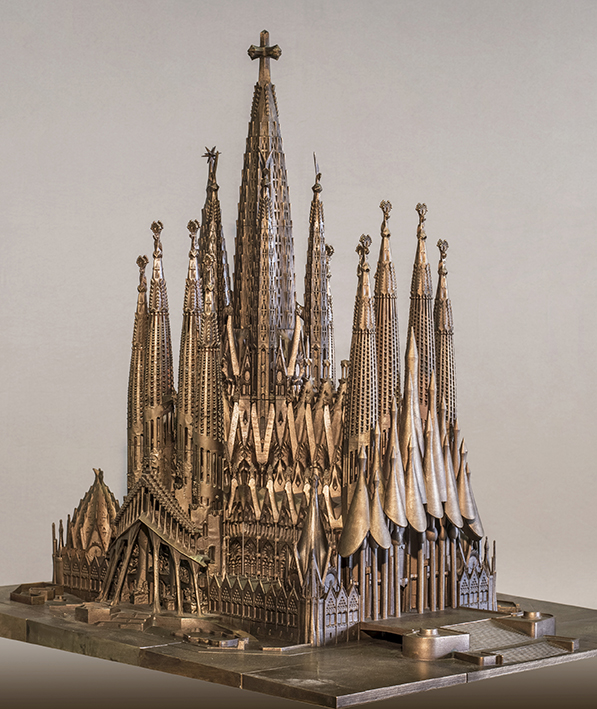 Model of the whole Sagrada Família, 2012-23, Taller de modelistes de la Sagrada Família, Fundació Junta Constructora del Temple Expiatori de la Sagrada Família © Fundació Junta Constructora del Temple Expiatori de la Sagrada Família
The National Museum of Modern Art, Tokyo (MOMAT) is proudly presenting "Gaudí and the Sagrada Família" until September 10th. The grand exhibition explores Gaudí's architectural genius and traces the progressive development of Sagrada Família through over a hundred drawings, building plans, scale models, photographs, videos, furniture, steelwork, sculptures, decorations, and documents. Also highlighted are architectural images revealing the latest technology used in enhancing the timeless significance of the spectacular church.
In the first section Gaudí and His Time, we delve into Gaudí's persona and the evolution of modern architecture, design, arts, and crafts in the 19th century, which served as influential seeds of Gaudí's unique vision and his extraordinary plan for the Sagrada Família.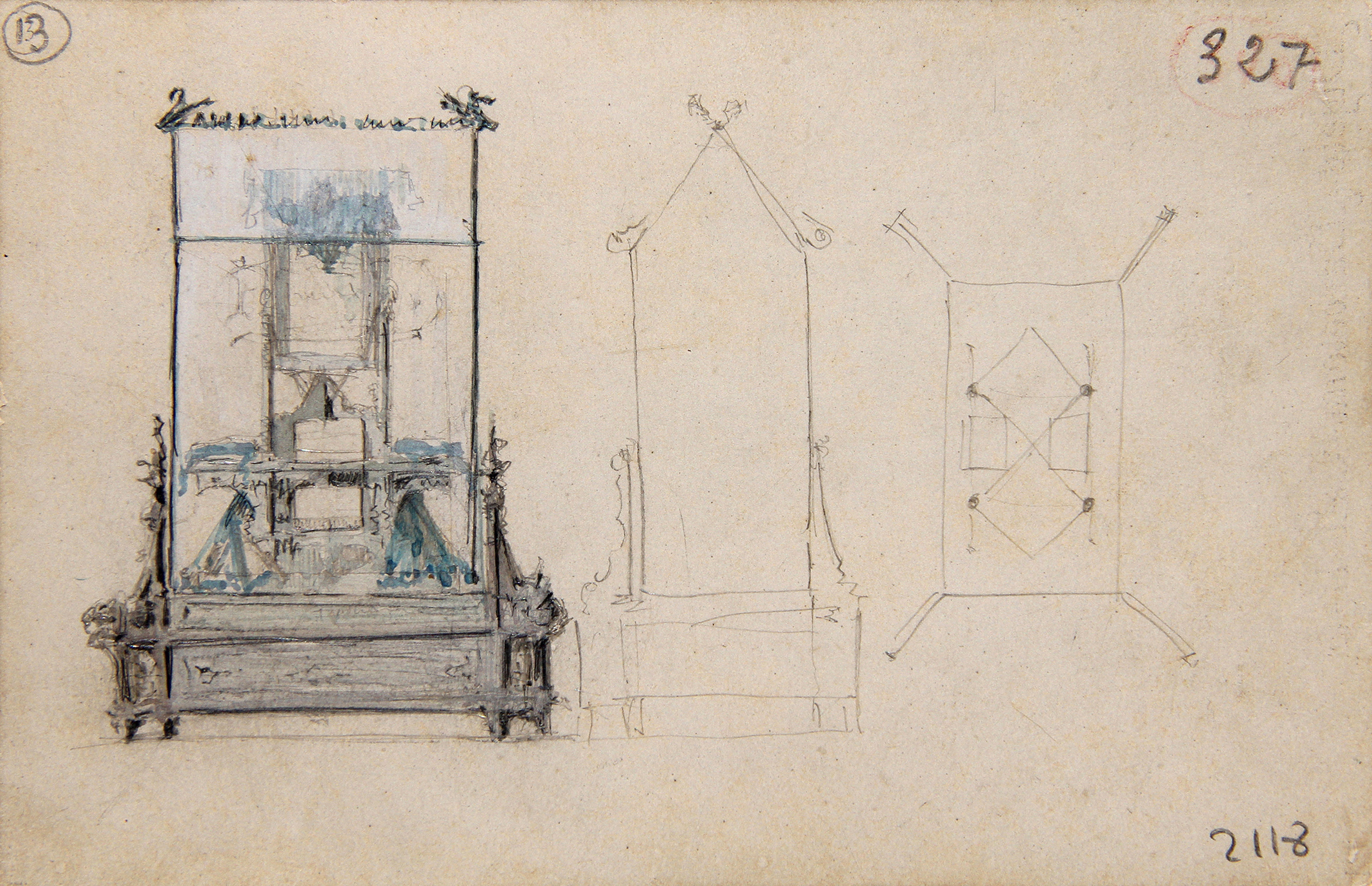 Antoni Gaudí, Sketch of the design for a display case for the Comellas glove shop, intended for the Universal Exhibition in Paris, 1878, Museus de Reus. Institut Municipal Reus Cultura
Antoni Gaudí was born in Reus, Catalonia in 1852, the period that witnessed Industrial Revolution transform Europe (Barcelona, being the pioneer city) on an unprecedented scale. World expositions also became prevalent, introducing most recent trends in science, technology, and architectural styles, which shaped Gaudí's formative education. Gaudí, who embarked on small projects after his graduation from Barcelona School of Architecture in 1878, was commissioned by Esteve Comella, a leather glove shop owner in Barcelona, to design a showcase for the 1878 Paris World Exposition. Gaudí's elegant light and glass case design (sketch displayed in the exhibition) highly impressed wealthy businessman Eusebi Güell, who eventually acted as Gaudí's supportive patron for many of the architect's creations. These included Park Güell, Palau Güell, Bodega Güell, Colònia Güell (crypt of Gaudí), and many others.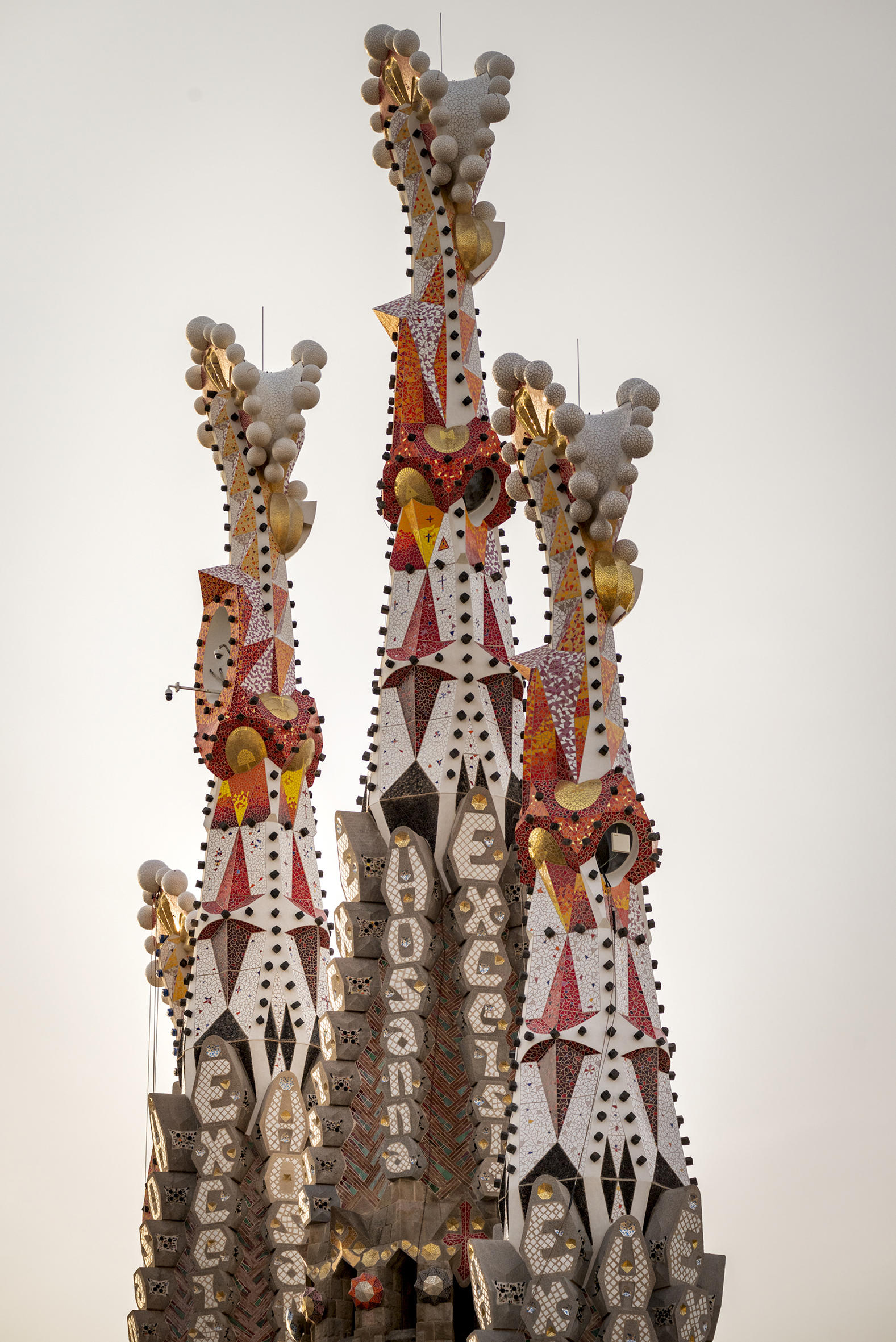 Spire on the Passion Façade of the Sagrada Família © Fundació Junta Constructora del Temple Expiatori de la Sagrada Família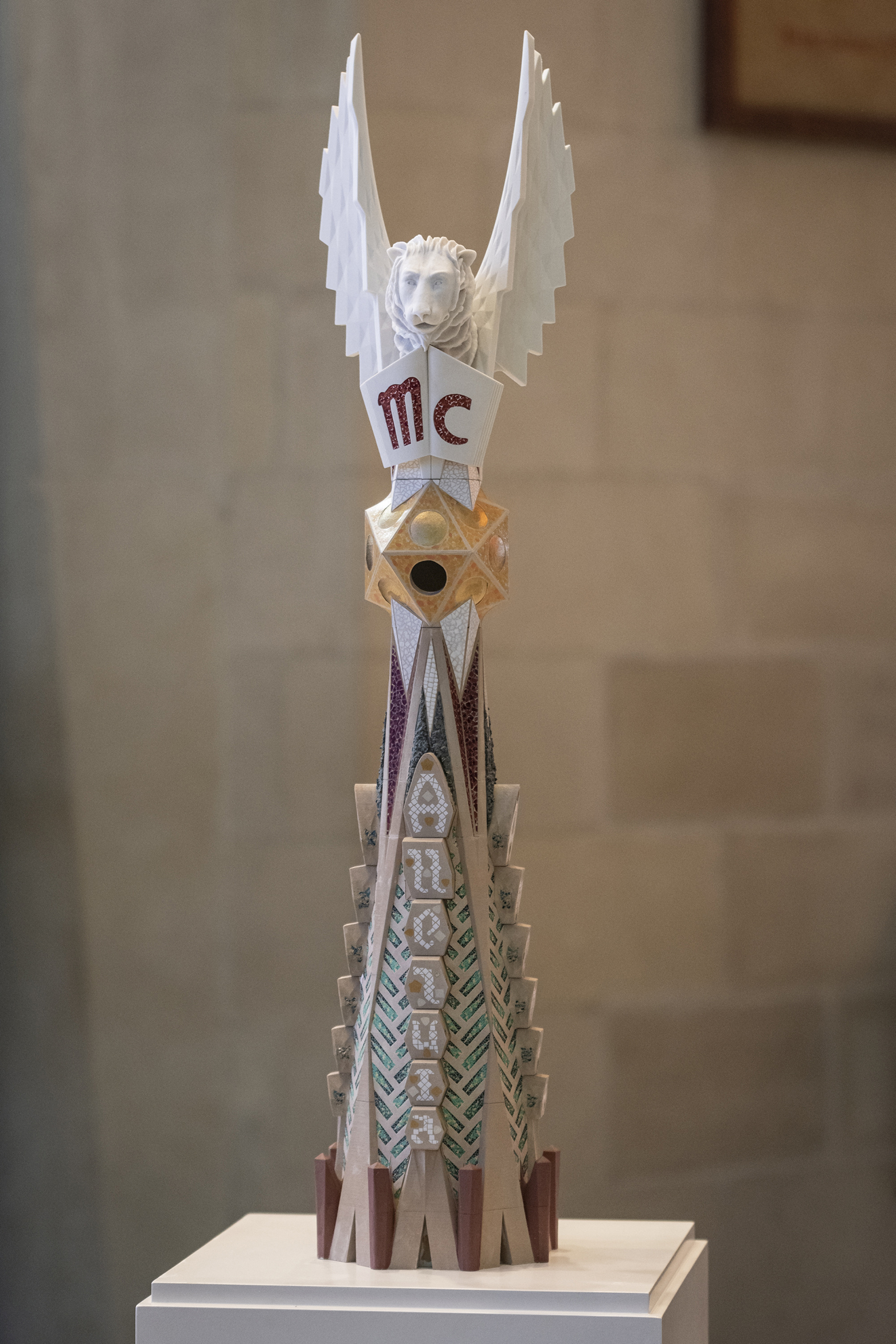 Model of the spire on the Evangelist Mark's tower of the Sagrada Família, 2020 © Fundació Junta Constructora del Temple Expiatori de la Sagrada Família
In the second section, we discover the sources of the master's sense of originality that molded his distinctive concepts, meticulous forms and artistry, carved especially into the Sagrada Família. Spain's symbiotic history guided by Islam, Jewish and Christian religions resulted to the emergence of Mudéjar architecture in the 12th century. This style spread predominantly across the country, epitomizing geometrical patterns and intricate tile and brickwork. Its later derivative, the Neo-Mudéjar style, which appeared in the 19th century, profusely inspired the master's likeness for tile decorations that he remolded into Trencadis or "broken tiles." The process involved recycling of crushed tiles, plates, cups, glass, and other materials into mosaic patterns for wall coatings. Gaudí gave new life to this technique, applying it omnipresently to Parc Güell, Palau Güell, La Casa Batlló, Casa Mila, and certainly to Sagrada Família, among other structures. Trencadis is evident, for instance, in the basilica's interior and exterior facades, towers and pinnacles. A sample ceramic tile slab from Park Güell and models of the Passion Façade spire and Evangelist Mark tower wrapped with trencadis are displayed.
Read more ...
[Help wanted]
Inviting volunteer staff / pro bono for contribution and translation. Please
e-mail
to us.