A collaboration between fashion and fragrance that fascinates all women.
The perfume is a magic. A tiny bit of the essence will make you feel elegant and will even more heal your heart. The scent will also bring back a memory from the past. You must remember the scent someone special had perfumed.
Six Scents is an annual project of the limited edition of the fragrance series by 6 groups of artists and perfumers collaborated with Symrise, Metaproject and Seven New York. Participated artists and perfumers for its first edition are Alexandre Herchcovitch, Bernhard Willhelm, Cosmic Wonder Light Source, Gareth Pugh, Jeremy Scott and Preen, who will deliver nice and sweet fragrance to you.
Please tell us about Six Scents. What is it? How did it get started?
Kaya: Six Scents is a niche perfume project that calls together both renowned perfumers and artists to collaborate on a collection of limited edition perfumes. We have been thinking about developing a fragrance project for quite some time, However we were we were thinking about it more in terms of an exhibition and multi-sensory experience, where people can engage with scents in a new way.
Last year we got in contact with Symrise, a global fragrance company about collaborating on a project together and shifted the focus more towards developing an actual product that explores a new terrain in fine fragrance.
Joseph: And so for the first series of collaborations, we thought it would be a good idea to invite 6 of the most creative, yet still under the radar fashion designers to participate, figuring the results would be incredibly unique, though still completely accessible.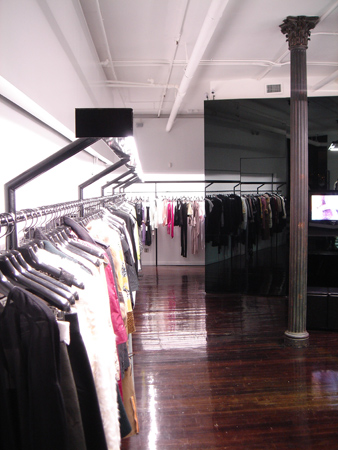 Seven New York @ 110 Mercer Street, SoHo, New York
The perfume collection is a project collaborating with Symrise, Metaproject and Seven New York. Could you explain each?
Kaya: Symrise, is the third largest scents and flavors company. They develop fragrances for brands as diverse as Comme des Garcons, Tom Ford, Givency, Jil Sander, Burberry and Frank Malle. Metaproject is a creative agency that developes projects for a wide range of brands that are looking to engage with artist in new ways. As For Seven, Seven New York is a boutique based in New York that not only sells the designers that represent the strongest positions in contemporary fashion, but also initiates avant-garde projects and collaborations with a multitude of designers.
Why did you focus attention on fragrances? How do you take consider the tight relationship between lifestyle and perfume?
Joseph: Everyone wants to smell good. Like the perfect pair of shoes, the right fragrance is integral to completing one's look. And fragrances are not expensive at retail nor in terms of development compared to designer apparel, or furniture, or what would be required to have talented musicians actually do something.
How did you select the 6 designers for the first part of the collection? What did you expect from each designer?
Joseph: What each has in common is their very developed, very strong vision, which translates to a very strong identity in terms of each of their aesthetics. Given that we were working with Symrise, renowned for the Commes Des Garcons scents which are some of the most unique in the world, I thought that pairing top perfumers with the most creative designers out there would result in something that magical and memorable.
Could you explain each fragrance done by each different designer?
Kaya & Joseph:

"Urban Tropicalia" – Alexandre Herchcovitch & Joachim Correll
No.1 (Alexandre Herchcovitch) – "The Inspiration for this fragrance was driven by the way that Alexandre creates fashion: The creative liberty he uses to design fashion which can be used equally by men or women. This fragrance can be worn at any time, for any occasion, as a form of self expression, to be daring, or simply for the pure pleasure of wearing a fragrance. The Alexandre Herchcovitch scent evokes freedom and sensuality, and similar to his fashion, the perfume is striking, emblematic and transcends categories" – Joachim Correll, Perfumer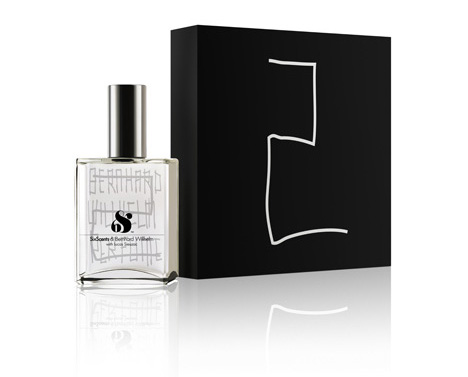 "Wicken 3000" – Bernhard Willhelm & Lucas Sieuzac
No.2 (Bernhard Willhelm) – "A light, fresh, clean scent that embodies a fusion of the elements. The idea was to create a perfume close to the elements of water and air, but with a futuristic approach. Express 'the Back to nature' side of Bernhard with a pure & essential fragrance." – Lucas Sieuzac, Perfumer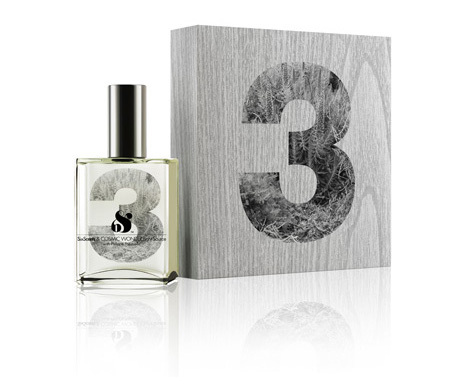 "The Spirit of Wood" – Cosmic Wonder Light Source & Philippe Paparella-Paris
No.3 (Cosmic Wonder Light Source) – "The inspiration for this fragrance comes from Cosmic Wonder Light Source's nature oriented fashion collection. Inspired by the designers memory of a scent experienced during a walk through an eucalyptus forest, a selection of fresh green top notes were combined with fig leaves and enlightened by green grass playing with fresh cut cypress. The idea was to create a rough and natural fragrance, using a lot of essential oils with a focus on the woody notes such as vetiver and hinoki" – Philippe Paparella-Paris, Perfumer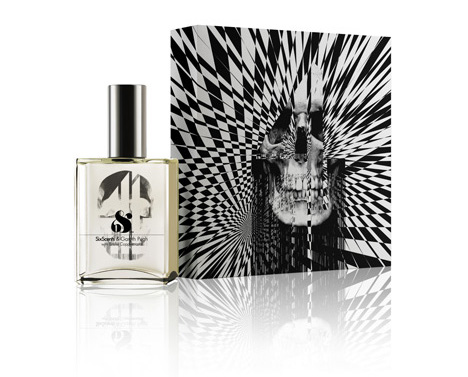 "Diagonal" – Gareth Pugh & Emilie Coppermann
No.4 (Gareth Pugh) – "Contrast, ambiguity, duality. Gareth Pugh said about his style: "it's a struggle between lightness and darkness;" this is what I tried to translate in this perfume. The contrast between different raw materials, masculine and feminine, rough and smooth, dark and light, fresh and sensual." – Emilie Coppermann, Perfumer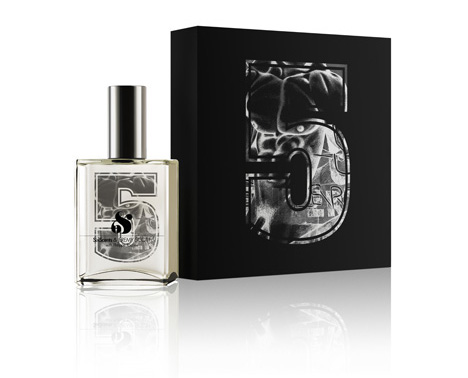 "Illicit Sex" – Jeremy Scott & Philippe Roques
No.5 (Jeremy Scott) – "Illicit Sex is an essay on Love : the encounter of fragility and strength" – Philippe Roques, Perfumer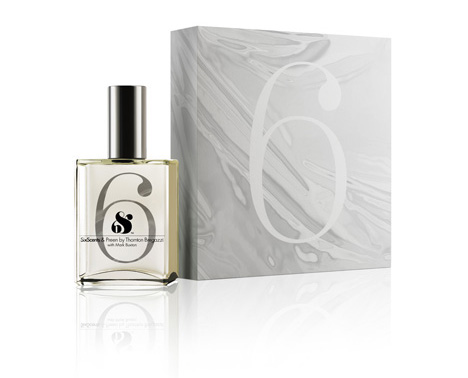 "Teen Spirit" – Preen & Mark Buxton
No.6 (Preen) – "The idea we had with Preen, was to capture an English summer garden after the rain – light, natural, floral, fresh, but not sweet. Its sparkling top note, made of calabrain bergamot and a unique seashore accord is wrapped with magnolia and Turkish rose. The tingling spicy scent of red pepper sustained by hazelnut leaf and rhubarb give the fragrance its natural depth. Finally, a touch of violet wood for the long-lastingness and pleasurable feeling" – Mark Buxton, Perfumer
Please explain about Designers Against AIDS (DAA)?
Kaya: Each year we will donate proceeds from the sales of perfumes to a different Charity. Six Scents: Series One is with Designers Against AIDS they are a charity based in Belgium that develops products and projects to help raise awareness to individuals living in industrialized countries about AIDS.
How does Six Scents project develop in the future?
Kaya: Well, we are planning to release Six Scents: Series Two in September 2009, with a new group of designers and perfumers. It well be even more collaborative and interdisciplinary, with the commissioning of contemporary artists to collaborate on the packaging design and we plan on introducing a series of short videos on each contributing designer and perfumer.
Joseph: We have a short list of potential designers we're thinking of approaching as well, but we won't have the final six selected until we see what they create for Fall/Winter 2009 in March. Then it's a matter of those selected to want to do it! As well as it's our first foray into the world of fragrances, we've had to deal with a learning curve. The whole process will be much smoother next time around so that we can focus on achieving the things Kaya mentioned above!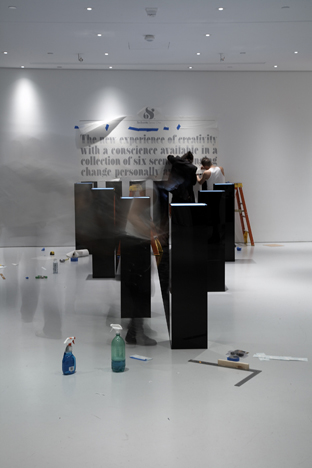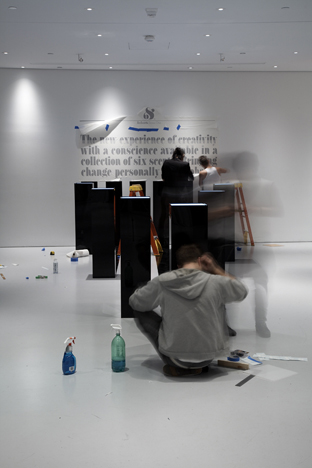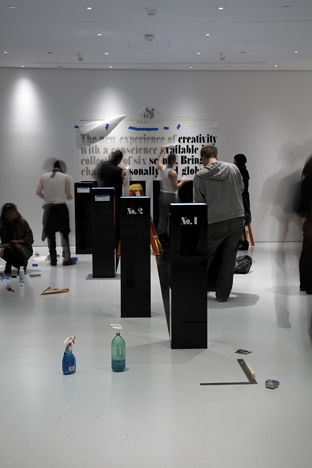 New Museum Installation, New York
Do you plan any other series than fragrances?
Kaya: Well it will always be fragrances, but instead of having six Fashion designers, we are thinking about the possibilities of getting contemporary artists or musicians on board to work with a perfumer on the development of a scent. We will definitely explore new ways of presenting the fragrance in terms of the packaging aspect. Our goal is really to change the way the people experience perfume from the fragrances that are created for the project and packaging, to the kind of creative partnership we form and the way that the product is presented. In New York we had the launch event of the New Museum and Steve Sang and John Demas from Seven New York created a brilliant interactive scent installation. This is an area that we would like to explore further, interacting with art institutions and positioning the fragrance collection closer to contemporary art and culture, more so than just a luxury product.
Six Scents
Capacity: 50ml
Price: 85.00 USD
Limited quantity of 2,000 units (Each)
http://www.six-scents.com
SEVEN New York
Address : 110 Mercer Street, New York, NY 10012
Open: 11:00-19:00
Tel: +1 646 654 0156
Text: Satomi Gentsu, Kazumi Oiwa
[Help wanted]
Inviting volunteer staff / pro bono for contribution and translation. Please
e-mail
to us.