Sapporo Art Walk is an art book that focuses on the relationship between art and history of Sapporo, not only introducing architecture and public art located in various places in the city of Sapporo, but also explaining about the relationship between such art and climate, water system, and history of Sapporo. It is a guide book to the art of Sapporo showcasing tracks and backgrounds of artworks of artists who are closely connected to Sapporo including Isamu Noguchi, Masao Okabe, Shin Hongo, and Yoshiya Tanoue.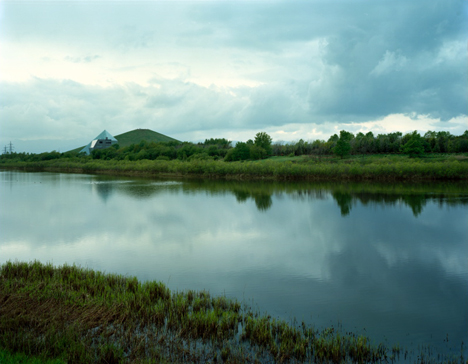 Moerenuma Park, Photo: Keiji Tsuyuguchi
The book started with a chapter that portrays the relationship between Isamu Noguchi and Moerenuma (Moere marsh). According to the annexed chronological table, Moerenuma has the oldest history in the book, which started with the story about the early history of Sapporo such as beginning of the Ainu and Japanese people, and changes in rivers and trades along with the urban development of Sapporo. Then beautiful rice fields were spread to the originally rich land of Moerenuma and its surrounding area. Later, Moerenuma was changed into a touristic spot, with a plan to build a park on landfill. The book carefully explains the background story how the plan was started with Isamu Noguchi, and established the final concept of the park including one of the symbol of Moerenuma Park, Play Mountain, which has been planned since 1933.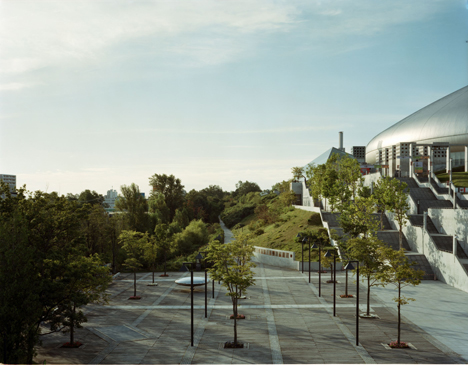 Sapporo Dome, Photo: Keiji Tsuyuguchi
The next chapter focuses on the relationship between Hitsujigaoka, a district located in the south-eastern area of Sapporo, and Masao Okabe of Artgrove in Sapporo Dome, introducing the history of the district of Hitsujigaoka including logging woods for cultivation, full-scale open burning, pasture of cows and sheep as a research lab, and the age as a military capital, Tsukisamu. Known for frottage pieces, Masao Okabe made a series of copper plate frottage pieces using barks of historically remained local trees. Besides these pieces, you can follow the memory of Hitsujigaoka by looking through other art works of Artglove installed around Sapporo Dome. The last part of this chapter glances an art project which traces the water system of Sapporo discovered by Okabe and the public people.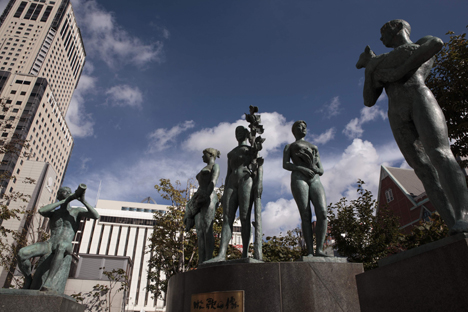 Sculpture by Shin Hongo at the south exit of Sapporo Station, Photo: Keiji Tsuyuguchi
Another chapter, "The Power of Sculpture that are captured by the urban axis of Sapporo" is about sculptural pieces in Sapporo and a sculptor Shin Hongo, focusing on art found around Sapporo Station and Oodori Station. To talk about urban development and art required in the urban city of Sapporo, it is necessary to talk about Shin Hongo as well, who is known for his piece "Izumi no Zo" (Statue of Fountains) located in Oodori Park. Shin Hongo made a wide range of sculptural pieces, and many of them are exhibited in Hongo Shin Memorial Museum of Sculpture, Sapporo. The context and age that Hongo has spent, and his concept towards sculpture were closely connected to art in Sapporo. The chapter also explains some details about art found in JR Tower and current Sapporo Station.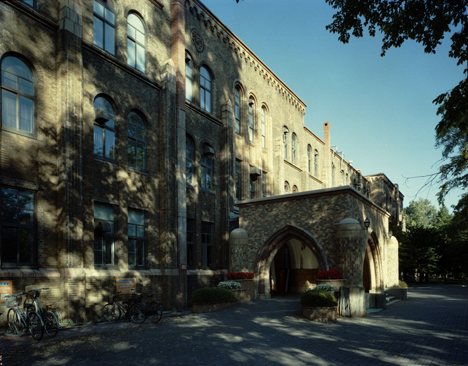 Former School of Science at Hokkaido University, Photo: Keiji Tsuyuguchi
The last chapter focuses on the relationship between the northern architecture and one of the leading architect in Hokkaido, Yoshiya Tanoue. As a guide to Sapporo, his architectural works reveals the city and its architectural growth in Sapporo by following the life if Yoshiya Tanoue who has created the northern architecture such as Oguma Residence and Sapporo Kitaichijo Church. The chapter also glances the dark side of the history by explaining the monument to the Moiwa victims for their harsh manual labor.
The book portrays more about the history and art of Sapporo such as the birth of Sapporo Concert Hall Kitara, Sapporo Art Park and Bikky Sunazawa, Hokkaido Museum of Modern Art, Migishi Kotaro Museum of Art, Hokkaido, public art and Asuka Kunimatsu. The book will fulfill your understanding more on the art in Sapporo with looking into the annexed art map and chronological chart, specially for those of who are interested in art in Sapporo, who works closely with the Sapporo art scene, and who want to know more about Sapporo. (The book is written in Japanese.)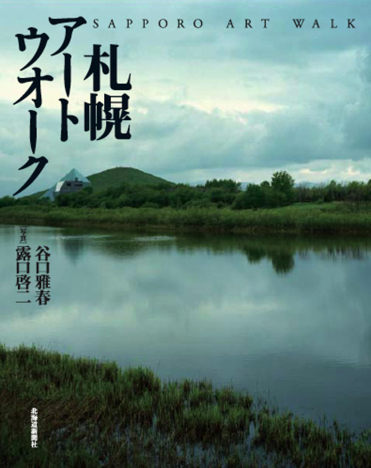 Sapporo Art Walk
Author: Masaharu Taniguchi
Photo: Keiji Tsuyuguchi
Release: December 19, 2009
Specification: 176 pages
Price: 2,625 yen
ISBN: 978-4-89453-531-2
Publisher: Hokkaido Shimbun Press
http://www.hokkaido-np.co.jp
http://www.aurora-net.or.jp/doshin/book/shinkan/
Text: Asami Miyamura
Translation: Mariko Takei

[Help wanted]
Inviting volunteer staff / pro bono for contribution and translation. Please
e-mail
to us.