When artists and creators from various backgrounds gather to collaborate on creative projects, new ideas leap into existence. With sharing and dissemination now the norm, it's becomes crucial for individuals to develop own's merits, assist others where they fall short, and aim to elevate projects to the next level.
After coincidentally clicking with artist Chiaki Kohara in Taiwan, one twist of fate led to another until I came across Bascule Inc., an interactive creative company based in Tokyo, where Chiaki's friend Mr. Uda happened to work as an engineer. His generally toned-down personality replaced with a bubbly demeanor as we spoke, I approached him for an interview after learning about his collaborations with Chiaki.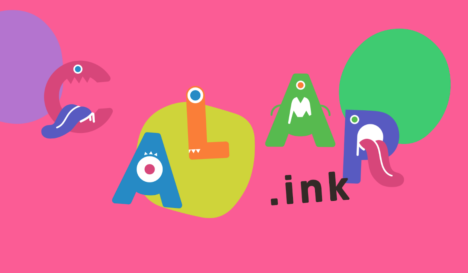 First of all, please tell us a little about yourself.
CALAR.ink (color dot ink) is a creative unit consisting of members with diverse skills in art, design, technology and spatial studies. In a world that seamlessly traverses the real and virtual, where art and technology merge as one, we're interested in developing live painting shows that interacts with the audience to piece together a story. Just like how colorful ink mixes and spreads randomly, we aim to create works that can penetrate deeply and vividly into the memory of each visitor!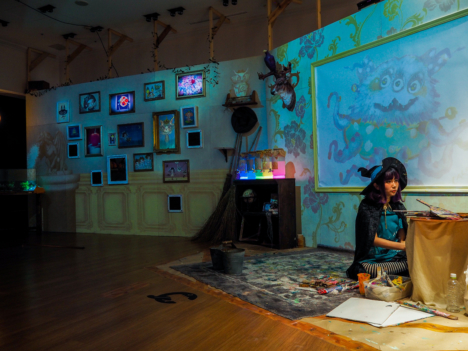 Tell us about the members of CALAR.ink. What kind of people are you working with?
Satoshi Eto (Programmer/ CGArtist)
Chiaki Kohara (Artist)
Kaiho Tadaishi (Architect)
Teruaki Tsubokura (Media Artist)
Bunjiro Hasegawa (Creative Director)
Yuya Urita (Positive happy)
In terms of job titles, we've got an assort of engineers, artists, media artists, architects, directors and even a member who is experienced homelessness, and it's interesting how diverse everyone's backgrounds are. On the other hand, I also find it fascinating that everyone's actions and philosophies share a sense of childish playfulness.
How did this unit come into existence?
We met and made an installation in the summer of 2015 for Art Hack Day (an art-technology crossover hackathon) and continued collaborating on pieces for art festivals, so we naturally agreed on putting a name to our partnership.
With each member working independently, how does the team join efforts?
We meet in person as much as possible when we're booked for an upcoming exhibition, but because of having our main jobs to take care of, conflicting schedules and being located across both Kanto and Kansai regions, our team meetings are mostly conducted online.
If our next project is undecided, we're usually discussing ideas in chatrooms.
Tell us about a project you've been working on/are partial to.
We made "Achromatic World -a world without color" for KENPOKU ART in Ibaraki, an interactive live painting performance that fuses the world of art with a unique tech-produced performance to weave a story from the first brushstrokes to last.
We incorporated an enormous project mapping across the entire 20-meters of the installation space. Lighting, stereophonic sound, wind, bubbles, scent and floor vibrations were also responsive to the story and the audience's actions. The painting is also influenced by the audience's actions and reactions, so it's an interesting process for both artists and participants. After each performance, the entire experience is condensed into a picture book in real-time. This one-of-a-kind picture book consists of each of the participant's names and pictures, along with an illustration of the live painting created in the collective effort.
Read more ...

1
2
[Help wanted]
Inviting volunteer staff / pro bono for contribution and translation. Please
e-mail
to us.