The Late Alien
It's 2027. Born in 2007, the main character K has no girlfriend and is part of a cultural minority with few friends. In a paperless age with no books, magazines and newspapers, K collects the old media of the 20th century. His little dream is to "make a book" with his friend 21LO! But it goes against the law to make books in the age when the distribution or even printing is impossible and severely restricted without an official government emblem...

EPISODE 24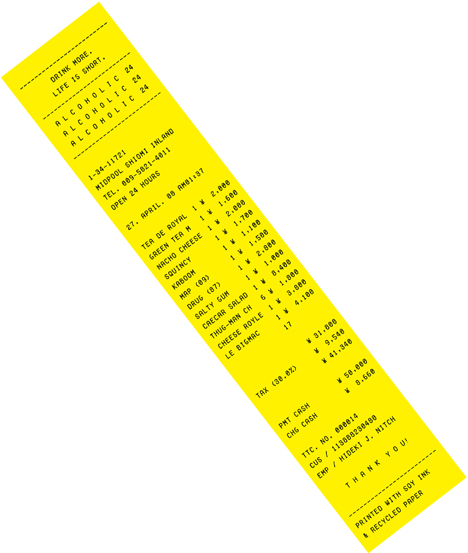 21LO arrived 20 minutes late,
putting on optic orange colored clothes.
K "It's too eye-catching!"
2 "What? Are we thieves? I bought some late night snacks as an apology for being late."
He must be late because of it...... Never mind.
K "Anyway hide yourself."
2 "Well, I'm sorry"
K "What?"
2 "I don't have any credits left for return as I bought them."
K "All right. 10,000 is enough?"
2 "Yes. I always pay you back, right?"
K "Do you? Well, keep down anyway."
2 "Anything you say."
K and 21LO hiding themselves. Anyway, there is a large amount of late night snacks that 21LO has bought.
It is impossible to eat them by the 2 of us on the roadside.
Well, there is a drastic reduction in the number of late night super markets lately.
Hey! Please look at this receipt.
It is a fine paper, too. It's ludicrous only books are targeted for evil. Like cigarettes, books are set up as a symbol of bad. SAVE THE BOOKS. They can't fool me again!
K "You bought a lot. Let me see the receipt."
2 "Here."
K "Wow! You spent 50,000."
2 "Well, I was hungry."
K "You bought too much. You usually eat like a bird. Can I have Cheese Royal?"
2 "Sure. And, what's next?"
K "The housekeeper will take out the garbage at this time. We will steal it quickly."
2 "Wow! You take an extreme behavior."
K "It's a necessary evil to create a new book."
2 "It all depends on how you say it."
K "It's a necessary evil to create a new book."
2 "You said twice! But we need it, right?"
K "But you are interested, right?"
It's about the time the housekeeper appears to take out the garbage. It is quiet at the back door. I have a moral standard not to sneak into the house. It's cold. A little more patience.
2 "It's very cold. Let's do this tomorrow if there's no chance in 30 minutes."
K "No, we need to steal the garbage today."
2 "But..."
K "Demo Demo DEMO"
2 "JAGATARA?"
K "Yeah! You know it... despite your origin as a Zakuian. You must be an Otaku."
2 "Hahaha. But... Demo Demo DEMO."

2 "Your parents' generation. They used to take part in the demonstration. Frequently."
K "Did you read something in the old magazine or what? Some articles about it?"
2 " Yeah, I read it. They marched with loud music."
K "Saying something like, come out here someone in charge!"
2 "There was demo MIX going around."
K "We don't see such demonstrations now."
2 "I wish I could experience it."
K "I want to demonstrate. I need to act. Feel rushed in my youth."
2 "Like the N.S.O.W Crew, it's like my job is to destroy things. I want to burn myself out with making a mess."
K "And God will give the blessing."
2 "You know the animal rights movement. It sounds suspicious, doesn't it? What do you think?"
K "Covered too much in the media."
2 "It's not animals bringing up the issue. The scientist is in it together."
K "Yeah, it's a farce. It's obvious."
2 "If a pet owner takes his pet to the public bath together, we might see animals taking a bath. It's nasty. Don't you think?"
K "But, in the point of animals, they wouldn't like to take a bath with humans neither."
2 "Truth is stranger than fiction, but what's going on with the truth?"
K "The truth is crazy."
2 "They might fuss about putting down pets."
K "They might so."
2 "Really, we need to take care for animals."
K "There is a chicken demonstration lately."
2 "I feel sorry for it."
K "But, there is too much reports in the media."
2 "It must be crucified by the media."
K "Quicky the chicken caused the fire, didn't it?"
2 "Oh. That was the fire in the fireplace, which spread to its feather."
K "Then the 4-family house burned down."
2 "A great-great-grand father died of it."
K "But how can you blame the chicken for his death?"
2 "He doesn't know the reason either."
K "You said 'he'! You are more aware of it than I expected."
2 "Jackass! I am an animalist."
K "Yeah."
2 "But, I feel so..."
K & 2 "I feel sorry for it!"

Illustration: Tomoki Kurokawa
Text and images: Kurando Furuya, Hitoshi Odajima, Tomoki Kurokawa
Translation: Mariko Takei