Sluggish Days
It's 2027. Born in 2007, the main character K has no girlfriend and is part of a cultural minority with few friends. In a paperless age with no books, magazines and newspapers, K collects the old media of the 20th century. His little dream is to "make a book" with his friend 21LO! But it goes against the law to make books in the age when the distribution or even printing is impossible and severely restricted without an official government emblem...

EPISODE 4
This is how I spend a week.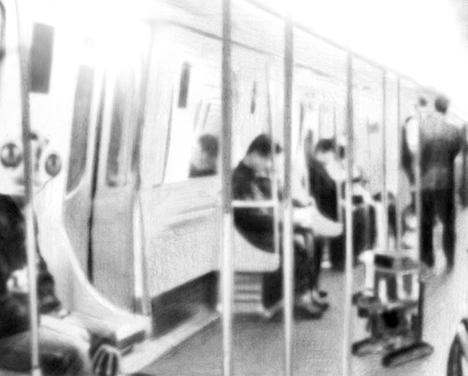 Illustration: Tomoki Kurokawa
Monday.
I go in for a weekly physical exam. It's a bother but we have no choice as this is a national obligation. Only what I look forward to is if I can see a nurse of my type. I think they are all strangely sexy girls. Am I imagining things? Valley between tits.
Tuesday.
Basically, part-time job. I'm working for a Time Company. I have a lot of things to say about this. Well, I will tell specifics later.
Wednesday.
I go to a new kind of Yoga class in the morning which I was recommended at the physical exam (expecting to see the nurse). I can go there with low prices because I have a coupon. The class room is on the first floor of my apartment building. And after the class, I go back to my room and watch movies. I don't remember which movie I saw last week. Apparently, I watch too much movies.
In the evening, I go to a culture school to take a "subculture" class. This is also not expensive with a coupon. Last time it was "History of Japanese Magazine, Prequel". I got unexpectedly excited about the story of Miyatake Gaikotu. I wish if I had money to take more classes. I got more things I want to find out. I can't keep myself from buying books though. Things beat knowledge? We are the material boy controlled by cupidity. And after the study, it's time for movies again. I saw Leos Carax's "Mauvais Sang" and Taku Funahashi's "Mohair Sweater" recently. They were dull movies, is my honest reaction. I may be too young to understand them. I feel lost in such a day I can't see good movies.
Thursday.
A board member from the Ministry of Medical and Sanitary Affairs comes to take my laundry. Oh, there was the case of bacteria-contaminated clothes the other day, which was scary. So clothes should be cleaned, absolutely. This is a great system for a lazy person like me.
Friday is gloomy.
Because it's a weekend. People get too eager trying to enjoy. That's why my excitement dies down. I hate it.
On the weekend, I try new drugs, or read books, or look out the window (being careful not to see the naked housewife), or masturbate, or movies.
Is this the sluggish adolescence people say?
I can't bring myself to leave home always around this time. TV shows the same old discussion program. Oh, I'm short on time. Darn it.
The time has come, or rather has passed.
The tram has gone. There is no use in blaming the timetable, but does everyone make an adjustment into this too accurate timetable?
Putting some tardy aside, I get on the next bus.
The number of buses running has been dramatically decreased around here due to the severe depopulation. I can afford my rent because of that, though.
I always watch people in the train to where I work.
Before we know it, variety comes to the race and ethnic groups of this country. Can they do something for this bizarre songs and broadcasts in the train? It's depressing. Underneath my feet, there is a robot from the traffic company monitoring the breach of manners.
Ugh! A man of chopped head is looking this way.
Let's avoid making eye contact with him...

Text and images: Kurando Furuya, Hitoshi Odajima, Tomoki Kurokawa
Translation: Yurie Hatano