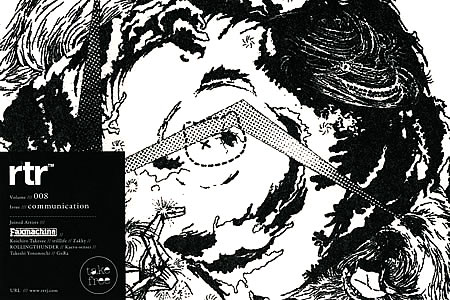 With spring just around the corner, vol. 008 of the free magazine "rtr" was issued in early March. rtr's motto is "From literary to visual publication". Originating from street culture, the magazine is filled with a variety of monochrome graphics, collage and drawings. Its printing and binding were supported by "GRAPH" and "TENPRINT", and it not only has a pleasant texture but also a rich scent of paper. It has a kind of quality you barely see even in Tokyo.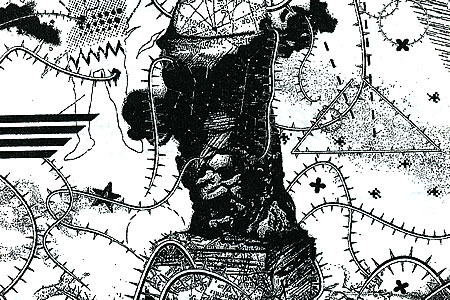 Each issue is based on a theme. This time, it is "Communication"! Right from the first page, a series of crazy analog drawings draws you right in. In a collection called "FAXMACHINE", different artists faxed their works to each other and thus created a collage.
The diverse talents of "FAXMACHINE crew" are: ROLLINGTHUNDER, zakky (Noraneko Rocks), Koichiro Takesue, Takashi Yonemochi (Mirage), Kaeru Sensei, and stilllife. In this coincidental and consequential collage, "originating from trial and error, there is a silent communication far more powerful than actual dialogue", the publisher Yamamori says. I get a thrill out of imagining the strong invisible connection between the artists.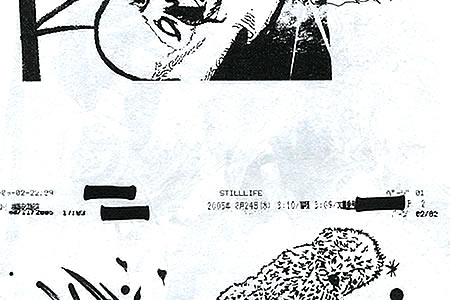 Unlike common layout with one image per page, the images in rtr sometimes break up, like in a continuously incoming fax. Fax numbers are blacked out, and the glossy quality of paper reminds you of the real thing. Even in the age of digitization fax remains a necessity, and its analogue-like effect, which gradually but exquisitely reduces graphic resolution, is just fascinating. Such vagueness and inability to replicate properly might be the explanation for this series of unexpected but powerful inspirations.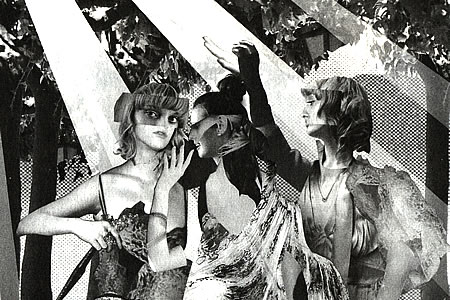 Towards the end, there are also individual works by contributing artists. Just by comparing those with aforementioned "FAXMACHINE", I started to understand the meaning of communication, and the origin of terms such as style and individuality. Because you have associates who inspire you, your idea starts to consolidate and you can further develop your own skills.
Such an aspect of a still continuing style war has been packed into rtr vol.008. Yamamori says, "I will continuously and actively focus on collaborations with projects and exhibitions." In conjunction with the underground cultural movement in Tokyo, various scenes, that are happening right now, are found and connected. This kind of positive media usage is currently happening in Tokyo.
Text: Yoshihiro Kanematsu
Translation: Nem Kienzle
[Help wanted]
Inviting volunteer staff / pro bono for contribution and translation. Please
e-mail
to us.