One of the best pieces in the entire program was a mash-up of Jackie Chan and Super Mario Brothers by Eric Siu Chi-Man entitled "Super Cop World". The video takes the viewer through a virtual "session" of playing Super Mario Brothers (the original, lo-fi, linear version), with Mario cleverly replaced at every moment by a fitting clip of Jackie Chan-when Mario jumps, it is a tiny square screen of Jackie jumping from a building onto a truck that is super-imposed; when Mario swims, there is Jackie diving down into shark-infested waters. At the end, Jackie/Mario wins and gets the girl, striding out through the castle gates (as a super-imposed explosion rages in the background).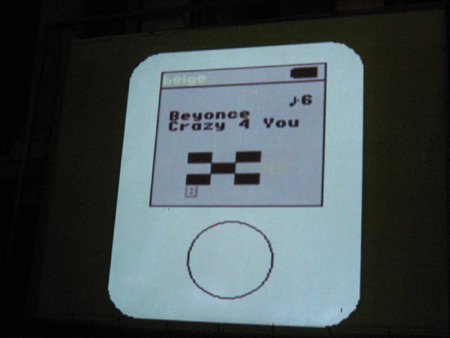 This piece's visual inventiveness and general freshness was unparalleled by any others, except perhaps by American artist Cory Arcangel's "Nipod". In this short, vibrantly-colored animation, a shoddy computer rendering of a 16-bit iPod is scrolled by some unseen controller to play different contemporary American radio hit-all interpreted in Gameboy polyphonic tones. Nelly's "Hot in Here" seamlessly merged into Black Sabbath's "Iron Man", which slid into Britney Spears' "Toxic" in an exhilarating (if not particularly "deep") co-opting of 00's pop music and 80s aesthetic.
Though the DVD contains 14 pieces by as many artists, the November 4th screening only presented about half, and when the 45 minutes or so ended, most of the audience hung around to finish their drinks and window-shop in Habitus' newly-stocked (and re-organized) interior. Handmade artist's books propped up against a shiny red plastic CD player, Kith Tsang's famous garlic-skin light fixtures beaming onto crocheted doll-figures and cast silver jewelry, the night presented an interesting hybrid old-and-new future for this re-energized center of Hong Kong creativity.
PLAY > Video Screening + After Screening Party
Date: November 11th, 2005
Open: 20:00-
Place: Habitus
Address: 3F Western Market, Sheung Wan, Hong Kong
Tickets: $80 (one drink included) ree entry with purchase of PLAY> or Cityscapes DVD at the door
http://www.emergencylab.hk/play/
Text: Samantha Culp
Photos: Samantha Culp


1
2
[Help wanted]
Inviting volunteer staff / pro bono for contribution and translation. Please
e-mail
to us.