Li's studio-mate Chow Chun Fai paints streetscapes of ordinary Hong Kong, made unsettling by their lack of a centered perspective. They dart and warp in subtle ways the eye can perceive but not quite pin down; his canvases have already attracted the attention of several Hong Kong gallerists and curators. One floor below, Lawman and Tinyan (who go by first names only) run a more boyishly exuberant space, filled with manga and graffiti-influenced paintings and looming, rough-hewn wooden animal sculptures.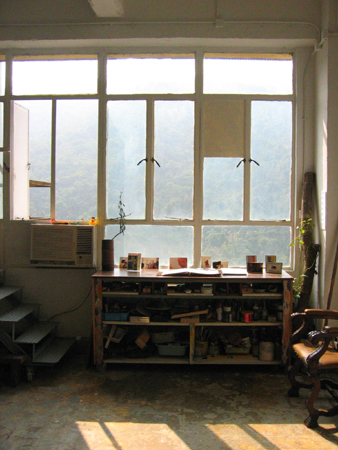 Over on the thirteenth floor of Block A, 131 Art Projects showcased the work of four young female artists, until this past January when Au Hoi Lam and Lam Wai Kit moved into their own spaces elsewhere in the complex. Au paints abstract works that contain references to reality in their lovely expanses-here some spare screws, there what seems to be a skyscraper side. But there is something beyond the visible in her work, scratching its way to the surface through unassuming pastel pigment.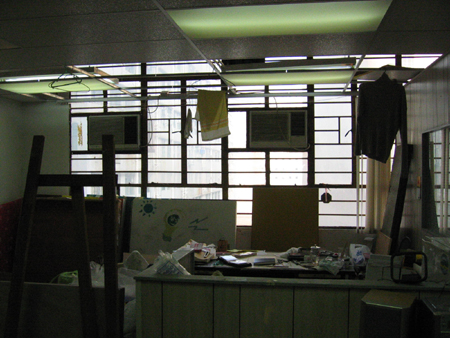 Former studio-mate Lam Wai Kit uses the lens to capture her own uncertain identity as a woman, traveler, Hong Konger. Her video and photography projects often use the artist herself as subject, often adrift in foreign locations like Dubai or Italy. A consummate voyager, Lam wants to see where she fits in, at home and abroad.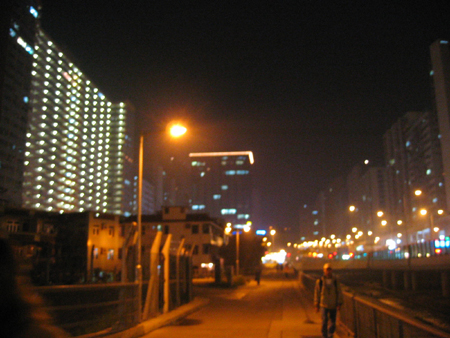 The book "Fotanian 2004" featured nineteen studios and some sixty-one artists, but their ranks are certain to expand in the near future. Au Hoi Lam, who teaches at the Chinese University, says that each July it will become more difficult to find studio space in Fo Tan. Why? Because of each new class of Chinese U. graduates trying to find a space to make art. Unfortunately, as artists are not permitted to live in their gallery spaces (Hong Kong zoning regulations), it may be a little easier to fill the rooms than to actually create an arts community in Hong Kong.
Fotanian Open Studios
Studios Open by Appointment
Tel: +852 35292360
fotanart@yahoo.com.hk
http://www.fotanart.com
Text: Samantha Culp
Photos: Samantha Culp


1
2
[Help wanted]
Inviting volunteer staff / pro bono for contribution and translation. Please
e-mail
to us.