Hong Kong is probably one of the hardest cities in the world to be a young artist. Besides the fact that most galleries only show foreign or Mainland Chinese artists these days, besides the fact that Hong Kong's tycoons only collect Ming dynasty antiques, besides the fact that "artist" is not a respected profession-there is the more basic problem of space. In a city where hyper-density is the ruling principle, every square meter matters and has the price tag to prove it. Therefore the studio, that time-honored testing ground and laboratory for young artists, has long been out of reach for most Hong Kongers. Until now.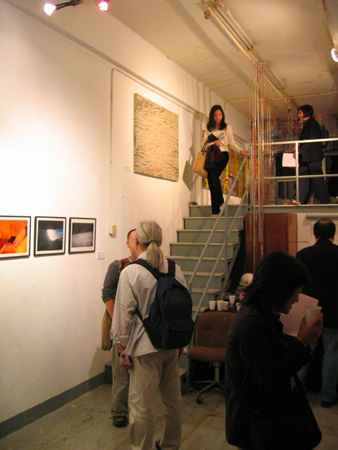 Young artists are slowly flocking to Fo Tan, a former industrial district whose factories now lay empty and are available at reasonable rents. These defunct manufacturing buildings are gradually filling with painters, sculptors and musicians who finally have studios to call their own. Many are recent graduates of nearby Chinese University of Hong Kong's Fine Arts program, and were extremely nervous about having studio space after graduation day. Luckily, some brave pioneers set up shop in Fo Tan's Wah Luen Industrial Centre, clearing the way for all who followed. Now studios have sprung up in the Yue Cheung Centre, the On Wah Industrial Building and others, and the assorted artists doing work here (though rarely living in their spaces) have organized into a loose collective called "Fotanian". Twice a year they coordinate open studio nights, and this past fall published a book profiling the artists of the different Fo Tan spaces.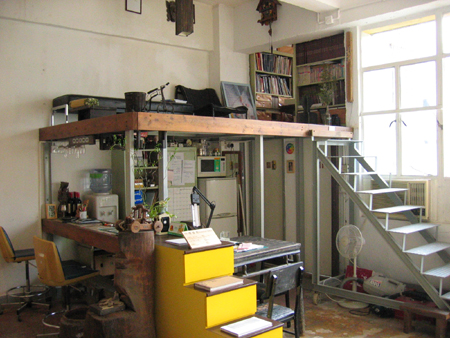 The work being done in Fo Tan doesn't differ that dramatically from the Hong Kong art typically seen in galleries today-a mix of painting, sculpture and new media installations, all pretty traditional in terms of their focus on formal quality than far-flung conceptual explorations. There are definite touches of innovation and excitement, however. Otto Li Tin Lun (Wah Luen Industrial Centre Block B 0615) makes three-dimensional paintings from tiny wooden cubes and bright primary colors in the shape of soccer players and buildings that evoke the pixilated videogames of the early 1980s.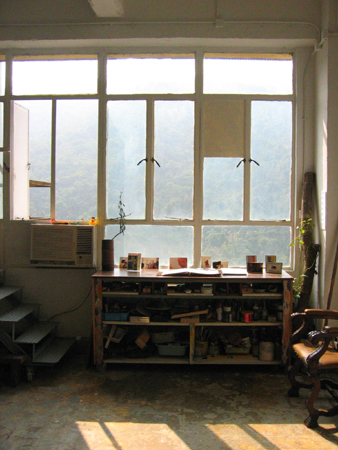 Li's studio-mate Chow Chun Fai paints streetscapes of ordinary Hong Kong, made unsettling by their lack of a centered perspective. They dart and warp in subtle ways the eye can perceive but not quite pin down; his canvases have already attracted the attention of several Hong Kong gallerists and curators. One floor below, Lawman and Tinyan (who go by first names only) run a more boyishly exuberant space, filled with manga and graffiti-influenced paintings and looming, rough-hewn wooden animal sculptures.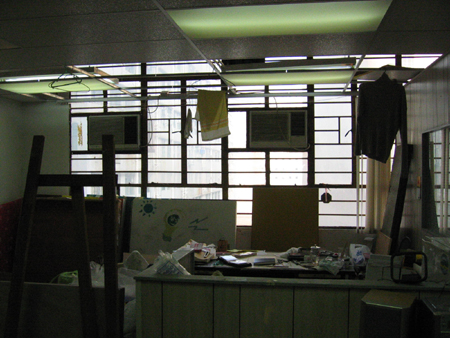 Over on the thirteenth floor of Block A, 131 Art Projects showcased the work of four young female artists, until this past January when Au Hoi Lam and Lam Wai Kit moved into their own spaces elsewhere in the complex. Au paints abstract works that contain references to reality in their lovely expanses-here some spare screws, there what seems to be a skyscraper side. But there is something beyond the visible in her work, scratching its way to the surface through unassuming pastel pigment. Former studio-mate Lam Wai Kit uses the lens to capture her own uncertain identity as a woman, traveler, Hong Konger. Her video and photography projects often use the artist herself as subject, often adrift in foreign locations like Dubai or Italy. A consummate voyager, Lam wants to see where she fits in, at home and abroad.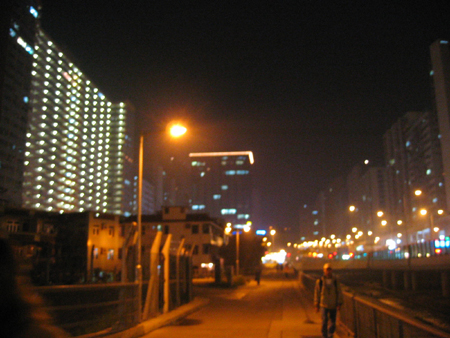 The book "Fotanian 2004" featured nineteen studios and some sixty-one artists, but their ranks are certain to expand in the near future. Au Hoi Lam, who teaches at the Chinese University, says that each July it will become more difficult to find studio space in Fo Tan. Why? Because of each new class of Chinese U. graduates trying to find a space to make art. Unfortunately, as artists are not permitted to live in their gallery spaces (Hong Kong zoning regulations), it may be a little easier to fill the rooms than to actually create an arts community in Hong Kong.

Fotanian Open Studios
Studios Open by Appointment
Telephone: (852) 3529-2360
Fax: (852) 3529-2367
fotanart@yahoo.com.hk
http://www.fotanart.com
Wah Luen Industrial Centre, 15-21 Wong Chuk Yeung Street (Blocks A and B)
Yue Cheung Centre, 1-3 Wong Chuk Yeung Street
Wah Lok Industrial Centre, 31-41 Shan Mei Street
Goldfield Industrial Centre, 1 Sui Wo Road
On Wah Industrial Building, 41-43 Au Pui Wan Street
Kin Ho Industrial Building (Block 2)
Text and Photos: Samantha Culp
[Help wanted]
Inviting volunteer staff / pro bono for contribution and translation. Please
e-mail
to us.