In Japan, we recently can see some visual magazines focusing on expression by visual aspects. Spain is also having one. The Rojo magazine is produced by Sintonison studio, a new media production in barcelona. We interviewed the founders, Susana and David, about the start of Rojo and its contents.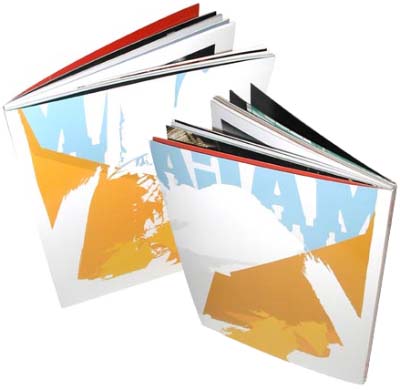 Art work by Andy Rosenthal

First of all, please introduce yourself as well as your background. What made you start this magazine?
Sintonison studio is in the plaza del sol, in Barcelona's multiracial quarter Gracia. Formed essentially by Susana del Valle and David Quiles. Susana comes from having done an MBA and takes care of mostly everything. David comes from having been a marketing executive and product designer of a well-known sports brand in Brazil and coordinates contributors & design. Sintonison works with various clients and after 4 years of working and being castrated (creatively speaking) continuously by mk directors, we decided to create a media that exposes all the work that does not fit anywhere else… and gives the opportunity to our contributors to show their most personal stuff, with no editorial boundaries, just timelessness.
How many people are there working on the magazine?
if we put together all three projects. (printed, online and TV) ROJO is formed by 6 people, plus four associate studios. Super-Media, Extrem films in Barcelona, A_Form in paris and Zagg in Sao Paulo, plus more than 75 contributors around the world.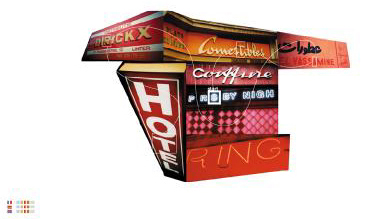 Art work by Oliver+Stoof
Please tell us the contributors. What kind of people take part in?
We look for people that do their own thing. always people that work with creativity everyday. from chefs to graphic designers, from architects to poets, from theatre directors to wine tasters. People with projects that express ideas or emotional stages, people that take creation as a way of personal development.
ROJO 'start' is a new birth and we must thank many people to have it in our hands. Our contributors are great artists and great people too. we believe that work has to be fun, enjoyable, and with the right people work just becomes incredibly satisfiying, plus we make lots of friends.
Why is the theme "Start"? Do you have different theme for each issue?
We play with the sonority of the word 'start' in both English and Catalan, "beginning" (english and most understood) and 'it is late' (catalan, and because we feel that we should have done this project long ago) but this is only the name of the baby. We give every issue a name so we may call them by their names. The name sometimes serves for a theme purpose, but we are not closed on that. We give freedom to express, and a theme sometimes does not help. Next issue will be called 'plus', and the next after that will be called 'extra'.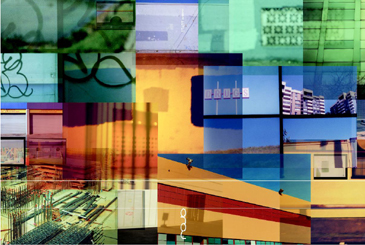 Art work by Robbf
How often are you going to release it?
It will be released bimonthly starting 2nd week of JULY 2001.
What is the difference between ROJO and the other?
We have no editorial criteria. We give space and the contributors do their own thing. We only make sure that the people who are contributing spend lots of time and effort doing it and that the work is not related to any time in particular. We want ROJO 'start' and ROJO 'extra' to be compatible in the same time space and taking out references of year or month helps to forget when it was done, and eliminates one barrier, is it new? is it old…? the question we look for is… do I like it? does it tell me anything…?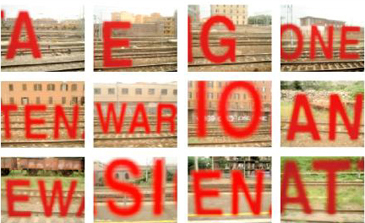 Art work by Hombrelopez
How are you going to design the web site?
As the printed mag, with random covers, and as support of the contents…ROJO has to be just the cristal jar, what has to be interesting is what is inside the cristal jar.
We would like to ask you about Spain. What is hot now?
I am hot… 34 years old.. (just kidding). What is hot!!! In Barcelona, SONAR just went by… and we still have a little hangover, free distributed magazines, Circuit IV, cool TV advertising (with no exposition of products, just comunicating abstract ideas), Sun, beach, nice girls and mestizaje all around. globalization of etnias and messages. Nice people. Ah! restaurants that become clubs after dinner an DJ's play all night.
What is not hot!!! Big brother, dog fights, heroin, ETA terrorism.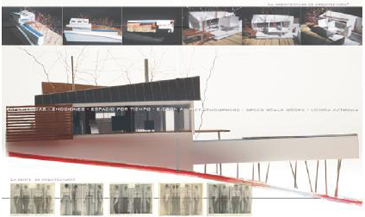 Art work by Archikubik
Please tell us your favorite bar, cafes or restaurants in Barcelona.
MOOG (club, with DJ OMAR as resident)
FONFONE (bar)
SUBORN (bar and restaurant)
CAFE DEL SOL (and all terraces in plaza del sol)
MOND (bar, only with the air conditioning ON)
ZETA (bar and shop)
SHOJIRO (restaurant)
BOGA (restaurant)
TAIRA (restaurant)
SALSITAS (restaurant, CLUB22 after dinner)
Do you know anything about Japan and have any comment?
We do not know much. We would love to visit and know things by first hand, by own experience. we know Shift, we know Films, we know technology, but what we really want to know is people and how they live… and that… we do not know yet. But we have plans to visit soon… maybe to find a cool distributor…
The last question. Do you have any plans for near future?
We are in our near future. ROJO press, web and TV. Creativity flowing free everyday. The future is the present time, same elements just placed in a different order.


ROJO magazine
Address: ros de olano 34 08012 Barcelona, SPAIN
Tel: 93 218 5900 Fax: 93 217 3472
revista@revista-rojo.com
www.revista-rojo.com
Text: Taketo Oguchi
Translation: Naoko Ikeno
[Help wanted]
Inviting volunteer staff / pro bono for contribution and translation. Please
e-mail
to us.