"A pen and paper. They're the most familiar tools to output one's impulse of expression. And paper which we can bring with us everywhere is note. "NOTE" is a showcase of works and new talents. Whether they're well-known or not, it's an "experimental note' which people who get it write with a pen and use in various ways". This reader interactive medium which starts with the handwritten words as the quote above by the editor-in-chief, Masahiro Hattori, is 'NOTE'. In the stylish visual free paper the size of a memo pad, lots of creative people who make Tokyo interesting show their works and topics. This medium carefully confines the feelings of creators letting us know not only individual information, but also pleasure in successfully having it. The third issue will be distributed soon. We interviewed Masahiro Hattori, the editor-in-chief of 'NOTE', to know where this 'NOTE' was came from.
Please tell us a brief story of 'NOTE'.
When I had been an editor of 'Dictionary' at Club King, I had a lot of opportunities to see articles by various people and the real graphic scenes. I originally entered Club King because I like music. I was interested in selecting music as a kind of editing of sound. But I became to be interested in the possibilities of graphics and people who are in the field through the editing of Dictionary. As a result of my interest, I began to create a newspaper with only visuals titled 'Visual Dictionary' in tabloid form as an editor-in-chief. When the 'Visual Dictionary' was finished, I retired from the office as I gained self confidence by the 'Visual Dictionary' and I wanted to challenge myself. Then I set up my own office 'GO PUBLIC'. When I was telling everyone about my retirement, I was working for a promotion of records and editing a booklet at that time. Tsuyoshi Takashiro asked me to make a free paper with someone. At first it was a kind of a promotion of a school, but I wanted to do it in the form what supported it is a school. We made 140 thousand copies at first. It was amazing. Dictionary was 50 thousand and Visual Dictionary was only ten thousand copies. I'd never been involved in such a large scale and I could only imagine fliers just like garbage at fast food shops or so from the number of 140 thousand copies… I felt a responsibility not to make garbage.
Did you actually distribute 140 thousand copies?
Yes, we did! I happened to watch a news program that said there's no place for orangutans to live because of deforestation. I thought I was one of the causes of deforestation, and it must have been garbage and it was meaningless if it didn't target myself and please me, though it should have been public and targeting lots of readers. Anything that doesn't please the creator cannot interest the readers. So I wanted to make something that made myself happy. But it is no small matter and it can be seen as pushing information for some people. They don't want such things at all, so its garbage to them. I thought if they were useful for such people…, they would keep them.So there might be ten thousand or fifty thousand, or even three thousand people who respond to the contents that I thought, but if it's as useful as something to write, they keep it and it's not garbage. (laugh)
It started from a contradictory point. (laugh) What do you want to tell with 'NOTE'?
What I want to tell is the handwritten words like a manifesto in 'NOTE'. A pen and paper are kind of the starting points to do or show something. I hope people who forgot their starting point take notice of that once again, and hope people who sympathize with us experiment with something. If you won't continue experimenting…. I don't know what I should say.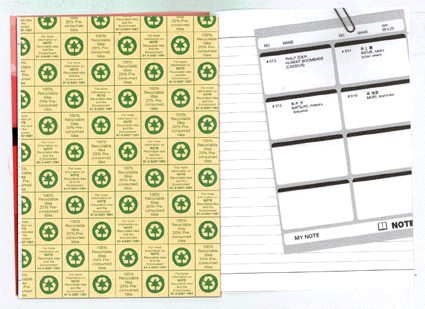 We won't go ahead?
Yes! There's still a closed way of thinking and some people say that nothing new has been created. But something like a noise may be born through experimentation. It's a kind of innovation. I don't want to tell that as a word, but I want to tell that innovation will start when you get something or where you move from.
It's linked with this 'NOTES' that was found in UK, isn't it?
(There's a booklet with same look and same title 'NOTES' in UK. The contents is on a high level, and Hattori and designers were pleased with it.)
Yes! Certainly!! I'm really glad to see that it's innovative like that. It's interesting, isn't it? In fact, we want 'NOTE' to be copyleft.
It's definitely a place for experimentation. Are you usually collaborating with people who participate, or do they create their works as they like?
That all depends. If they have something they want to do, I leave everything to them. If I think of an interesting idea for each, I approach them to collaborate. I think having various kinds of directions is good as long as there's a consistent logic in this magazine.
I think the 90's is a period that indie movements carried out by D.I.Y. spirit has blossomed in both media and music. Please tell us what you feel from the word as an indie.
I hope everything is indie… As an extreme example, Star Wars is, as you see in many magazines, an indie on a large scale because George Lucas wants to control everything by himself. It's an independent movie that George spent his money on because he wanted to control the story and situation that audiences meet. No movie company spent money on it. I think this means indie exactly.
I agree. Indies is not just a music genre. The activity of George Lucas let us feel the beginning of an age that we can feel the word as Indie straightly.
The evolution of technology (I named our office 'GO PUBLIC' with such a meaning) has brought the internet and taken away the category as a border. Today is an age for individuals and people can access other individuals.
Please tell us the meaning of the word 'GO PUBLIC' in detail.
It means to become a public company in the language of the stock market. For example, before the store named Hattori goes public, it's doing business around there, but once it goes public, it becomes well-known everywhere and some people will access or invest in the store. The Internet is great for me like that. But I don't want to do on the internet, just want to return the matter that I noticed on the Internet to the real world. It's various showcases, so I want to introduce unknown people and interesting things to the public. We also want to open ourselves to the public, but that's not all. Anyway we want to tell the public. That is what the name means.
Do you aim for that in other activities except for 'NOTE'?
Yes. I've been editing, but there's a problem that we have and that's to make money. Editing has something to do with promotion. We aim for the form in the middle of editing and promotion. I keep saying that I want to create a futuristic form of that from the beginning.
Do you have any concrete plans of that?
We're still in the middle of experimentation and we haven't found any firm form yet. But we're trying to help the designer and company have something in common; not be forced by a company into producing a catalogue for a company. We'll make the promotion field interesting. On the other hand, we'll introduce and output such people to give them a job. It's a weird company.
What do you think about current Tokyo? Some people say that music and media are hovering around.
Being brave. Everyone should feel what they're impressed by and what they like. If you do something with no reality for yourself, it's boring and you cannot move anyone. As I said before, everything will be boring for yourself if you don't examine your feelings. Once you become worthless, everything around you will be worthless. Then you'll start to say 'everything is boring'.
Do you think actually there's interesting things on the street? Or is there a lot of boring things now?
There're some interesting things. I've been introducing them in Senken Newspaper and what I think interesting is something made by someone who believes it is interesting from one's values. So I think Tokyo is in the course of changing.
The times are changing…?
We can get something, not only money. In recent years, a growing number of people have thought about one's standard of value. So I think, I'm an optimist and idealist though, music or good things will pass from people to people and remain in the future. So I'm actually feeling that such interesting things are spreading beyond the languages.
So you're creating a fruit as NOTE collecting such works. The reason why people are saying everything is boring is because they themselves cannot see anything.
When you say it's boring, you yourself become boring. Your antenna to find out interesting things doesn't work.
Genre is subdivided one after another.
It's no problem if there's no center as mass. Actually there's no center to the Internet.
Everyone is doing as they like and connect to someone if it's interesting. It's individual movement. It's what is called digital nomad.
That's right!! Please tell us about people who have had an influence on you up to now.
I learned various things from Moichi Kuwahara, a representative of Club King, and he influenced me very much. As Moichi says, 'NOTE' itself is a kind of graduation thesis if the editing work of 'Dictionary' is a school. Also, I was influenced by an aestheticist named Mitsuhiro Takemura in the way of thinking. And… this way of enjoying (pointing to turn tables), the way of thinking to enjoy music in one's own way with two turn tables and a mixer. Or the way of thinking to make sound by sampling, the structure or system as Macintosh… It's a good education for us. Maybe I've influenced the way of thinking of folder and system…. There're so many things that I'm influenced by.
What are you most interested in now?
DVD. I wish the sound and visual to become united, I don't know if it will come true though. A new format may be born in the future. It's interesting to see that people in the music field are actively making DVD. I've heard that my favorite, Daft Punk, will release DVD and also I read an interview with Howie B and he said he will release DVD. I wish electronic musicians will be active with such attitudes.
Who are your favorite artists?
Artists from France are interesting now. And Japanese musicians. An independent label named Flower Label is nice. I feel high-quality music is coming from Japan.
How will the contents of next NOTE be?
There's not so great difference between the next and last issues. The format is completed. But I'm thinking one device in the next NOTE not to be thrown away as garbage. I'm anxious that it might not be received by everyone properly. (laugh)
Have you ever met anyone who is actually using it as a notebook?
Yes. But in fact there's only a few pages that can be used as a notebook. Sometimes I'm requested to make more pages as a notebook.
I remember that there are dozens of blank pages as a notebook in the pamphlet for Hajime Tachibana's Application tour (maybe) a few days ago.
Well, there are actually blank pages in it. Maybe NOTE has in it some of the elements of it…. Sampling!! Hattori did a sampling of the pamphlet and it led to this (NOTE). There's no original here. I declare it's a recycling idea. As it's written in the zero issue of NOTE, it's an idea by a designer, "100% Recyclable Idea, 20% Preconsumed Idea". That's all. This year's theme is recycling.
It not only means the recycling of stuff but also the recycling of ideas. Design is a kind of one's idea. The recycling of the way of thinking as why it was created and why it comes to this kind of media.
It isn't a poor imitation, is it?
Yes, it adjusts to the idea to meet the needs of the times.
Finally, please give a message to readers.
Do your best in tuning up the pitch. (laugh)
Including all sorts of things, then neutral dash.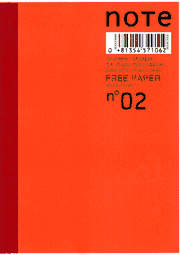 NOTE
Editor-in-chief/Masahiro Hattori
Design/Eisaku Ono/Madoka Iwabuchi/Takuya Yamada
Irregular (The third issue will be distributed in August)
Available at boutiques, cafes and record shops nationwide.
GO PUBLIC
mhattori@pop.bekkoame.ne.jp
TEL +81-3-5457-1061
Text: Akira Natsume for Gasbook
Translation: Mayumi Kaneko
[Help wanted]
Inviting volunteer staff / pro bono for contribution and translation. Please
e-mail
to us.