Sagami Rubber Industries Co., Ltd. is publishing an animal courtship dictionary "Act of Love" in both English and Japanese worldwide. This online and printed encyclopedia introduces collections of courtship behaviors of 73 different species on Earth.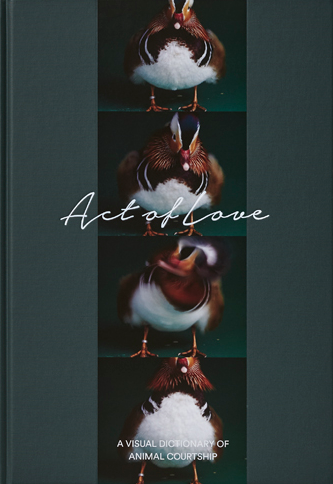 Animal Courtship Dictionary "Act of Love", Printed version, Bookcover, 2016
The company which takes "love" between human beings sincerely has came up with the idea that "the behaviors of animals that shows love with pure instinct, might possibly remind people of the importance of "honest confession of love".
This encyclopedia of courtship behavior is a unique project even internationally, and it was compiled under the supervision of Professor Keisuke Ueda, from the Rikkyo University Department of Bioscience, who is a renowned scholar of behavioural ecology and ornithology, the previous director of Ueno Zoo, Teruyuki Komiya and science communicator Masato Obuchi.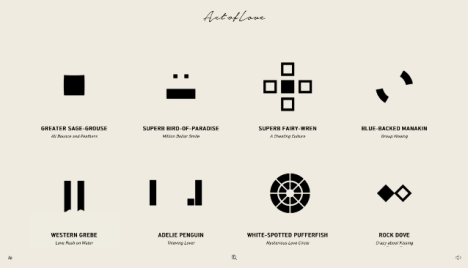 Animal Courtship Dictionary "Act of Love", Online version, Table of contents, 2016
The book stimulates your imagination even with just the unique table of contents; 73 species from worldwide is categorized by 14 different aspects such as "Size/Color", "Face", "Dance", "Voice", and "Thrills".
For example, Indian peafowl is categorized under "Size/Color" and the key word for them is "After all, it is the appearance". It is widely known that male peacocks spread its beautifully colored feathers like a fan to show the courtship to its female peacocks. This encyclopedia explains little known information of the specie such as that, there was a study pointing out the correlation between the number eyeball looking patterns on the feather of male peacock and how popular they were among its female counterpart, as well as how this discovery was later unable to be supported by additional experiments.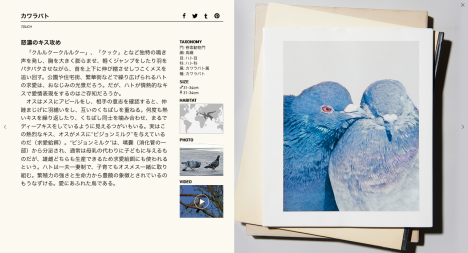 Animal Courtship Dictionary "Act of Love", Online version / Japanese version, Rock Pigeon, 2016
Apart from that, you can see various dramatic titles for each species such as Rock Pigeon listed as "Aggressive kissing", Flamingo is " Disappeared couple", Earthworm is "Danger of death while on a date", Lion is "Old ladies love young male", Leftvent is "My body and soul are your slave". One of the most shocking articles is for Mandarin duck. The popular belief for Mandarin duck in Asia is that they make lifelong couples, however they are listed as "Only lasts a year as a couple, so much for a symbol of lifelong couple". As a side note, you can also learn average size of male and female for each species, and also you can watch movies on the web version.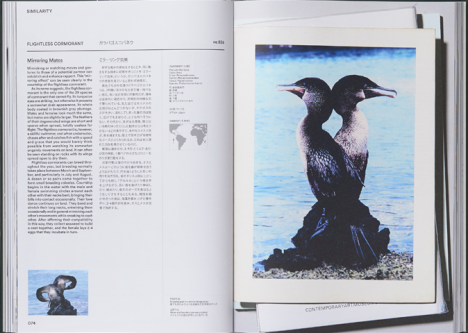 Animal Courtship Dictionary "Act of Love", Printed/ Japanese and English version, Flightless Cormorant, 2016
It is such an interesting read where you can learn not only scientific fact, but also the mystery of animal courtship in a serious manner and/or in a funny tone time to time. The launch exhibition "Act of Love –loving means taking action" took place at Hillside Forum of Daikanyama Hilldide Terrace from January 8th through 12th.
Statement of Act of Love:
Perhaps humans talk too much.
We use too many words and misunderstand each other.
We think too much and end up feeling afraid.
But animals don't worry over their decisions.
They act out of need and express themselves instinctively.
This is pure strength, and primal love.
Sagami original, the condom brand most committed to the quest for love,
presents the "ACT OF LOVE " visual dictionary,
a compilation of animal courtship.
Whether human or animal,
loving means taking action.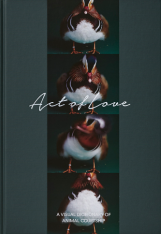 Animal Courtship Dictionary "Act of Love"
Editorial supervision: Keisuke Ueda, Teruyoshi Komina, Masato Obuchi
Planning and editing: Act of Love Project
Outline: special B3 size, English and Japanese languages, hardcover, 196 pages, limited run of 1,000 copies
Price: $80 (including tax)
Date: from the middle of January 2016
Release date of web version: January 7th, 2016
Publisher: HUMAN RESEARCH
http://www.actoflove.jp
Text: Aya Shomura
Translation: Mayuko Kubo

[Help wanted]
Inviting volunteer staff / pro bono for contribution and translation. Please
e-mail
to us.