Venice Beach, on the west side of Los Angeles is an area called Dog Town which is famous for tough neighborhoods and the street culture of the West Coast such as a hippy, a skater, a surfer etc… These days, it's become quite a tourist spot where many people come and go. It is now an exclusive residential area more than Dog Town.
Abbot Kinney Blvd, a few minute walking from Venice Beach has been getting attention for the last 8 years. The atmosphere is quite different in Venice. There are art galleries, select shops and antique shops all over.
In The Night Festival every first Friday, all the shops stay open till 22:00 (they usually close at 19:00). All generations and genders enjoy a live performance by bands, DJs and other varieties of events till late night.
Tortoise opened on Abbot Kinney Blvd in 2003. Now they have 2 stores in the same area. Tortoise deal in a variety of goods, sundries, furniture, crafts and arts that are selected by the owner Mr. and Ms. Shinomoto who have had careers as Japanese furniture designer. Almost all of the items are made in Japan which amazes most Americans that come here. Furthermore, it changes the image of Japan that they have.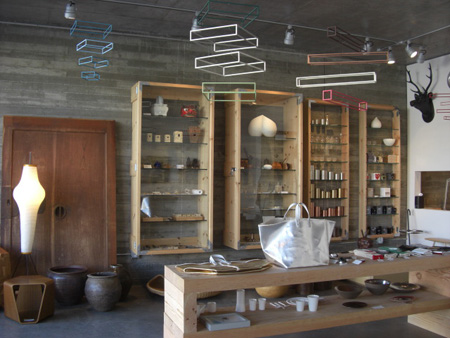 There are delicate and attractive sculptures ranging from abstract to more pragmatic sundries in a relaxing shop. None of the products are mass produced. You can almost feel them as slow life forms. These works are produced by concepts of Nature material, from a traditional standpoint and moments in history. I was glad to see those delicate and traditional products crafted as modern design and Japanese.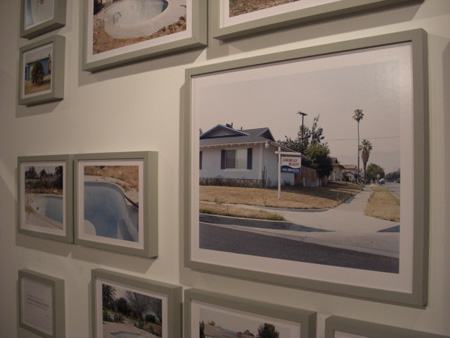 The shop, also currently has a photo exhibition "POOL" by Taro Hirano. The photo book "POOL" has pictures of empty pools originally shot for the magazine "relax". Then, it was published as a book by a publishing company. Then, the exhibition toured globally. This time, the exhibition is being held in the origin of pool skating, Venice with Mr. and Ms. Shinomoto's corporation. Pool skating became well-known through the movie "road of the Dog town". Pools in California are different from those in Japan. The bottom shape is round, so the kids use it as a wave and skate. That is pool skating. But there are many ways to skate on pools.
A pool skater has to start by finding an empty pool. They seek a house that has a "for sale" sign. Sometime they cheat and rent a Cessna plane to find said locations from the sky. Even if they find one finally, the pool is sometimes full of trash. They typically have to clean and mop the pool. In the end, they gag the drain with tape. After all this hard work, they finally skate. But it won't be long because after all it is breaking in and illegal. They have to move on to the next spot.
Why do they want to skate in pools with all the associated risks? Why do they stick with it? We will never know why until we experience it. I guess that every pool is hand made and custom. There is not any same one. Plus, the angle of the carve as well as the material and coating wax are typically from different companies. Popular pool companies are Blue Heavens. Skaters get a thrill from the secretive and illegal adventure.
Knowing this background helps us further enjoy the photos of taped drains, the trail of skating and understanding their passion for the pool skating. The photos become more real to us.
The motive of an empty pool is hard to be recognized in Japan, but no in Venice. People stop by the gallery and talk about pool skating. The legend of the skating team "Z-Boys" relatives stop by and appreciate the works. The opening party was full with people till late at night.
Tortoise
Address: 1342 1/2 Abbot Kinney Blvd. Venice, CA 90291
Tel: 310-396-7335
Opening hours: Wed. – Sun. 12:00 – 18:00
http://www.tortoiselife.com
Text and photos: Nico
Translation: Naoko Wowsugi
[Help wanted]
Inviting volunteer staff / pro bono for contribution and translation. Please
e-mail
to us.