Tokujin Yoshioka focused on the relationship between nature and human beings, and pursued for the research of the feeling that light brings us. And he creates works from unrestricted thought and experimental technologies in a wide range of areas including design, art and architecture.
At the "54th Venice Biennale" in 2011, he announced the architectural project "KOU-AN Glass Tea House" and attracted attention to take a look into the essence of Japanese culture that exists in a sense of integrating glass tea house with natural light. His pieces has been selected as a permanent collection in the New York Museum of Modern Art (MoMA) and Center Pompidou Center has been etc.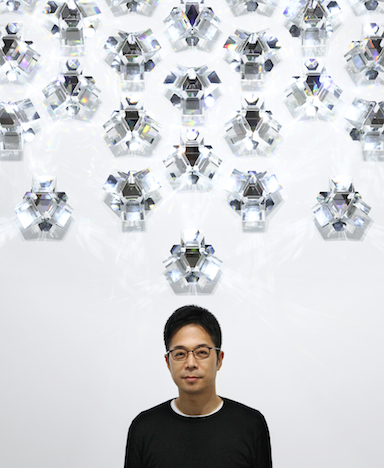 © Tokujin Yoshioka
What are the thoughts behind the latest installation "Spectrum" for this exhibition? Also, what kind of process did you follow to realize this work?
Light – I wonder why naturally light is so attractive to us. Focusing on the relationship between man and the natural world, I have explored the sensations that natural light brings to us with my studies and experiments. Sunlight, moonlight and shimmers of water – all living creatures can sense the power of the natural world. The beauty of it transcends time and has mystic energy that cannot be fully grasped.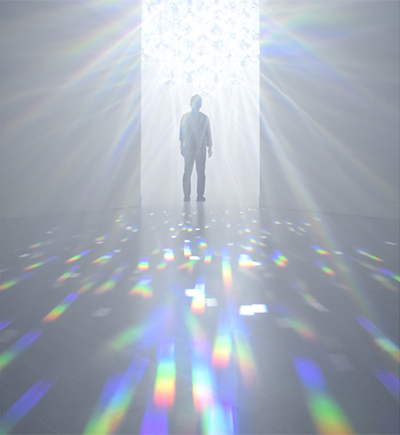 "SPECTRUM" © Tokujin Yoshioka, 2016, Installation, Exhibition "SPECTRUM – Resonant rainbows radiate from prisms" Shiseido Gallery, Japan
In this exhibition, I present my latest installation "Spectrum". This experience offers an almost mystical journey through light, with seemingly infinite rainbow colours created from the sculpture made of prisms. I started creating this work after studying sunlight and attempting to recreate it.
Corresponding to light, the sculpture made of 200 prisms on the wall refracts thousands of rainbow rays, and here in this installation, shards of light project spectrum to this entire space. We are all fascinated by nature. This installation is inspired by the relationship between man and natural light, and the beauty of light itself, and aims to arouse human senses by conveying the mystery of light.
The transparency and mystique of natural light is created from layers of numerous colours. I've studied and experimented with sunlight many times because it is such a unique phenomenon. Through this process, I've learned the unpredictable character of natural light, and I tried to create this sublime beauty with my own approach.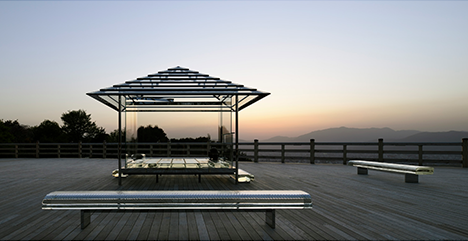 "KOU-AN Glass Tea House" © Tokujin Yoshioka, 2011-2015, Building project by Glass, Tendai Sect Shoren-in Temple, Japan
What is the reason of using transparent materials in your works such as "Rainbow Church" presented in TOKUJIN YOSHIOKA _ Crystalize, an exhibition held in Museum of Contemporary Art Tokyo and "KOU-AN Glass Tea House" which has been installed on the stage of Shougunzuka Mound, Seiryu-den, a precinct of Tendai Sect Shoren-in Temple which is both a sacred Buddhist site and a designated Important Cultural Property of Japan? What is the attraction of light created with transparent materials?
I see transparency as a colour which is closest to light, and I use this as a material. The colour of transparency is radiant in the sunlight. I've always felt that there is nothing more beautiful than natural light. Light itself doesn't have a form, but it exists with a mystic aura which can change the surrounding atmosphere and resonate with our innermost emotions.

"Snowflake" © Tokujin Yoshioka, 2010, Installation, Kartell Gallery, Itary
In your creations, there is no direct element referring Japan, however, viewers find something Japanese in it. Are you aware of that when you create your works?
The Japanese concept of nature finds life and mysteries in the natural world stemming from a sensation of energy or an aura projected by nature.
This kind of perception and unique understanding of nature in Japan has echoed down to us from ancient times. For me, the important thing in my work tracing the origin is conveying the passage of time created by nature. I am to capture the essence of time and nature in an experience comprised of simple designs to allow viewers to integrate with nature and light in a way that is palpable. If we focus too much on style, it becomes difficult to see the essence.
Read more ...

1
2
[Help wanted]
Inviting volunteer staff / pro bono for contribution and translation. Please
e-mail
to us.