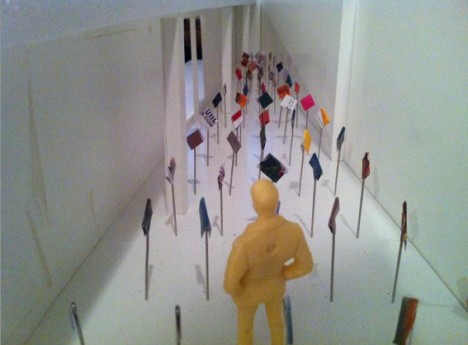 A double exhibition with 80 magazines, 80 feet of books and other printed matters will be held in Storefront for Art and Architecture. Designed by Giancarlo Valle, Isaiah King and Ryan Neiheiser.
Archizines + Arch-Art! Books is a double exhibition consisting of Archizines curated by Elias Redstone and Arch-Art! Books, curated by Adam O'Reilly for Printed Matter, Inc. that brings to the table a hypothesis: printed matter matters.
Consisting of an eclectic selection of new independent and alternative magazines, fanzines and journals from around the world (that can be read as a contemporary response to the Clip Stamp Fold exhibition curated by Beatriz Colomina at Storefront in 2007, which explored the little magazines phenomenon in the 60's and 70's), together with a selection of contemporary artist books with architecture at the center, the exhibition is a temporary library for contemporary approaches to architecture from different disciplinary origins and degrees of expertise.
Archizines + Arch-Art! Books
Date: April 18th – June 9th, 2012 (Archizines)
May 5th – June 9th, 2012 (Arch-Art! Books)
Opening Reception: April 17th, 2012, 19:00 – 21:00
Open: Tuesday – Saturday 11:00 – 18:00
Closed on Sunday, Monday
Place: Storefront for Art and Architecture
Address: 97 Kenmare Street, New York, NY 10012
Tel. +1 212 431 5795
http://www.storefrontnews.org
Text: satsuki miyanishi