From here, I'm going to introduce galleries from local cities of Japan which actively participate in the fairs inside and outside of Japan. Local galleries where people rarely see has made visitors feel like traveling by visiting each room through. Looking at works by local artists, people could know the tendency and culture of the city. This is another feature of this art fair.

Room 1306 Art Gallery Minazuki (Gifu)
At the entrance of Art Gallery Minazuki (Gifu), Yuki Iinuma's work welcomed people by fully depicted many animals in patterns. Further ahead, Akifumi Okumura's flat painting of pig which seemed to be in the 3D cardboard box. His works unnaturally composed with alive animals and depicted realistically as if those were existing there. There were fabric emblems and coasters made with the same images on the sofa. In contrast to Chihiro Kudo's drawing, it had fluctuating outline which was pretty, but the drawn interiority was shocking.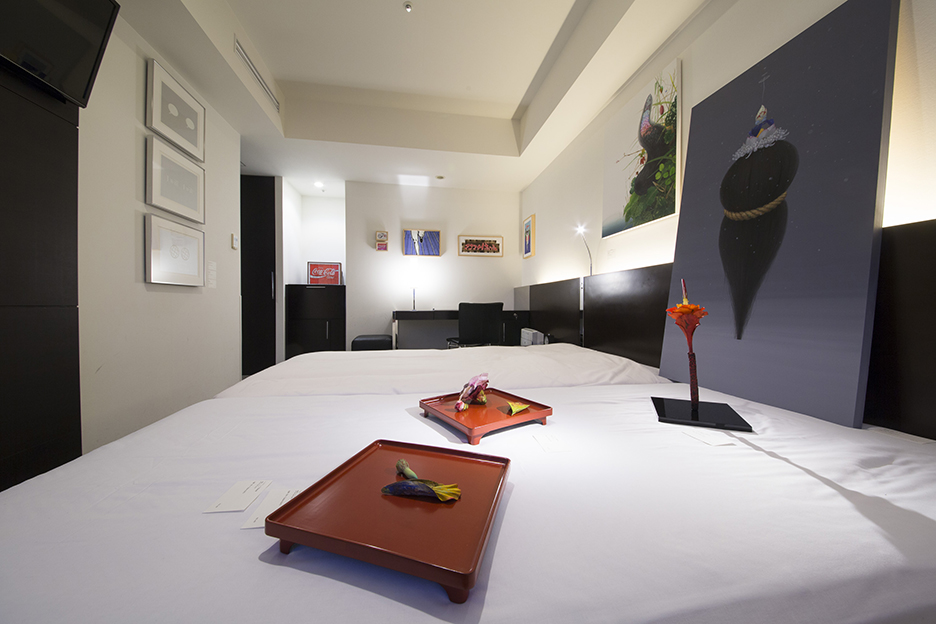 Room 1303 LAD GALLERY (Nagoya)
LAD GALLERY (Nagoya) launches works that move people with vital sensitivity and contemporaneity in the primary market. You could see "Goshinbana" which was composed with straw festoon, black hair and flower drawn with fine point brush and created 3D plant made of combination of different elements of plants on a bed. Both are by Chihiro Kato. Flat work by Daichi Takahashi, if you look at it closer, you can see he used motif of industrial products showing letter and design drawing at the gap between the corssed lines of a graph paper. Painting a girl and putting fabric on her head by Tetsuhiro and Kiyomi Uozumi was exhibited on the bed. It was a very good hotel fair.
YOD Gallery (Osaka) tries to find the universal sense of value from thoughts of creators and their works inside and outside of Japan while art expression has a tendency of globalization. The gallery also tries to review Japanese identity and discovering creators and their works which have their own sense of art to show to the world. Face of girl drawn by Ryuzo Satake looked like composite of CG prism, however, it was specially brushed in a Japanese style painting. It was surprised that artwork created by Takuro Sugiyama was not in CG but acrylic painting with intricately connected hand drawing lines. Sequentially last year, gracious and modern vessel by Nobuyuki Ogawa and "Hittsukihito" by Masashi Hattori hung on the window was popular.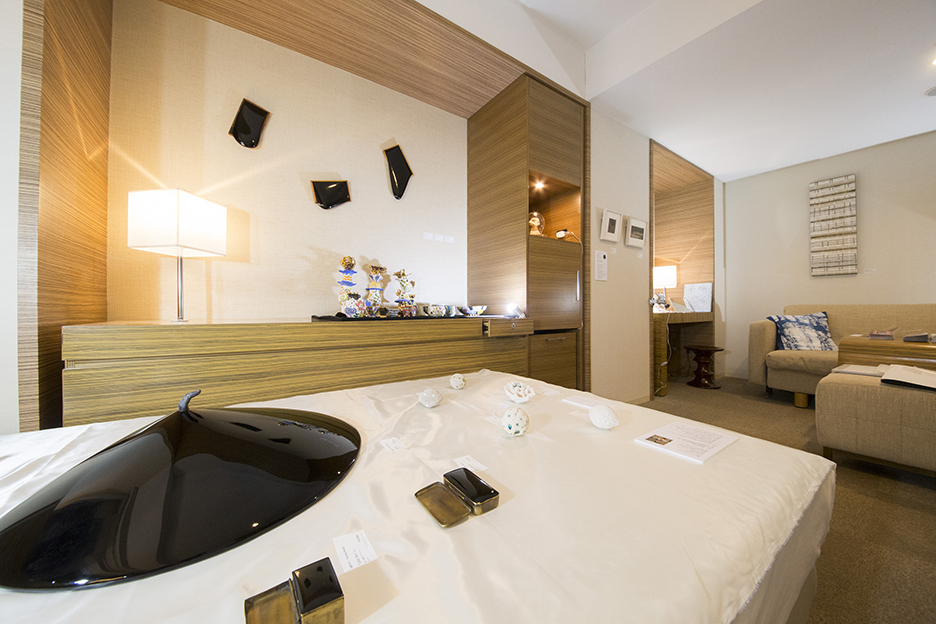 Room 1304 Dohjidai Gallery of Art (Kyoto)
Dohjidai Gallery of Art (Kyoto), which has many visitors who looked for the exhibition every year repeatedly, had Yuzuho Kojima's half transparent blue dyed with indigo changing its face by transition of sunlight. Lacquered work by Syoko Taruma seemed that thick black liquid was almost dropping down. She is a new spirited artist who just graduated from master degree program of Kyoto Art University. Flat work by Eitaro Matsuo which doesn't limit viewers' interpretation showed an unexpected technique; collage of baked paper. Japanese lacquer with scattered white shells by Moemi Sasaki was an example that art tries to transcending Japanese tradition.
Read more ...
[Help wanted]
Inviting volunteer staff / pro bono for contribution and translation. Please
e-mail
to us.