18 galleries both in and out of Japan were gathered in Sapporo. Continuing from last year, the International Art Fair was held in Sapporo.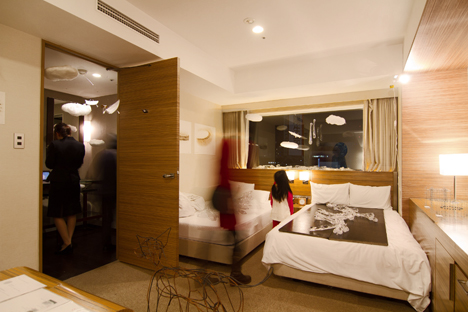 Art should be enjoyed to look. Purchase of artworks is allowed only for a handful of people. Such common thinking still remains in people's minds. Recently, gallerists, artists, and art collectors all around the world have acted to break the fixed perspective of art. In Japan, events to connect art with people have held energetically around Tokyo. But, I think the wave hasn't reached the northern region of Japan, Hokkaido. There is a huge gap between art and Hokkaido citizens because of many reasons including a lack of commercial galleries and difficulty of holding popular exhibitions and shows of the performing arts. That's why Art Fair Sapporo is an important chance to change the art scene of Hokkaido.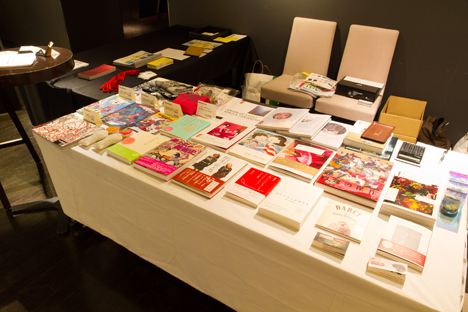 [Art Fair Sapporo2014 Special Event] Seigensha's pop-up store
This is the second time of Art Fair Sapporo. The open for public was on November 23rd and 24th. It was visited by over 1500 people. As last time, Cross Hotel Sapporo, one of the hotels which are very passionate for cultural events, was the place for exhibition. In fact, Cross Hotel Sapporo has participated and cooperated various events including the collaborated music concert with SAPPORO CITY JAZZ and a special art exhibition called ART-X. Each gallery used one room on the 13th and 14th floors, and coordinated artworks. Because Cross Hotel Sapporo provides differently designed rooms, each room created a completely distinct space. Also, deposit system was introduced this time, and people who bought any goods and works could receive a refund. As the special support, lunch or dinner tickets of a French restaurant "Le Musee" awarded one star in the Michelin Guide presented to the first five purchasers of artworks. Because of those devises and cooperation from each gallery, fortunately the sales exceeded last time.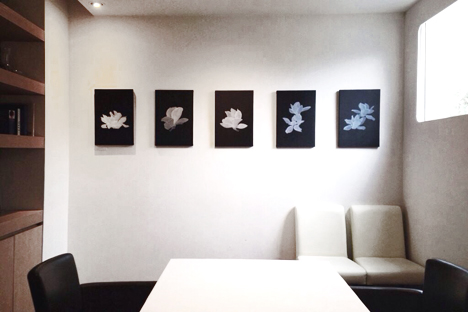 Le Musee
For this International Fair of modern art, a lot of sophisticated art galleries were gathered. Among all 18 galleries, 7 galleries including GALLERY KOGURE and mograg garage were from Tokyo. Dohjidai Gallery of Art (Kyoto), YOD Gallery (Osaka), and Gallery OUT of PLACE (Nara/Tokyo) from the Kanasai region of Japan, and Gallery TEN (Kanazawa) and GALLERY MINAZUKI (Gifu) from the Chubu region participated in this fair. Also, three asian galleries, OFFICE 339 (Shanghai), LeeSeoul Gallery (Seoul), and Galerie Grand Siecle (Taipei) were gathered from abroad. Sapporo art fair is only one opportunity for Hokkaido citizens to enjoy art works curated by those outstanding galleries without a long trip.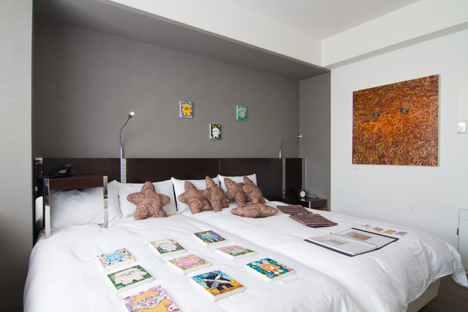 Room1310, Clark Gallery+SHIFT (Sapporo)
Needless to say, Hokkaido-based artists exhibited their works as well. As galleries in Hokkaido, Clark Gallery+SHIFT (Sapporo), GALLERY MONMA (Sapporo), and Hanaagura (Sapporo) participated in it. From Clark Gallery+SHIFT, a popular Hokkaido-based artist, SHUUN, exhibited many works. His main works, "Animals" and "Aitsura", painted mysterious creatures created a unique world. Also, star-shaped cushions and clutch bags printed "Animals" were on sale.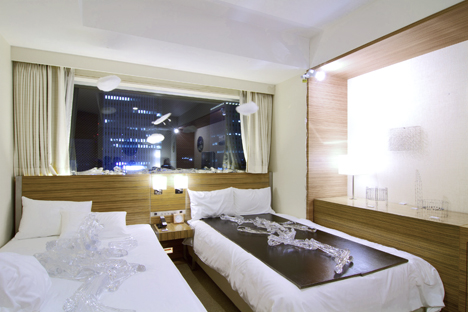 Room1311 GALLERY MONMA (Sapporo)
Four artists exhibited in a room of GALLERY MONMA. Especially in the morning, glass art of Daisuke Takatomi reflected sunlight from the windows, and the reflected sunlight casted mobiles of jobin. and paintings of Shino Hisano. It was so warm and gentle. 

[Art Fair Sapporo2014 Special Exhibition] Rie Kawakami "Trace"
One more artist, Rie Kawakami, from GALLERY MONMA exhibited her works of steel wire in the room and lobby on the 2nd floor. Humorous dogs made of only steel wire welcomed guests.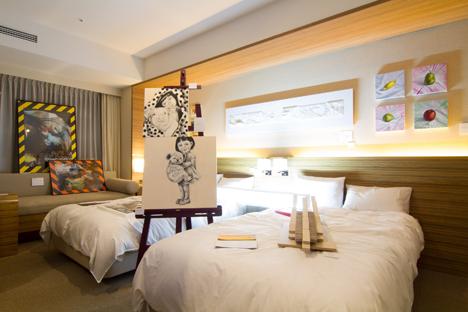 Room1312 Hanaagura (Sapporo)
Hanaagura (Sapporo) exhibited many young talented artists living in Hokkaido. From dwarf-like clay works of Masayo Keizuka to paintings, three-dimensional works, and a video work, the room was filled with various kinds of artworks. Makoto Iga holding an exhibition "DOT・STRIPE・CROSS" in Cross Hotel Sapporo at the same time also participated from Hanaagura. One of his characteristics, fine decorations and warmth of wood, generated tension and pleasantness.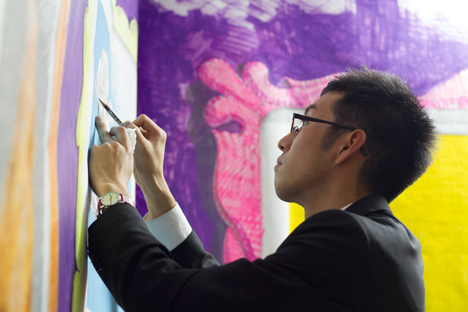 [Art Fair Sapporo2014 Special Event] Takuya Yonezawa, live drawing
Young popular artist, Takuya Yonezawa, from Hanaagura, performed live drawing at the landing of the 13th floor. He spent around 16 hours to complete the work by using color pens and pencils. Based on unique motifs such as avocado and cloud made of tissues, he created a poppy work by drawing a flame for each motif.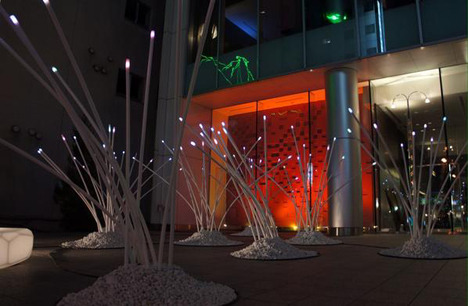 [Art Fair Sapporo2014 Relating Exhibition] Toshihiko Shibuya "CROSS WIND Ⅱ"
In addition, even though he didn't participated in Sapporo Art Fair this time, the latest installation "CROSS WIND Ⅱ" of Toshihiko Shibuya was exhibited at the entrance. He is one of the representative artists in Hokkaido who awarded the Prize of Cultural Encouragement 2014 from Sapporo city government. In front of this installation moving like coral while glowing, many pedestrians and guests of this Art Fair Sapporo stopped to take a photo of it.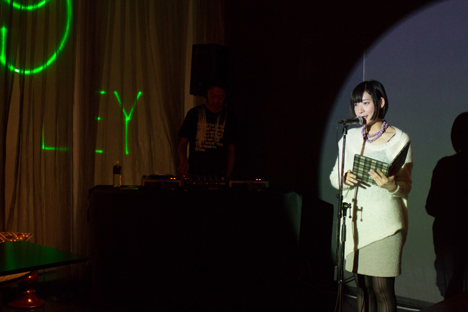 [Art Fair Sapporo2014 Special Event] owtn., poemcore live performance
On November 24th, a POEMCORE idol "owtn." held a live performance. Recently, she has started to gain attention from both the inside and outside of Japan as the first female poem-core idol in the universe. This time she wore a different costume from a usual  lovely dress, designed by ayumi.mitsukane. She performed 7 songs in total, including 2 songs from the newest EP "The Fountain My Honey Lives in" released on that day. Compared with her former style such as dreamy vague melody and voice like a sigh, the new songs consist of clear catchy melody and a strong way of singing.
Art Fair Sapporo is not only an easy chance to show artworks from the outside of Hokkaido. As the support from a French restaurant "Le Musee" and a tasting of tomato juice of "SNOW JEWELS" in this time, it is also an occasion for gallerists, artists, and guests from the outside to enjoy the collaboration of art with food and nature of Hokkaido, and for Hokkaido-based artists, to introduce themselves and their works to Hokkaido citizens, Japan, and the world. Art Fair Sapporo is a platform to spread culture and attractive features of Hokkaido.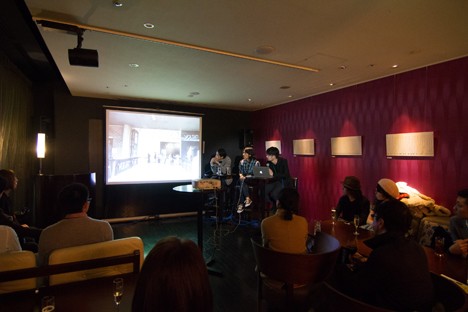 [Art Fair Sapporo2014 Special Event] Cross Talk "How to enjoy Art Fair"
"Cross Talk" by gallery directors participating in this Art Fair Sapporo was held on November 23rd. As talk guests, Kentaro Totsuka (hpgrp GALLERY TOKYO), Kazuhide Miyashita (MUG), and Kazushige Suzuki (Gallery OUT of PLACE) joined, and they talked about art fair in Japan and abroad and the way to enjoy art fair. What all of them emphasized was, "art markets all over the world is still developing, and an important future theme is _how to connect art with people who've not been moved by art yet." And, according to them, art fair is the best opportunity for those people.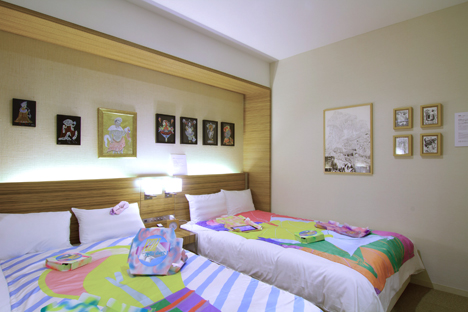 Room1407 mograg garage (Tokyo/Kyoto)
Specially, hotel-styled art fair is not only financially advantageous, but also makes it possible to enjoy while associating art with your life style because guests can look artworks already coordinated in the room. To contrast a different room coordinated by each gallery is one of the ways to enjoy this event. In the room of mograg garage (Tokyo/Kyoto), from the entrance to windows and beds, tapestries of Kazuki Takakura and unique artworks of Inami Eri created with the concept "eat a pizza on the bed" decorated the room colorfully.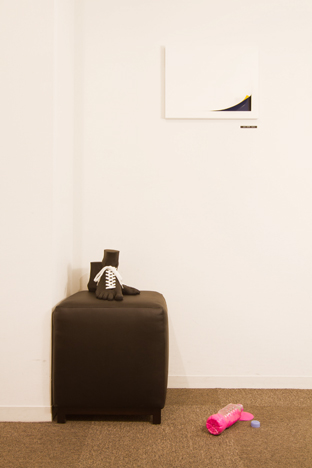 Room1408 MUG (Tokyo)
In the room of MUG (Tokyo), a hands-on art of Kohei Yamashita was very popular. The motif of this work is climbing, and guests could enjoy it by looking in a telescope installed at the entrance of the room. Also, funny artworks of Takao Machiba (the above photo) attracted guests a lot. "Peekaboo" on the wall is turned over and you can see the inside. By associating the work with the title, you can catch a glimpse of a little story.  

Room1304 Dohjidai Gallery of Art (Kyoto)
The atmosphere of Dohjidai Gallery of Art (Kyoto) was modern, and also traditional. It exhibited pop art of Marilyn Monroe "Monroe & SEXY" created by Kwon Jea-Hyeon, whereas traditional lacquer art of Tomoe Sasaki and pottery of Haruka Akiyama (the above photo) created a Japanese styled space.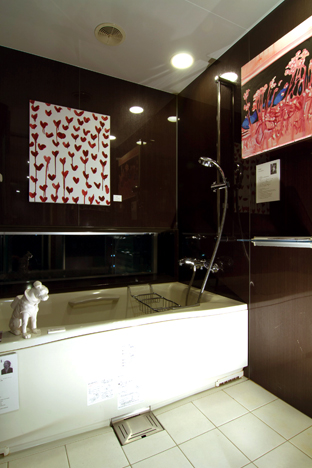 Room1306 Galley TEN (Kanazawa)
In addition, direction of the unusual space like Galley TEN (Kanazawa) is one of the characteristics of hotel-styled exhibition. In its room, paintings of Satoshi Kikuya were in the bathroom, and delicate glass art of Runa Kosagawa (the above photo) was exhibitted on the beds. A huge painting of Kazuhiro Hori was also impressive. His realistic paintings mixed reality and unusual space, and created an incommensurable world.
Don't hesitate to purchase artworks on art fair. You have only one chance to meet one artwork in a lifetime. If you miss the chance, you might not meet it again. Certainly, it's not an easy decision to buy artworks in terms of cost. But artworks are not always too expensive. Although of course you need to pay a significant amount of money for sophisticated artworks, in fact it is possible to purchase artworks at a reasonable price. To look for your favorite works among reasonable artworks is also one of the ways to enjoy art fair.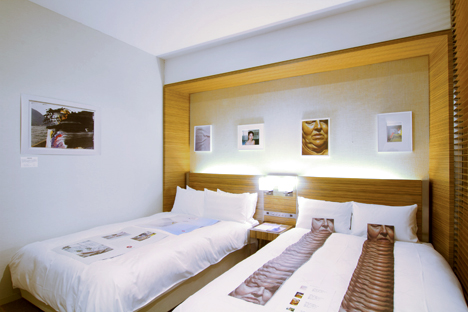 Room1406 EINSTEIN STUDIO (Tokyo)
For example, in the room of EINSTEIN STUDIO (Tokyo) which is one of the participating galleries this time, photographs of winners of JAPAN PHOTO AWARD were exhibited. Photographs of Nobuo Yano, one of the winners, with the frame could be bought at around USD 170.00. Also, a poster of a famous modern artist, Jeff Koons was sold at about USD 16.00.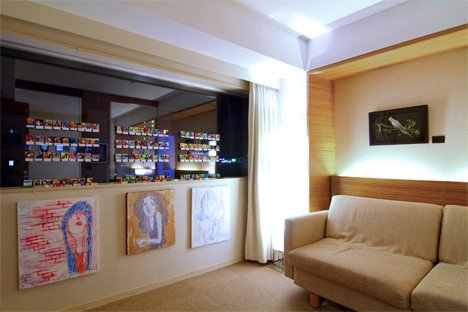 Room1307 GALLERY MINAZIKI (Gifu)
GALLERY MINAZIKI (Gifu) created a cheerful room by exhibiting a variety of artworks from tiny pieces to paintings and mobiles. One of them was small wood carving art of HUIT, sold at around USD 21.00 apiece. You can enjoy each story of the work filling windows of the room.
Surely, on art fair, it is the best to purchase artworks, but it is also significant to enjoy appreciating art. As the way of enjoying art, those three gallerists recommended to look for artworks and artists that you've ever heard and met. Even just by looking for artists you know, you'll become interested in art, and feel art close.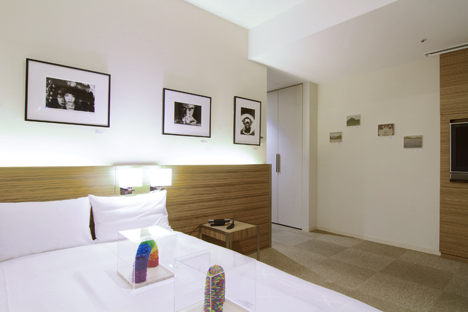 Room1305 YOD Gallery (Osaka)
Among participating artists and exhibited works of this Art Fair Sapporo, there were also well-known names. For example, in the room of YOD Gallery (Osaka), two works of Eikoh Hosoe, from Ordeal by roses: photographs of Yukio MIshima who was a celebrated Japanese author, were exhibited. His another photograph of Yayoi Kusama, which was taken when she studied in New York, was paid attention from many viewers. Two photographs of Kinbaku Bondage series of a famed Japanese photographer, Nobuyoshi Araki were exhibited.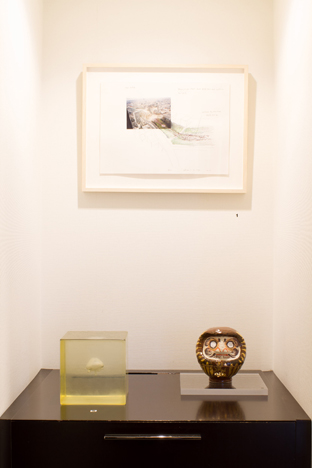 Room1403 GALLERY KOGURE (Tokyo)
GALLERY KOGURE (Tokyo) exhibited "Fence Passage Start From Alte Oper And Continue That Park" of Tadashi Kawamata who is a world-famous artist from Mikasa, Hokkaido. Basically, many of his works are three-dimensional, but even this plane collage of a project picture was outstanding. It's not necessary to always visit a large art museum to meet famous artworks. Art fair is also one opportunity to enjoy elaborate masterpieces.
The point when we appreciate modern art is to understand message that artists and their works want to tell. Beauty and skills are not only important for modern art, but also message and concepts.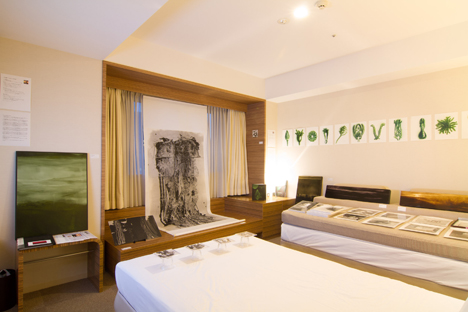 Room1405 MAKII MASARU FINE ARTS (Tokyo)
In the room of MAKII MASARU FINE ARTS (Tokyo), many viewers took notice of Japanese calligraphy by Shohshu who wrote a title for a Japanese historical drama "Strategist Kanbee" and a rising artist, Toshiya Kobayashi. On the other hand, a Japanese painting of a cute polar bear in the zoo by Kosuke Yoneyama was also favorable. The polar bear swimming in the pool so merrily was so calm and healing many people. But, the title of this painting startled everyone. The title is "climate change". You can imagine the pool might be made by global warming. This picture includes such an ironic message. If you catch the message artists want to tell like this, you will be attracted by the artwork more and more.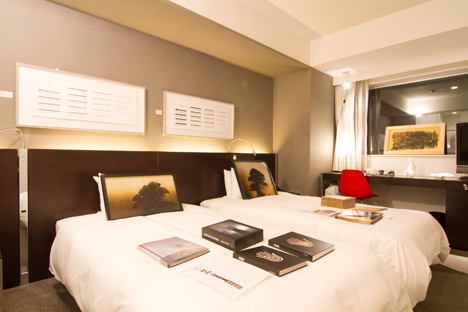 Room1409 hpgrp GALLERY TOKYO (Tokyo/New York)
Of course, every concept is not always understandable. For example, besides photographs of Ryo Ohwada who takes highly sophisticated photographs in various respects including skills, visual effect, and concept, hpgrp GALLERY TOKYO (Tokyo/New York) exhibited artworks of Tomoyuki Ueno. One of his works looks like just a well designed stylish art. But, it also has a crucial message you'll never know if don't ask. On this work, world national anthems in English are overlapped and particular words such as "love", "parents", and "sister" are printed clearly. The reason why he did so is to pick out words associated with family from lyrics of national anthems singing war. The work might express the rigors of war and mistake of countries, and love of family. You should ask about what you don't understand and you're curious to gallerists without hesitating. They are itching to explain about artworks and share the impression toward artworks.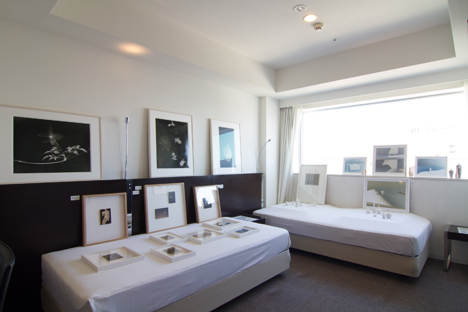 Room1303 Gallery OUT of PLACE (Nara/Tokyo)
In addition, it is a good idea to ask about the production process of artworks. While in the room of Gallery OUT of PLACE (Nara/Tokyo), there were many photo works, particularly monotonous photographs of Mineo Sakata were beautiful. White plants come out dimly and partly clearly in the black background. This photographs were made by one of the photographic skills, photogram. Unlike usual photography, it is impossible to reproduce, each picture made by the style catches an instant. To know styles and efforts of artists makes you to think their works tenderly. Such conversation with gallerists is one of the attractive points of art fair.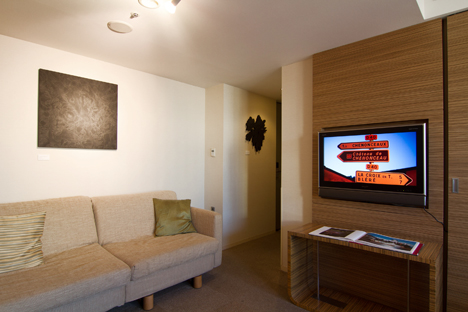 Room1404 AI KOWADA GALLERY(Tokyo/Shanghai)
Because it's a chance to enjoy many galleries from different places, you should pay attention to art which is not easy to see in a daily life. Especially, the recent development of Asian art market is remarkable. Al KOWADA GALLERY (Tokyo/Shanghai) this time exhibited artworks of Hiroshige Fukuhara who works as an artists and designer. This gallery is upon Japanese artists, and also advances to another Asian country.

Room1410 OFFICE 339 (Shanghai)
From such Asian areas, galleries exhibited interesting artworks for Art Fair Sapporo 2014. From OFFICE 339 (Shanghai), two female artists working in Japan and China participated. One of the artists, Ikumi Nagasawa exhibited a lot of acrylic paintings and drawings. For this fair, she completed several new paintings. Paintings and drawings of girls and fruits that only she can express filled the room, and the pretty portrayals were so popular among female guests. Please check out her as an artist who links Japan and China.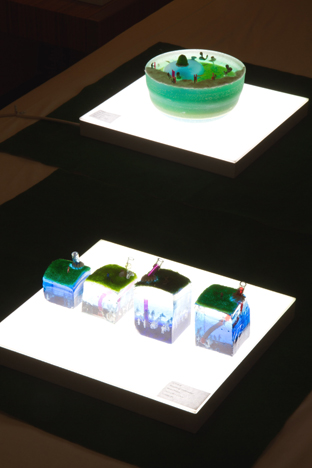 Room1412 Gallerie Grand Siecle (Taipei)
In the room of Gallerie Grand Siecle (Taipei), artworks of Su Tzu-Han used for a poster of Art Fair Sapporo 2014 were exhibited. The mysterious world of the transparent works attracted guests. In each work, people and odd creatures are living, and the story which comes from them was one of the interesting features.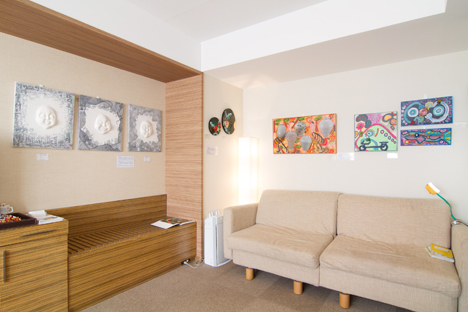 Room1411 LeeSeoul Gallery (Seoul)
LeeSeoul Gallery (Seoul) came from Seoul. In its room, guests could enjoy Korean traditional culture, and also unique modern style of art. Three pieces of Choi Youngju mixing a Korean paper doll into a plane canvas succeeded to complete a traditional and innovative style of art. Also, she puts an ironic message into her works, emphasizes our modern development and nature and culture broken by it. The difference of birthplaces and cultures gives a meaningful discovery.
This year, besides Art Fair Sapporo, Sapporo hosted the first Sapporo International Art Festival. Even though it seemed to succeed according to the number of guests exceeding 470,000 people, there are many tasks to be solved and possibility for the next time. Anyway, with the two great art events, Art Fair Sapporo and Sapporo International Art Festival as a starter, Hokkaido finally took the first step to become a new art market.
As I mentioned, the key of Hokkaido art scene is to connect Hokkaido citizens with art as many as possible. In order to deal with that, it's essential to introduce unique Hokkaido-based artists to the world, and meanwhile to get support from "the outside".  By cooperating with artists and galleries from the outside of Hokkaido, Hokkaido citizens are appealed by rare artworks which usually cannot be enjoyed in Hokkaido. I think Art Fair Sapporo understand this point. Continuation of it will bring extra fruits. Hope the next time.
ART FAIR SAPPORO 2014
Date: November 23rd, 2014 11:00 – 20:00 – 24th 11:00 – 19:00
Opening reception&Preview: 22nd 19:00 – 22:00 (Invitation only)
Place: Cross Hotel Sapporo (Hotel style art fair)
Address: 23, North 2 West 2, Chuo-ku, Sapporo, Hokkaido
Admission: 1,000 yen(deposit system)
Visitor numbers: 1,500
Fair Director: Taketo Oguchi (Clark Gallery + SHIFT)
Adviser: Kentaro Totsuka (NEW CITY ART FAIR Director)
Organized by Art Fair Sapporo 2014 Executive Committee
Co-Sponsored by Cross Hotel Sapporo
Cooperation: NEW CITY ART FAIR、ART KAOHSIUNG 2014、Art Sapporo 2014、Machinaka Art ProjectPresenting Sponsor: Audi
Sponsors: H.P.FRANCE、Graniph、MIRAI ST. cafe、Snow Jewels、Laser System、Cow Parade Niseko
Partners: SHIFT、PRISM
Supported by City of Sapporo, Hokkaido Shimbun Press, UHB, HBC, STV, HTB, AIR-G' FM, FM North Wave
http://www.artsapporo.jp/fair/
Text: Hanae Kawai
Photos: Yoshisato Komaki

[Help wanted]
Inviting volunteer staff / pro bono for contribution and translation. Please
e-mail
to us.