Painting to spacial art.
Toshihiko Shibuya, an artist based on Sapporo, Hokkaido, creates artwork wishing for a resonance to a place. He is one of the few artists who shows new art expressions through a theme on this region with heavy snowfalls.
He will participate in a group exhibition "MYSTIQUES" at the Cross Hotel Sapporo, an outdoor exhibition at Sapporo Art Park, and an art event called "Snowscape Moere" at Moerenuma Park. The winter season in which we can enjoy the work of Mr. Shibuya will arrive at Hokkaido. We interviewed Mr. Shibuya who is about to show his work at the Cross Hotel Sapporo.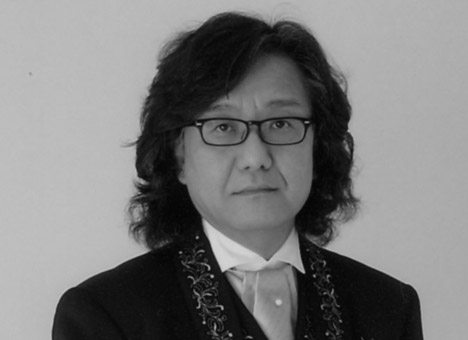 Please introduce yourself.
I was born in Muroran in 1960. I am an artist based on Sapporo and have been exhibiting my work mostly on one-man exhibitions.
You have been showing your work since 1984 at several locations; Tokyo, Nagoya, Osaka, Kyoto, and Sapporo. How have your work changed during this time?
In the 80's, I was surrounded by lots of formalistic would-be contemporary artists. Among them, I could not find my direction and was working on geometric monotype prints theming on color. While I was expressing a spectacle of the seasonal changes in the scenery in various places, my affection to Hokkaido grew with the years. Then, 16 years ago, I left Tokyo and came back here.
In 2006, you changed your art format from plane form to three-dimensional form. What was the reason for this change?
In 2004, the discussion at "A case of paintings," an activity which holds exhibitions and periodic discussions, was a trigger. To prepare for the exhibition in 2005, we discussed about a definition of painting. After a long and hard struggle to answer various questions from a former member, Toshiaki Hozumi (Current art curator at Hokkaido Museum of Modern Art), I have reached the answer by exhibiting the installation "Forest of meditation" at CAI Contemporary Art Institute in 2006. The practice of glocalisation*, which Mr. Hozumi has pursued, is still a guiding principle for me.
*Glocalisation is a portmanteau word of globalization and localization. It implies not only a withdrawal of geographical deviation, but also signifies a bonding of the West – Asia, the patriarchy of male – physicality of female and handicapped people.
To put it concretely, how did you expand "painting"?
To give an actual example, at the solo exhibition "Forest of meditation" in 2006 and "Drop of forest" in 2008, I thought the possibility of painting might be expanded by letting the pursue on rectangular canvas out to a space. By changing the display of work from wall to floor, the work lost top and bottom, right and left and became possible to view from 360 degrees. Also, by changing the height of the supports, it became possible to control the focal length between the viewers and the work.
At the solo exhibition "Forest of meditation" in 2009, I made fist sized hemispheres for the supports and made prints on the circular plane. Like ceramics and tea making tools, viewers can grab the work on their hands. It gives a sense of affinity than looking at the work on the wall. I thought that adding some changes on an usual exhibition method will bring something new. At this point, I still had a strong attachment to painting.
Could you tell us about your coined word, "Forest of spirit"?
We, the Japanese, stand in the awe of nature. The symbol of nature is the forest. I took a walk in the forest and meditated to build an identity as an artist. I call the incarnation as "forest of spirit".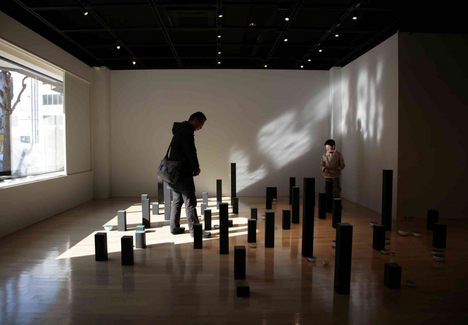 Drop of forest, 2008, Gallery ESSE
Since 2009, You have been showing your work at galleries, tea rooms and outdoors. What is the reason to do site-specific exhibitions?
When I started to see a new possibility in some paces which is totally different from white cubic space, I was fascinated by natural light coming from the big windows at a new gallery "ESSE" (it was 2008/2009 when I had a solo exhibition there). My installation had changed their forms in consequence of natural light. It was shaded by clouds, silhouettes, then lit by artificial light after sunset. As my desire to use natural light grew more, I came across Tea Room Jyukouan at Benizakura Park. I visited the tea room unexpectedly but I knew by intuition that this place would make the coexistence of the power of the place and art. After the negotiation, I was able to hold the unprecedented 3-days exhibition "Chashitsu DE Art (Art at Tea Room)".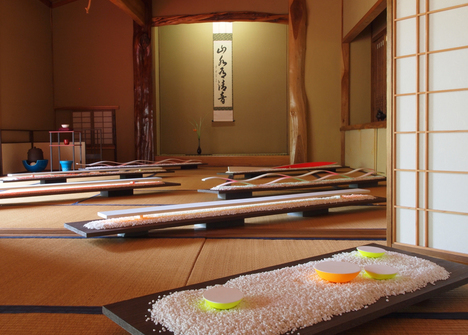 Chashitsu DE Art (Art at Tea Room, 2011, Tea Room Jyukouan at Benizakura Park, Photo: Nanami Kawamura
In Japanese-style room with tatami, the basic way of viewing is sitting. By sitting down, our eyes get lower and the artwork look unordinary. Concerning the space which stimulates the five senses; a trunk of a 600 years old Japanese yew used for the alcove post and beams, the scent of incense, the green of trees in the borrowed scenery, the wind passing through, chatter of birds, the chirring of cicadas and the red of carpet, I concentrated on harmonizing the power of the place and artwork by adding some contexts which match the place. The place stimulated our five senses and was resonant with the artwork. It became a fresh experience which I have never had from white cubic space. Inevitably, my desire of resonance with a place shifted to outdoors.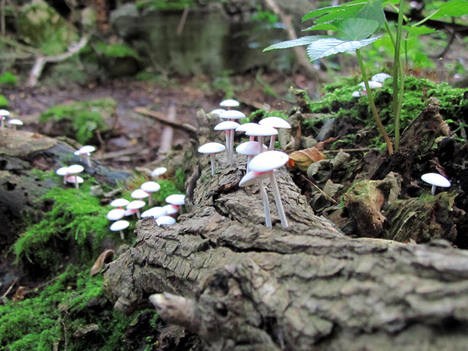 Harukayamashiroshimeji white mushroom breeding project, 2011, Harukayama Art Fort 2011, Photo: Nanami Kawamura
At Harukayama Art Fort 2011, the ruined hotel and the fallen tree gave me an incentive to express symbiosis/coexistence/regeneration of nature and human. Even though I was tormented by the powerlessness of art after 3.11, I was able to embody the symbiosis with nature through the work "Harukayamashiroshimeji white mushroom breeding project".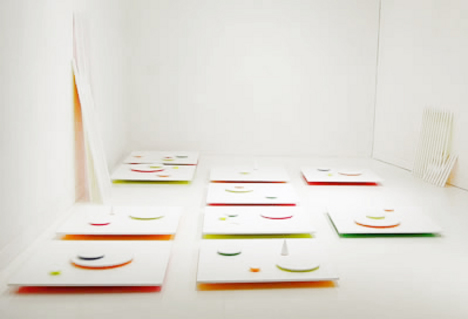 Confeito Series, 2010, Hokkaido Three-Dimensional Art '10 (Sapporo Art Museum), Photo: Akira Yanai
Snowscape is very suitable work for Hokkaido. We can enjoy a long winter of Hokkaido because of this artwork.
At Hokkaido Three-Dimensional Art '10, I exhibited the artwork by reflecting lights which were created by the objets with fluorescent painted supports. To make the reflection clear, the exhibition space had to be a white cubic. As I exhibited this Confeito Series at several shows, I ended up the snow installation "Snow Pallet" at Snow Scape Moere 6 in this past February.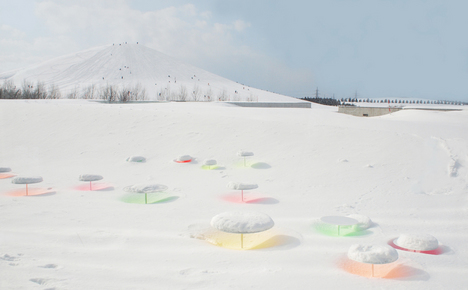 Snow Pallet, 2011, Snow Scape Moere 6, Moerenuma Park, Photo: Nanami Kawamura
Iron disk with fluorescent painted back showed vivid colors on snow. The height of objet varies and the amount of snowfall changes how much the color reflects on snow and changes everyday. The short one might be covered by snow. The high one finally might show their colors on snow. The rate of reflection on snow is very high and the color gets clear when it is cloudy. It is all depend on weather but I think that the art in nature should be like this. There's nothing we can do against mother nature. I try not to control the nature but nestle close to it to use it cleverly.
Unexpectedly, we barely see any contemporary art which has a motif of winter and snow in Hokkaido. I wish my work will be a start of approaching winter art. Everybody tends to hate winter but the possibility of future is wide open if you change your point of view. I would like to send a message of art in the regions with heavy snowfalls from Sapporo, Hokkaido.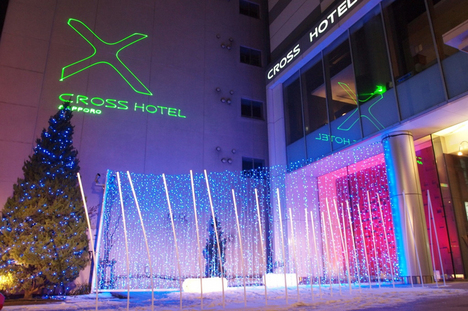 Forest of wind, 2011, Cross Hotel Sapporo, Photo: Nanami Kawamura
I heard that you will show your new work at the Cross Hotel Sapporo. Please tell us about your new work.
The title of the work is "Forest of wind". Actually, I was thinking about this work for "Snow Scape Moere" at Moerenuma Park next February. But I will improve this work into an urban model and show at Cross Hotel Sapporo. The installation is consists by an objet which waves before the wind.
What is your upcoming schedule?
From December 23rd to March 7th, a courtyard installation "SNOW PALLET 2" will take place at Sapporo Art Park. I will install the work on November 26th but I cannot guarantee the snowfall. I prepared for both the developing objet and a new objet which will correspond to the average amount of snowfall for the 3 months. You can also enjoy the ongoing art exhibition "Living Art" at Sapporo Art Museum.
In the middle of February 2012, I will show "Forest of wind – Moere version" near the glass pyramid at Moerenuma Park by placing 100 objets on the snowfield.
In March 2012, "A case of painting/epilogue" (temporary title) is on plan at Porto Gallery.
Please give a message to our readers.
I cannot do anything flamboyant or innovative. But I would like to trigger off some movements. If you cannot do it by yourself, cooperate with people. I want to do my best all the time without neglecting everyday effort. 
MYSTIQUES
Artists: Arata Naka, Go Yayanagi, Hari, Hotoshi Ameya, Jyunpei Hashiguchi, Kiyotaka Sakurai, Mika Aoki, Toshihiko Shibuya, Wabisabi
Date: December 5th, 2011 – February 29th, 2012
Place: Cross Hotel Sapporo
Address: North 2 West 2, Chuo-ku, Sapporo, Japan
Tel: +81 11 272 0050
Organized by Cross Hotel Sapporo
Curated by SHIFT
http://crossmet.jp/sapporo/
SNOW PALLET – Outdoor exhibition at Sapporo Art Park
Date: December 23rd, 2011 – March 7th, 2012
Closed on Monday and December 29th to January 3rd
Place: Outdoor at Sapporo Art Park
Address: 2 Geijyutu no mori, Minami-ku, Sapporo
Tel: 011-591-0090
http://sapporo-art-museum.jp
Text: Satsuki Miyanishi
Translation: Fumi Nakamura

[Help wanted]
Inviting volunteer staff / pro bono for contribution and translation. Please
e-mail
to us.