Modern times meet traditional roots. Contrasts caused by the result between natural and artificial, originating a new environment wherein these elements are placed. BBC and CNN came to Sweden to cover the opening ceremony. Another noteworthy Swedish feature. In the very north of Sweden, as known as Lapland, Treehotel gives you a warm welcome. A desire from childhood, reachable for adults.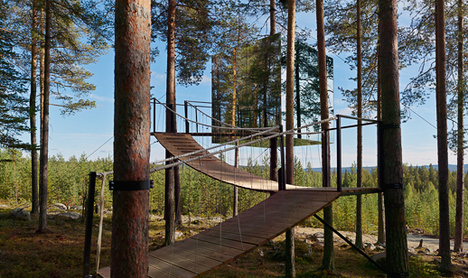 Would you have imagined yourselves such expectation for a destination in the deep forest in the upper side of the Globe? Thanks to the relationship (and nostalgic memory) between tree and architecture, Treehotel´s offer wraps you within an unique way to experience Lapland´s wildlife, in the community of Harads. All introduced by the pragmatic style that the Swedes are characterize by.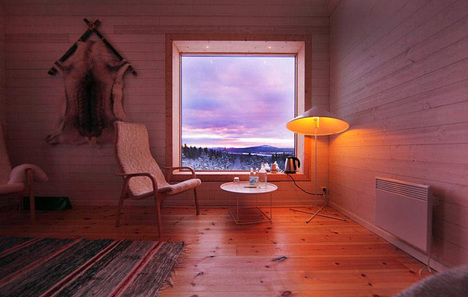 This unique collection of rooms are all different to each other, where you can enjoy a comfortable, and truly stress-free experience up in the trees. A life in harmony with nature. The Treehotel is open all year round, whereas the weather conditions become more extreme, so you are able to enjoy summer and wintertime. This beautiful winters can get up to 100 cm of snow and the temperature outside can be as low as -30°C (although the normal everyday temperature during winter season is around -10°C to -15°C). Most of you now may be thinking of how to avoid such extreme winter condition in this part of the globe. To make this possible, each room have an electric under-floor heating system which will be delivered from an eco- friendly source of electricity. For sure, to encourage the tourists to experience Treehotel during wintertime is not that easy than in summertime, but well, similar conditions are found in the surrounding neighborhoods of Ice Hotel –where people sleep in igloos– and Rovaniemi –Santa´s hometown– which receives more than half a million visits every winter.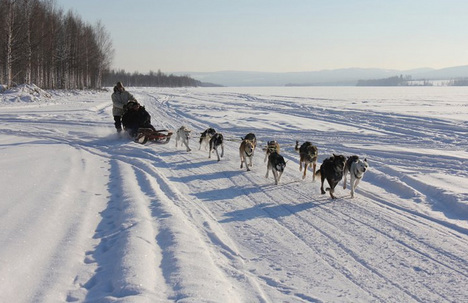 Some activities exclusively for wintertime are, for instance: husky sled safari in the boreal forest or skijoring behind a horse. Mountain biking, trek, horse riding or fishing are the principal activities during summertime.
This eco-based design concept hotel has been developed by a group of Swedish architects and lightning designers, including Atelje Lyktan – whom we have mentioned in previous articles– in the business for 75 years.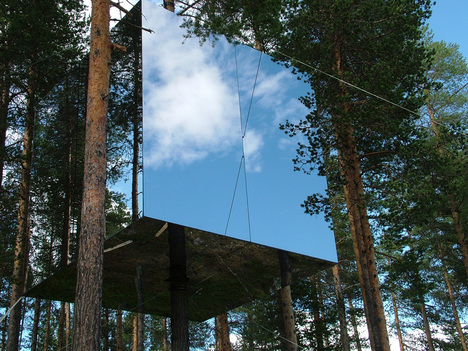 `The Mirrorcube´, a double room designed by architects Bolle Tham & Martin Videgård. A 4x4x4 meter boxes clad in mirrored glass. The exterior reflects the surroundings of the forest, creating a camouflaged refuge – totally invisible from a few angles– just like a predator in the wildness.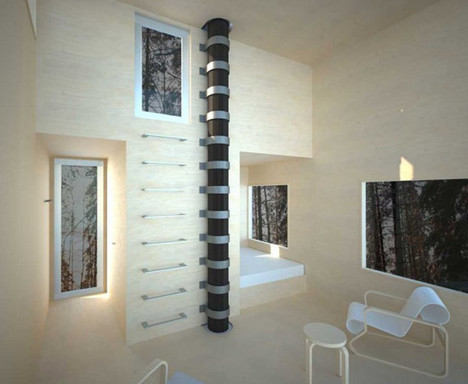 The interior is constructed from plywood and the windows give a 360 degrees view of the surroundings.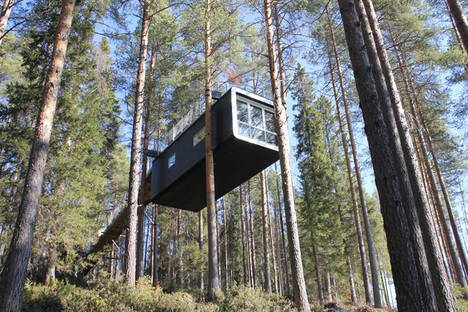 `The Cabin', designed by Marten and Gustav Cyrén – an elongated tube, matchbox-like structure with big windows and rounded corners lengthwise that hangs between two pine trees on a steep slope, high above the ground. The actual tree house is suspended from the deck. The front wall is made of glass. It provides a beautiful view of the valley of the Luleå River. The interior design goes in a Nordic style, with that combination of light wood and colored wool. This "capsule" is furnished with a double bed.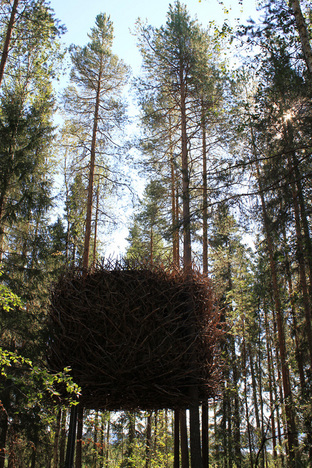 `The Bird's Nest´ designed by Bertil Harström of Inredningsgruppen. This is perhaps the most intuitive concept, the child who plays to be a wild animal, hidden, safe. It is a family room: one double bed and two children beds, separated with sliding doors. You access the nest by a retractable staircase.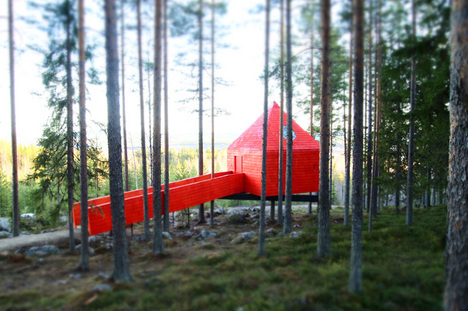 `The Blue Cone´ by Sandell Sandberg, it is the only room with 2 different levels, double bed plus 2 adult beds on the loft. This Lego-like room is made of wood and the windows with cupola of plastic.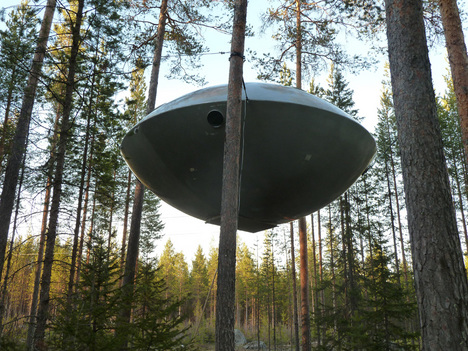 `The UFO´designed as well by Harström provides again with one double bed and two single child beds. Just like taken from Explorers (the film) this capsule stays in the tree as if it were a spaceship landed from outer space.
`A room with a view´ designed by Marge architects offers three unique perspectives on the woods and the Harads landscape. It has a more sophisticated structure composed by the dining-room facing the river landscape, the elevated bedroom facing the forest, the bathroom and the roof terrace embedded within the pine trees.
In addition, you will find the sauna, indispensable activity of the Scandinavian spare time. A sacred and respectful meeting.
The average price per room/person is about $200, that includes taxes and buffet breakfast.
Treehotel expands as you read. There is plan to build over 20 more rooms. Finish architect Sami Rintala currently works on next generation.
Treehotel
Address: 2A 960 24 Harads, Sweden
Tel: +46 928 104 03
info@treehotel.se
http://www.treehotel.se
Text: Victor Moreno

[Help wanted]
Inviting volunteer staff / pro bono for contribution and translation. Please
e-mail
to us.