At the end of May 2010, the Akihabara-Okachimachi under the elevated redevelopment project "2k540 AKI-OKA ARTISAN" was partially opened before its grand opening in December when there will be a completion of craft workshop studios for artisans representing a new Japan. One leading occupant has become an icon in this space, a director of "HIROCOLEDGE", Hiroko Takahashi. This is an interview on her sincere attitude toward its creation.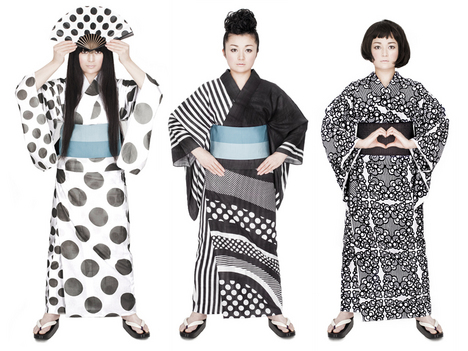 © HIROCOLEDGE & Co.
Please tell us about your new work base HIROCOLEDGE & Co. / HIROCOLEDGE SHOP.
Making good use of a spacious high-ceiling room under the elevated railroad, it is Hiroko Takahashi's atelier gallery-cum-office, "HIROCOLEDGE & Co." and "HIROCOLEDGE SHOP". This is a place where I can send all my messages regarding my activities. It seems that not only "HIROCOLEDGE" design as a store brand occur here, but all of my work is created in this room and on this table.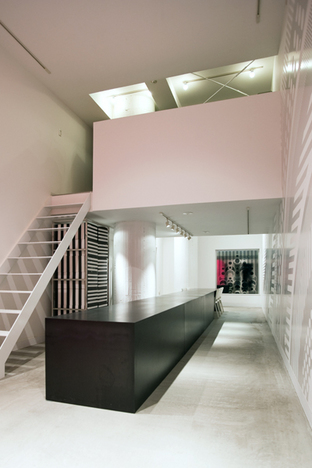 © HIROCOLEDGE & Co.
I hope this gallery space will display my works including paintings, photos and kimonos. Currently we are planning a visual presentation for the grand opening in December. An event will be scheduled in the future as well as workshops so that we can promote exchanges with others.
From Jun 25th to July 4th, for a limited-period "HIROCOLEDGE SHOP" will open ahead of the grand opening. Rare items which you cannot get on-line at stores and samples will be on sale in the shop.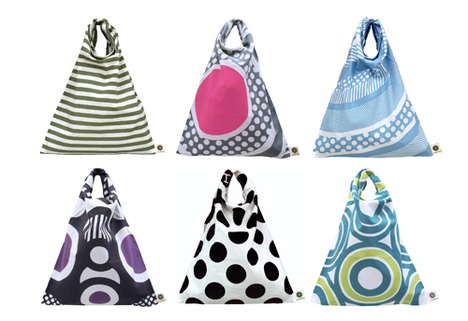 © HIROCOLEDGE & Co.
"Sleepbag" is a popular item while making the most of original tenugui (a thin Japanese hand towel made of cotton).
Although I love making clothes, sometimes when it comes to making them I get disappointed to see so many wasteful rags. It's just simply uncomfortable to waste what a craftsman elaborately hand-dyed. I guess everybody has a feeling of "too good to be a waste". It's not nice to see something become trash, is it? Tenugui can be any tool just as you weave and cut cloth into the needed width and length. "Sleepbag" is made of tenugui with no cutting at all. That is the way of my creation keeping that policy in my mind.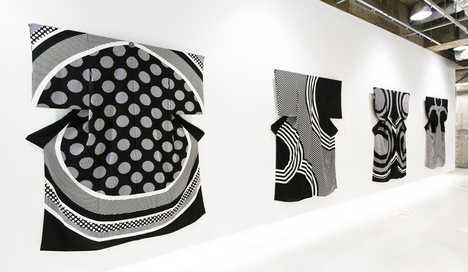 © HIROCOLEDGE & Co.
You quite often use circles and straight lines in your design.
One of my challenges is to explore further the exciting possibilities in given circumstances. Since a kimono cut is divided by vertical lines, straight line should appear when each roll of cloth for a kimono is selected by color as a matter of course. Circles can be seen anywhere regardless of season or era. It doesn't convey either gender or a particular country's culture, which means it is a strictly neutral motif.
What is your focus on design?
For example, I don't design kimonos only considering its facile pattern. When it comes down to it, my concern is what messages I can convey with kimonos. What is hidden on the surface of kimonos. In order to get my point over to others, I carry on with my work using kimonos.
In the process of kimono making, so many artisans are involved: dyeing, mop-ups, making a roll of white cloth, making a tool and making a raw material called silk. I hope to introduce the traditional techniques of these fairly unknown people as well.
And also, I would like to make some changes to the fixed idea about what Japan is. It will be my pleasure if what I create is recognized as present Japan not the so called "Japanese style".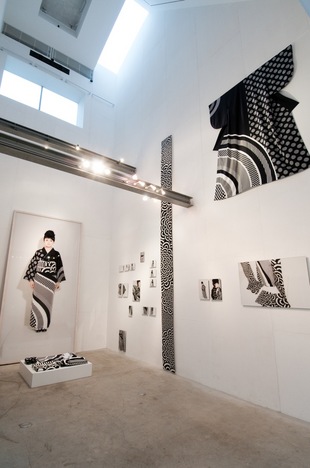 Exhibition view at ROCKET, Photo: Shiori Kawamoto
Tell us about a project in the make.
Japan Brand is a joint project from 6 Japanese paper makers in Mino city, Gifu. We will participate in "Maison Objet", a large scale exhibition in Paris which features everything from small items to interior designs. I'm in charge of the total design coordination and art direction. This is a 3 year project to promote Mino's Japanese paper to the world, and we've been working on the show for next February.
HIROCOLEDGE & Co. / HIROCOLEDGE SHOP
Address: 2k540 AKI-OKA ARTISAN, 5-9-18 Ueno, Taito-ku, Tokyo
Tel: 03-6240-1327
http://www.hirocoledge.com
Text: mina
Translation: Yoshitaka Futakawa

[Help wanted]
Inviting volunteer staff / pro bono for contribution and translation. Please
e-mail
to us.