Special 3 days for feeling the heart beat of art.
During 3 days from January 29th to 31st 2010, G-tokyo 2010 was held as an unique art fair in the form of exhibiting the front line of art made based on the clear exhibition theme, which was different from the conventional bazaar type fair. Supported by HERMES, G-tokyo was held to offer for experiencing and purchasing the high-quality art. The venue was filled with people from the art scene, to art begginers and collectors, and to art funs from overseas.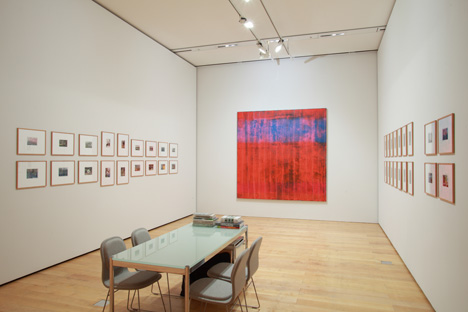 Wako Works of Art. Photo: Keizo Kioku
Wako Works of Art introduced Gerhard Richter's works. The gallery mentions that "Richter continues to pursue the possibility of painting with his high-level painting technique and various styles, and this exhibition mainly showcases his "Overpainted Photograph" series, now consisting of nearly 600 snapshots taken by Richter himself and later overlaid with oil, acrylic, or enamel". They exhibited many new overpainted photographes including the WALD series, which the artist painted over a woods photograph with enamel, which fascinated many guests.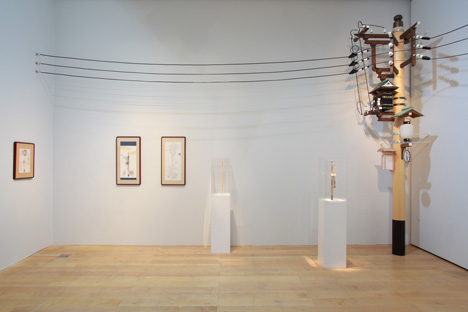 Mizuma Art Gallery. Photo: Keizo Kioku
Mizuma Art Gallery introduced Akira Yamaguchi's solo exhibition "Chukado" (The Art of Electric Pole Arrangement). In the exhibition he approached a new way of Ikebana flower arrangement with utility poles, often affects the sight, They mentions that "nowadays utility poles are gradually being removed from sight as they are buried underground, but this exhibition attempts to recognize again their inherent beauty without any special ornamentation." He paints something reconstructing by going back to the past and forth to the modern age in the yamato-e stayle.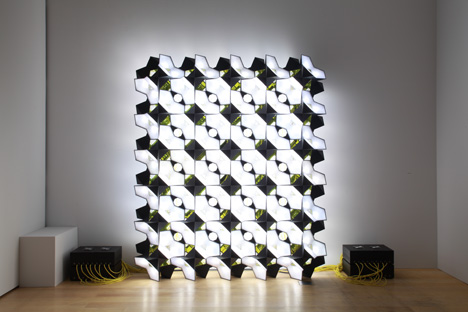 Gallery Koyanagi. Photo: Keizo Kioku
Gallery Koyanagi exhibited "Experiments" with works by 3 artists: Hiroshi Sugimoto whose work was used in the main visual of G-tokyo, Olafur Eliasson who is known for works appealing to our sense and vision with colors and lights, and Thomas Ruff who is known for reconstruction of images.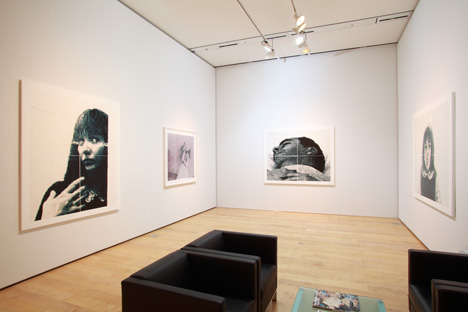 Koyama Tomio Gallry. Photo: Keizo Kioku
KoyamaTomio Gallery presented "Recording and Recalling of Images", exhibiting works of Makoto Saito under the concept "by putting spots on canvas one by one, changing a single image into a painting on canvas, I want to know what lays behind of the gap between the memories of the past," says Makoto Saito.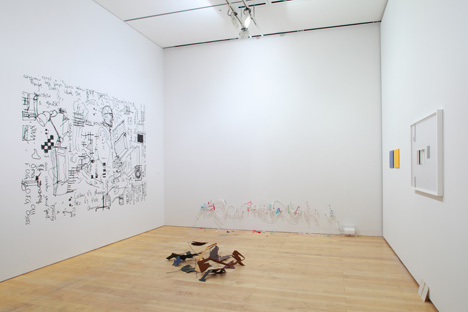 TARO NASU. Photo: Keizo Kioku
The exhibition of Ryan Gander "A Whole Hole" at TARONASU was featured with other works as co-project in the garelly located in Higashi Kanda.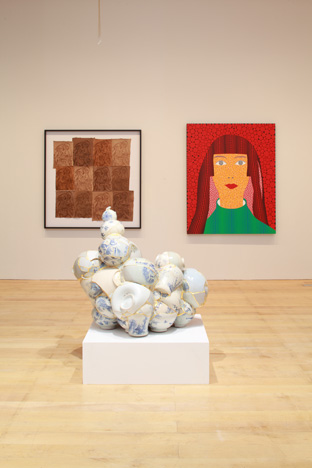 Ota Fine Arts. Photo: Keizo Kioku
Ota Fine Arts introduced young artists such as Kashiki Tomoko who joined to their gallery after moving in Kachidoki in March 2008. In the exhibition, they also showcased works by Yayoi Kusama and Tsuyoshi Ozawa along with 3D and video works created by the emerging artists. The work (photo above) is "Translated vase" by Yee Sookyung, an artist from Seoul, Korea. Her works are constructed with frakes of pottery in the traditional Korean studio which continues since the Joseon Dynasty era. Frakes are joined together with epoxy resin and it is covered with 24 karat gold powder. Her beautiful work seems to accumulate lost values, to bring it into life as a new value of figurative art by recreating.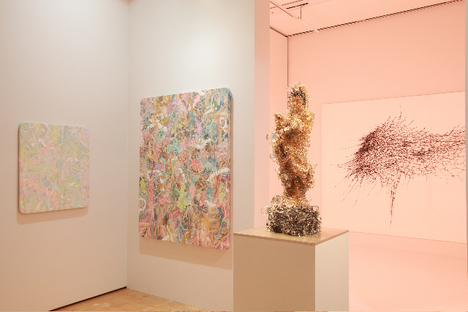 SCAI THE BATHHOUSE. Photo: Keizo Kioku
At the booth for SCAI THE BATHHOUSE, the artist Kohei Nawa curated "Texture and Light": a group exhibition which "consists of different spaces created by various artists wtih diffrent dimension of expreesion, while interacting each other when it comes to materials and technical approaches," described by the gallery.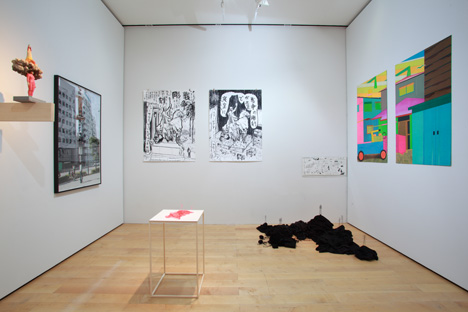 ARATANIURANO. Photo: Keizo Kioku
The Arataniurano's "archi+anarchy" showcased works by Takahiro Iwasaki, who recontructs daily objects to landscapes with steel tower, among other artists. In the exhibition, "perceiving architecture from such a primordial perspective and incorporating unique perspectives of "anarchy", the artists' pieces which highlight the contradictions and comicality of cities / environments and society was exhibited."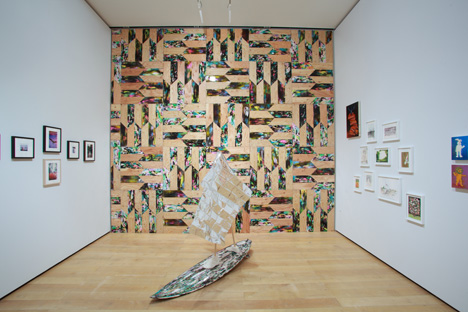 GALLERY SIDE 2. Photo: Keizo Kioku
Gallery SIDE2 exhibited a group show by 4 young artists "SEE MAX", featuring works by the emerging artist Yusuke Saito, which attracted many art funs. In addition to these exhibitions, there were many visitors viewing other 15 top garellies' shows.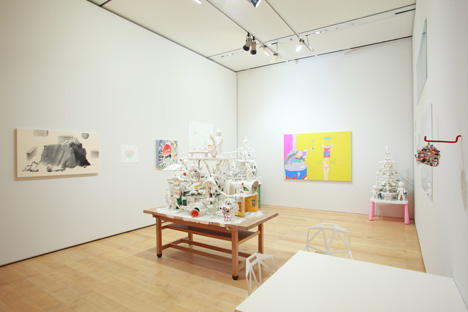 ShugoArts. Photo: Keizo Kioku
A talk session "Art and Architecture" was also held as a link project with G-tokyo. It is a symposium for artists and architects who redifine the possiblity of each expression referring to the boundary of contemporary art and architecture. In this synposium, Teppei Kaneuji who showed his works at the ShuugoArts booth at G-tokyo and a young femal architect Yuko Nagayama gave presentations of their own works, discussing their common viewpoints and senses. Teppei Kaneuji created 3D works with ready-made products and reconstructs its base on some rules. Yuko Nagayama creates works with spaces featuring amplified images by using light or mirrors. They seem to be similar in how to express the range appeared in reality of the daily life.
This synposium was co-organized by G-tokyo with "A.A.R." (ART and ARCHITECTURE REVIEW), a new web media which started in the end of January 2010, which pursues the possiblity of expressions of architecture and art.
G-tokyo brought the curtain down after special 3 days where you could feel the heart beat of art.
G-tokyo 2010
Date: January 29 – 30, 2010 (29th – open for invited guest only)
Place: Mori Arts Center Gallery, Mori Tower
Address: 52nd Floor, Roppongi Hills, 6-10-1, Roppongi, Minato-ku, Tokyo
info@gtokyo-art.com
http://www.gtokyo-art.com
Text: mina
Translation: Haruka Kibata

[Help wanted]
Inviting volunteer staff / pro bono for contribution and translation. Please
e-mail
to us.