Counting the years between the last photography buzz is easy on two hands, yet a breath of fresh air to the stagnant years has come with the arrival of a new generation, a new scene,  and in London young photographer Jonnie Craig.
Not to say naught has happened in the midst, but playing safe and laying low seems to have been the gist of the past; that is until a fresh faced generation shook the dust, spearheaded with the likes of Ryan Mcginley, and Tim Barber. -The revival has given back photography its long lost punctum!
Jonnie Craig, a decade younger then most of this circle, has already risen, fronted and established himself at the green age of twenty amongst the giants. Having caught the eye of Ryan McGinley and Gavin Watson, he soon found himself snapping up campaigns for the likes of Levi's, Diesel, Nokia, and Sony (to mention a few). He's currently a photographer for VICE magazine London.
His first book has just been release by Mörel Books.
Jonnie, here, gives Shift Magazine a personal insight into his photographs from the book. The book Jonnie Craig: Untitled is on offer at an exclusive 15% discount with a limited edition print to Shift readers.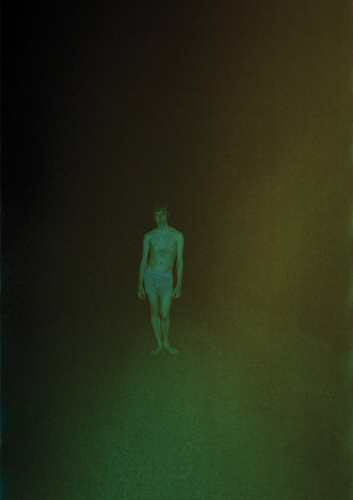 Nick Green – This was taken in the summer of 2007, Which would sound way better if it was taken in 1969 – the summer of 1969 sounds way better. Every time a car came past us we had to hide so they didn't stop and call the police.
Country lanes running – This photograph (also taken in the summer of 2007) is of my friends running in the middle of the Kent countryside. We go there often and fuck around.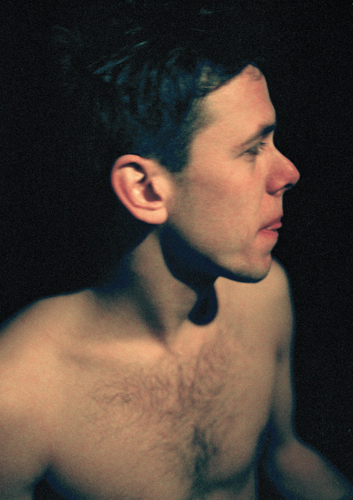 Robert – This is a photo of my friend Robert. This was taken during a photo shoot for a shit company that deemed my final photo "too gay".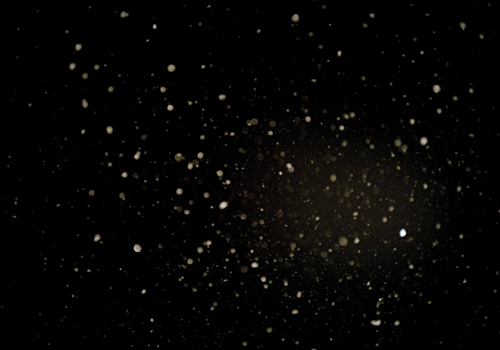 Snow / Space – This is a picture of Swedish snow doing its best impression of outer space.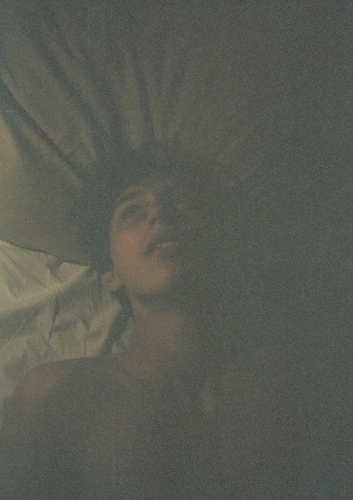 Nick green portrait – This is my friend nick in his bed. My friend Andy said "It looks like he is getting a blow job from the devil".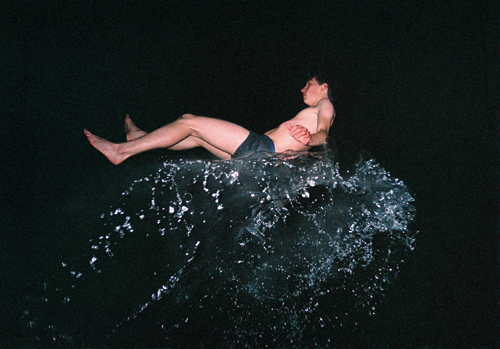 This is what happens when you sit on a high powered jet of water.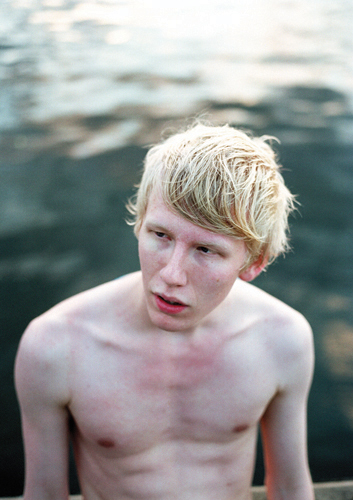 Jacob – This is Jacob in Sweden. Just before this photo we had both jumped in to a freezing lake naked. I have never felt so awake in my life.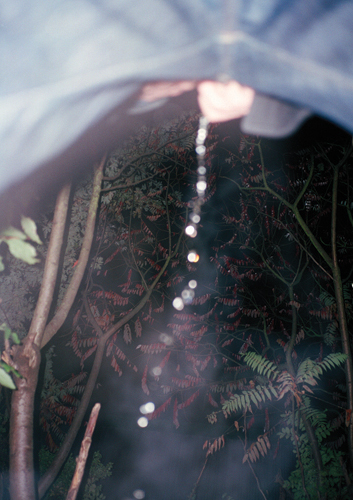 Joe piss – This is a picture of my friend Joe. For some reason I have quite a collection of images of him urinating. I think at the time its less about making a piece of art and more about saying.. "haha… I got a picture of your dick".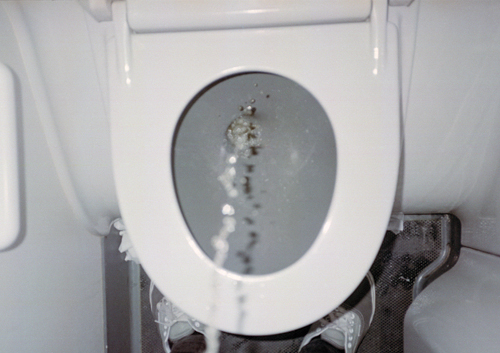 Me piss – As I put a photo of Joe urinating in my book, I thought I should even out what might be kind of embarrassing for him with a picture of me pissing in an airplane toilet.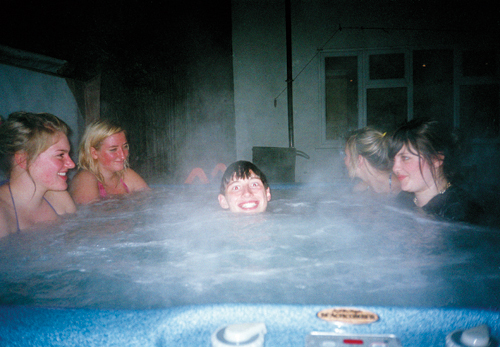 This is my friend Nick in a hot tub full of babes. He has been laid by just less than two girls but slightly more than none. Shortly after this picture was taken, Nick didn't get laid.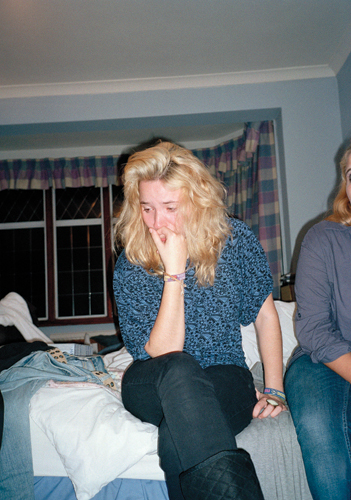 Leni sad – This is my friend Leni. She was quite upset at the time which made me feel slightly bad about taking the photo. She said she didn't mind though. Her name is actually ellen, but people call her Leni.
911 – 911 was an inside job, I mean come on its so obvious right ? They obviously snuck 20,000 bombs in to the buildings structures on the 10th of September. Oh and the 'so called second plane' ? oh my gawsh dude.. that was CGI. Havn't you even seen the new Mission Impossible 2 film yet ? its all so easily done… n00b.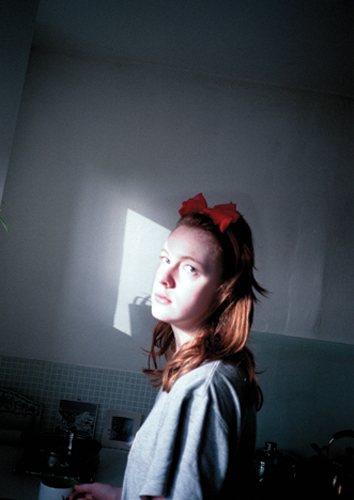 Fee – This is a photo of my sister. She gets angry at me for taking photos of her. This is the peak of her anger. Though her expression says less anger and more 'Fuck off'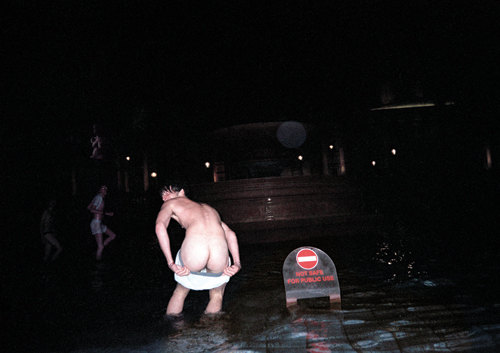 Ben Bum – This photo is of my friend Ben in the Trafalgar Square fountains. We got chased by a homeless guy who was waving his dick at us. Incidentally he is now on the cover of my book.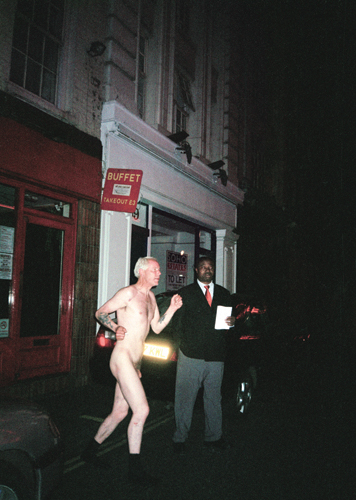 Graham – This is a photo of the homeless dude who chased us while waving his dick at us. Oh by the way someone threatened to phone the police on me over this image. apparently the anonymous caller isn't naked under his probably woolen/tweed attire.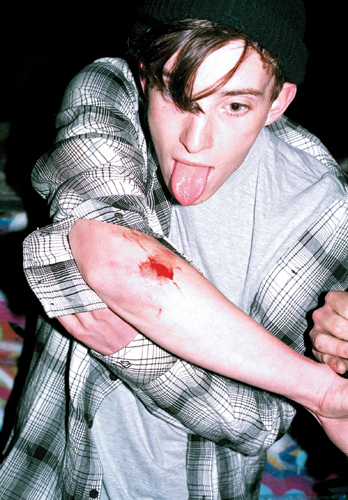 Paddy Blood – This is a photo of my friend Paddy. Every time paddy falls off his skateboard he lets out a girlish whimper like "aAAahhgh".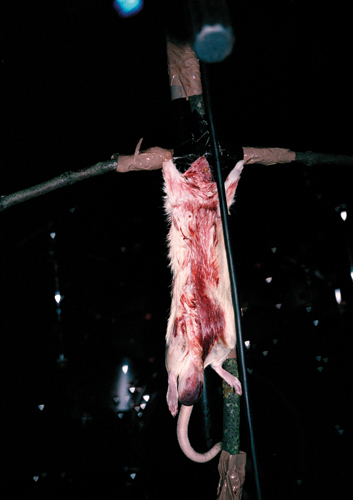 Rat – This is a crucified rat at a metal show I went to in Sweden. These were some real scary dudes! I mean if they can selotape a dead rat to a microphone stand and not feel bad, imagine what they would do to a mouse!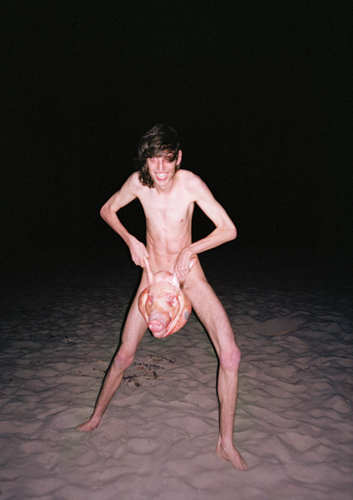 Hamilton – This is a photo of my friend Hamilton. Hamilton knows more about drugs than anyone I have ever met in my entire life, and I'm not talking about a stoner who sits at home contemplating how big the universe is and how much it freaks him out, I'm talking a dude who goes to a military beach in New York to fuck around with a pig head naked while on rohitnol. We almost got arrested 20mins later by a complete jobs worth useless cop.
Jonnie Craig: Untitled
Speficication: 72 pages, 28.6 x 21 cm, Offset Limited 750
Price: 14 EUR
Published by Morel Books
http://www.morelbooks.com
Text: Aron Morel, Jonnie Craig
[Help wanted]
Inviting volunteer staff / pro bono for contribution and translation. Please
e-mail
to us.