UT Inspired Vol.1 curator Vasava/Vallery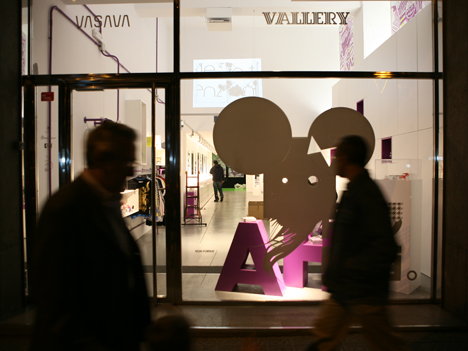 Based on Barcelona, Spain, Vasava produce many international projects. Today we would like to hear the story about a gallery/shop "Vallery" which they have opened recently, and "UT Inspired", the latest collaboration project with UT .
Could you introduce us the Vallery and the Vasava?

Vasava is a design studio based in Barcelona. It was founded in 1997. We take part in communication projects to which we can add a peculiar flavour. We are primarily dedicated to Corporate Identity, Publishing Design (books, magazines …), Identity and Communication for Events and Exhibitions, Websites, Interactive, Multimedia Communication (campaigns) and our Personal Events and Products.
Vallery is an experimental project through which we aim to discover and offer objects related with design, books, toys, magazines, fashion garments from non-mainstream firms, and all that which, within the scope of the most innovative contemporary creation, has influenced or still influences the spirit of Vasava. Of course, our products will have their own specific place, although the objective is for Vallery to bring together exclusive, high-quality creations from all over the world.
We want Vallery to be perceived as a meeting place, a forum for the free circulation of ideas. Its mission is to seek out and exhibit work being carried out in local studios or at the cutting edge of the world's main cultural hubs, to encourage its distribution and to offer an organized overview of the latest finds from the international circuit.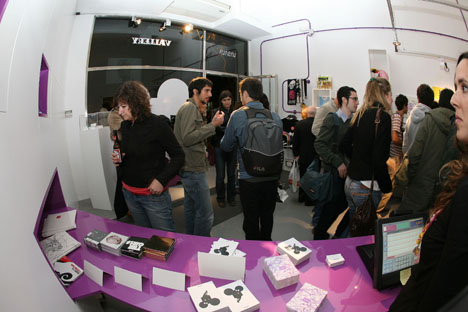 Could you tell us the artists who have had exhibitions at your gallery? When you hold exhibitions, how do you curate or select the artists? Are there any standards?
Until now (August 2007) we have displayed the following exhibitions:
MAKE A FUZZ by NON-FORMAT
CHORIZO IBÉRICO by VASAVA
3 WEEKS IN MEXICO by FRESHJIVE
NADA GO GO by SYRUP HELSINKI
ATHLETES by SIGGI EGGERTSSON
PIMP THE TYPE by CATALANA DE TIPOS
LATEX FOR FUN by MAX-O-MATIC
A BAG OF GREASE by PMKFA
We have taken part on Loop Festival and Urban Funke Festival.
We do not follow commercial objectives to select / curate an exhibition. We choose what we like. So simple and so difficult. It doesn't matter if the artist is famous or if the work is too risky for our audience. We are showing what we do find interesting.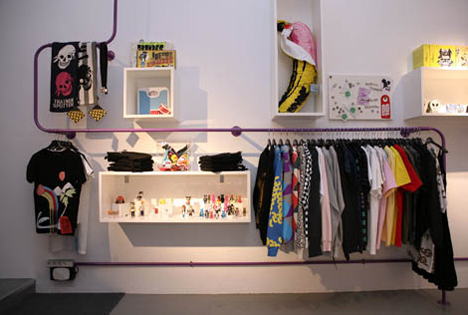 What kind of products do you sell at your shop? Do you sell the same things as on your website?
From the last design books to t-shirts from Australia, from weird jewellery to fashion jeans, from toys to sneakers… Once again, we sell what we like, it doesn't really matter if it's not commercial at all. We didn't set up the store to sell what other shops are selling. Yes, you would find all the products on Vallery's website.
In addition, all the exhibited artwork is also available.
Could you tell us about the UT Inpired project that many of the above artists participated? The theme of the project was "Football", did you give any specific requests to the participating artists when you curated? Were there anything that you especially paid attention to?
Well, the good thing about this project is the fact that the briefing was pretty open. We choose the artist trying to balance different kind of styles and where they came from. Then we encourage the artist to do something beyond the typical football icons, to dare to innovate…
Is there any designs that you liked especially? If there is, please tell us more about it/them, otherwise please give us brief comments/descriptions on each design.
BERTO MARTINEZ
He imagined how the Cameroon match team should look like, the indomitable lions. A nice technique, unusual for a football image.
DR. ALDERETE
Jorge is always playing with the pop iconography most of the times influenced by the Mexican culture. On his design, there's a cactus player, a ball-Chihuahua and a spinning chupacabra ball. Weird combination, isn't it?
EMIL KOZAK
Emil is now living in Barcelona, but talking about football reminds him his childhood: playing on his hometown, blowing dandelions, …
GENEVIEVE GAUCKLER
She is a football fan. I remember discussing with her the performing of Spain and France on the last football world cup. One of his characters is holding a ball. A real soccer monster.
HAPPYPETS
One the best things about football is the gadgets of the supporters: a cap to hold a beer can, silly make ups, giant hands… and what if a worm is holding one of this items?
JAMES BLAGDEN
When the Jamaicans on the immigration waves went to England, they found themselves playing football with the locals. This means, rastas against punks.
KUSTAA SAKSI
Kustaa believes that Finland is winning the next world cup. This is as impossible as a team of flies. We thought that this is Kustaa's theme: about impossible things. By the way, Spain is winning the next world cup.
MARIO HUGO
Mexico. 1986. Argentina versus England. Maradona tooks the ball in the middle of the field and after 60 meters he is able to score. The perfect play. Mario is showing us how to train to become a Maradona.
PMKFA
Micke is a fashonist. For him, what is relevant on the football are the goalkeeper's gloves on a so 80s style.
RINZEN
A goalkeeper's nightmare is a shoot straight to the goalmouth. And this is what the design is about: the prefect shoot.
SAIMAN CHOW
Is the football unsuited to the psychedelia? Can a soccer ball open the doors of perception? Check Saiman's illustration.
SILVA PRADA
The football is about team, about being part of something, a fraternity, a big family. This is what Silvia's drawing is about, friendship among men.
SYRUP HELSINKI
Three lines and a circumference. And that's the basis of the soccer. Could it be more conceptual? We do not think so.
UNIVERSAL EVERYTHING
Matt's design is, as most on his works, surprising. What's inside a ball? Check it yourself.
VASAVA
On the football religion, a hooligan is a God. Oi!
WILLIAM CHAN/:PHUNK STUDIO
They think that the best of the football are the player's wives. We think that it's a pretty difficult to wear t-shirt, but we really like the idea.
What inspires Vasava?
Inspiration comes from a variety of different places; German hardcore porno movies, bird's books, Swiss postcards, double side pizza… you'd never know!
Is there anything that grabbed your attention recently?
The movies about crooks which where very popular in Spain on the 70s, vintage airbrush books from 80s and rave music from the 90s.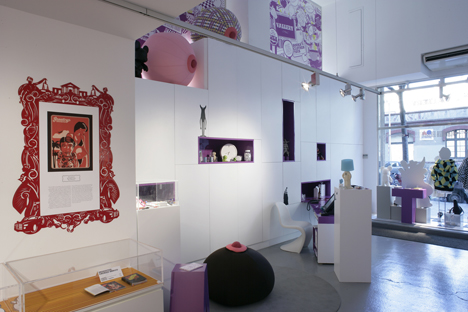 Do you have any plan for holidays this summer?
Yes, close the studio and hit the road.
Could you give us a couple of places except Vallery that visitors to Barcelona should go?
Yesterday we went to have something to breakfast on the Mirablau (a bar with the best views in Barcelona), then we visited the Cosmo Caixa (a new science museum), after that we have lunch on the Bembi (Consell de Cent street 377) and after that to Laberint d'Horta (a park where you could find a real maze). This is how the people from Barcelona spend a Sunday….
Text: Junko Isogawa
[Help wanted]
Inviting volunteer staff / pro bono for contribution and translation. Please
e-mail
to us.