The first edition for the new series of UT "UT Inspired", which curate the artists from all over the world.

UT Inspired is a world wide design project, curators who are in metropolis become the hypocenter to artists from all over the world who make T-shirt. Curators will choose artists and give a theme from UT, so we can see various arts as the artists will be inspired from each theme.

The first curator is "Vasava", a creative team based on Barcelona, Spain, which have many clients, and set out numbers of collaboration projects. The theme is " FOOTBALL". 16 artists will make them with their own image. You will find a printed message from each artists on the inside of neckline.
You can buy them only UT STORE HARAJUKU. and UT website, and will find new design with different theme each month until December.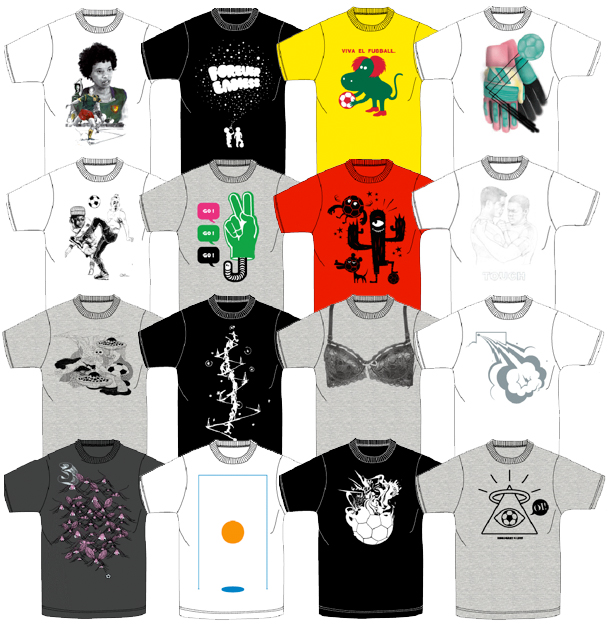 Design from left above to right;
BERTO MARTINEZ, EMIL KOZAK, GENEVIEVE GAUCKLER, PMKFA
JAMES BLAGDEN, HAPPYPETS、DR. ALDERETE, SILVA PRADA
SAIMAN CHOW, MARIO HUGO, WILLIAM CHAN/:PHUNK STUDIO, RINZEN
KUSTAA SAKSI, SYRUP HELSINKI, UNIVERSAL EVERYTHING, VASAVA

Release in the middle of July/Size S-XL/ Two colours, 16 designs/ 1500 yen each
Check out UT website for more detail and purchase.

Information:
UNIQLO press room/Yoko Ishikawa, Harumi Satou, Kaori Ashizawa
Tel: +81-3-6272-0030

<!- Rubicon OS Player -->