An innovative animation tool, Flash already marks its 10th anniversary now. Flash has been developed especially in the web field, and now there are not many websites which don't have Flash. Also, it doesn't stay only in the web world anymore, and has been used in other various fields as well. An event symbolizing such situation, "Adobe presents Motion Award" (hereinafter called Motion Award) was held in Harajuku Laforet Museum for 3 days from December 15th.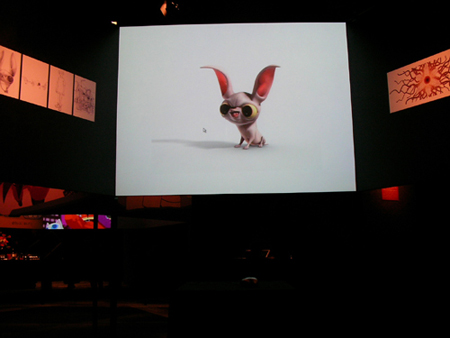 The exhibition included works with a theme of "Creative from Flash" by 6 international artists, and also winning works from public entries which was divided into total 6 sections such as Interactive, Animation, Short Film, etc. Please have a look at the "Motion Award" official website for the details of winning works and other information.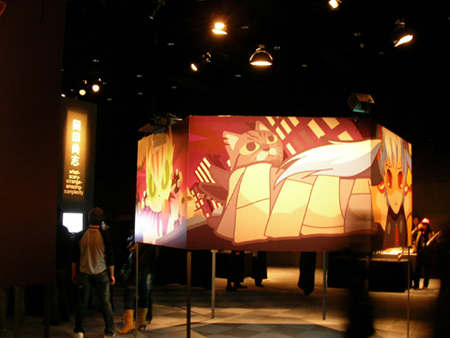 Stepping into the venue, first thing I noticed was exhibition space. Outside there was a hexagonal booth with images designed by each artist of the booth, and inside was the installation space. Inside, artworks by the artist were exhibited with the concept, and gave each work's distinctive impression to the audience.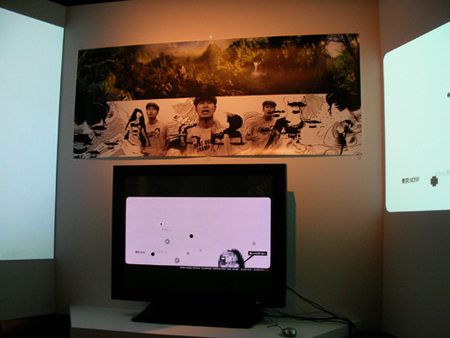 At the booth of an art director Eric Cruz (W+K TOKYO LAB), who recently produced HIFANA's music clip "WAMONO", there were lots of works he has ever produced, including a scroll picture of "WAMONO" and a Flash presentation of W+K TOKYO LAB displayed. The scroll picture especially showed their concept "HYBRID".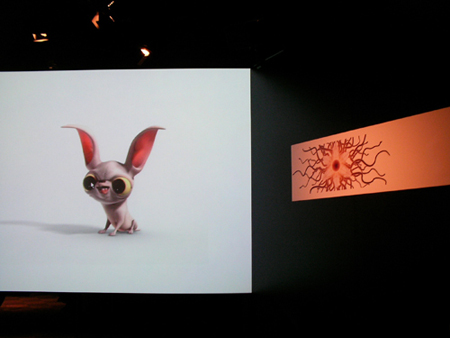 TOKYOPLASTIC exhibited "The Little Fella", an interactive 3D animation in high-resolution, which has a creepy but adorable dog on the screen showing various expression to the mouse movement. More communication to this work was offered by the action which occurred when touching the dog's body by mouse. Moreover, their drawing works were also shown, which made us conjure the image of the process before the finishing form of the animation.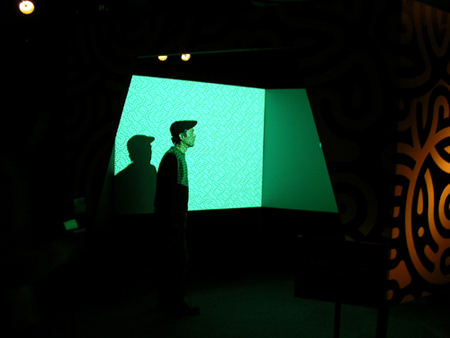 UNITED BOWS presented enigmatic ambient work, which changes the pattern image on the screen to the shape of people's shadow projected on another place.
The organizer and producer of this "Motion Award", FURI FURI COMPANY also showed their own work, an animation short film with Ninja motif "SHINOBI BLACK&WHITE". Staring intently at the smooth scene change and its good tempo, I totally forgot that it was produced with Flash.
Grand prize winning work from public entries, "PICTAPS" by Masayuki Kido was a great work showing all the possibilities of Flash and also the sense of humor.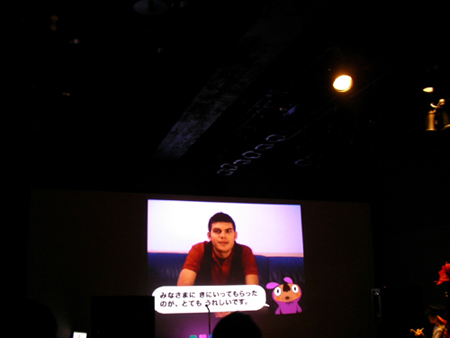 Speaking of humor, it was impressive that a character appearing on "Homage to the Grip" by Tom Haenni was making a translation. He said he made the work inspired by his travel experience in Japan.
In addition to the attractive faces of invited artists, "Motion Award" also holds strong judges. As one of the judges Koji Uchiyama said, there were many works forming a message of "how to unexpectedly use the function of Flash", which all inspire people who actually use the Flash. Some of the great works even had an aura as one art piece, without showing existence of Flash at all. The competition was targeted high school students and above, and actually the winners included a high school student too. I felt the possibility of Flash growth, and continuously having such award will surely inspire the motivation of unknown Flash users.
Adobe Presents MOTION AWARD
Date: December 15th – 18th, 2006
Place: Harajuku Laforet Museum
Sponsored by Adobe Systems Incorporated
Organized by Furi Furi Company
Text and photos: Yasuharu Motomiya
Translation: Yurie Hatano
[Help wanted]
Inviting volunteer staff / pro bono for contribution and translation. Please
e-mail
to us.