As you know reading the interview in last month's issue, Furi Furi Company did an exhibition from November 2nd to 14th at Harajuku Gallery. They have mainly been participating in overseas exhibition until now. This first exhibition in Japan showcased their `strong' works different from their previous 'cute' works.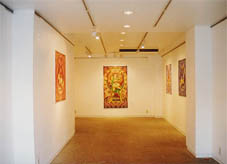 This exhibition is called "Furi Furi Thangka". Thangka means a Buddhist illustration in Tibetan. The figure of Buddha looking like a woman appears in seven pieces of a huge illustration. Their figures are illustrated from the context of animation or manga with a mandara mixed from the context of techno on their backgrounds. This remix style called "Spiritual Manga Style" that remixes Buddha in Buddhism and mandara in Tibet, China and Japan and animation/manga culture is one of the way of expression to exactly symbolize their generation's spiritualism.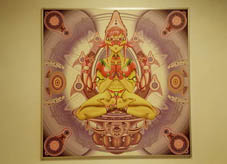 Ryosuke Tei, the president of Furi Furi, has been working on creation, thinking deeply about his identity as a third-generation overseas Chinese creator, as an Asian. He loves Buddhist culture and had once been wandering about Asia as a backpacker. For him and other members of Furi Furi, Buddhist culture is a real existence in their creations and lives.
The illustrations were displayed symmetrically in the simple space with calm lighting. By not making a display of their eccentricity and just showing the illustrations plainly, the space of Buddhist illustrations stands out with solemnity. Also, the burning incense and trance music strengthen the space.
What I was interested in was the surface of the paper having depth and weight. Looking closely at the illustrations, it's a particular paper with the texture of canvas, and in layers of two materials on the surface. At first glance, the texture doesn't look like paper. This particular output was realized in cooperation with Too Inc. This output technology made their illustration more realistic. Tei has originally pursued how to show fine arts as a contemporary artist, so his approach to create such a simple space is convincing. They showed 'strong' Furi Furi that has never been seen before.
Read more ...

1
2
[Help wanted]
Inviting volunteer staff / pro bono for contribution and translation. Please
e-mail
to us.