The Furi Furi Company just started in January, 1998. They have been featured in various media for only a year and a half, and have been recently watched. Their works mix cute characters and cool graphics and are gaining a reputation at domestic and foreign exhibitions. We interviewed Ryosuke Tei who is the president and designer, about the activity of Furi Furi Company and their exhibition which will be held in November in Tokyo, etc.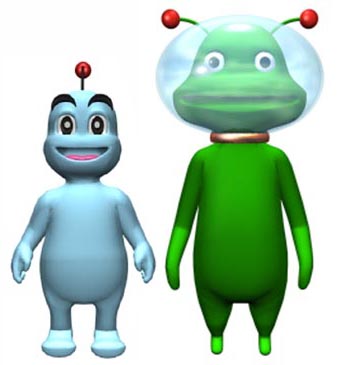 First of all, please tell us who you are and the current activity of Furi Furi Company.
My name is Ryosuke Tei, president of Furi Furi Company. I was born in Osaka as the fruit of my Chinese father and Japanese mother's love. I'm a third-generation overseas Chinese. That is a really important factor for me. I spent my impressionable young days at Chinese school in Kobe and then went to an ordinary prefecture high school.
At that time I began to be worried about my national characteristics. Then I entered Oil Painting Course, Department of Painting at Tama Art University, and started to explore my identity through my creation. I had been active as a contemporary artist while I was at university based in Tokyo. After leaving university, I set out on a wandering journey to Asia (Japan -China -Tibet -Nepal -Thailand -Japan) for six months to explore my identity more. I learnt a lot and experienced something precious during my stay in Tibet for three months working as an interpreter (as I can speak Chinese). It is not too much to say that these experiences shaped who I am today.
After coming back to Japan, I restarted my activity as a contemporary artist. And then the Hanshin earthquake happened. Mercifully, my family wasn't hurt, but my parents' home was completely destroyed. So I decided to change my job with a sense of responsibility as the first-born son, and declared to stop my activity as a contemporary artist and got a job with a game company. I left my company after two years and became a freelancer. Then I founded Furi Furi Company with my wife Miho Sadogawa in 1998. This is my brief personal history.
As for the activity of Furi Furi Company, we're doing various things. We challenge anything we feel is interesting. Currently we're working making games, illustrations, editorial designs, web designs, visuals, VJ, MD, etc.
Furi Furi Company, Ltd. is a design group founded in 1998. It currently has five members, President Ryosuke Tei, Miho Sadogawa (Illustrator), Itsuo Ito (Illustrator), Taro Yamada (Editorial Designer), Osamu Iwasaki (Web Designer, Visual Creator, VJ) and we each have different backgrounds and roles. We're working in a happy, pleasant but hard atmosphere since its foundation in 1998. We've made a contract with 'CWCI' for the business rights in North America.

What kind of things are each of you doing?
Ryosuke Tei: I'm working mainly for management and sales business. I usually produce concept designs, 3D graphics and games. For Furi Furi Thangka, I was in charge of concept and total design.
Miho Sadogawa: I'm making illustrations in the animation/manga style. I designed the character for Furi Furi Thangka.
Itsuo Ito: I'm making cute and cool illustrations and characters for game software. I am also writing a serial web cartoon titled '6B leader' slowly, at my own pace.
Taro Yamada: I'm in charge of editorial designs. I'm making printed matter, books and our original goods.
Osamu Iwasaki: I'm in charge of editing visuals and web designs. I'm also responsible for the shop. I'm good at simple HTML and Flash. I sometimes play as a VJ at parties.
As we each have strong abilities, I (Ryosuke Tei) decide who should collaborate for each work and tell the concept to the person in charge. Then they start working with each other.

Why do you take a form as a company and not a design unit?
The reason why we take the form of a company from the beginning, not a 'design unit' that just collected freelance creators, is because we wanted to declare we make reliable creations in society.

The name 'Furi Furi' is impressive. How did it come about?
It doesn't have a certain meaning, just struck me when I was walking around. There were some other cool names, but they weren't impressive to me. The name Furi Furi stuck with me for a while. Once you know the name Furi Furi, you cannot forget it. It's also an important factor that it's not a cool name. It doesn't have any fixed images. I like the name very much because we can easily change ourselves by it.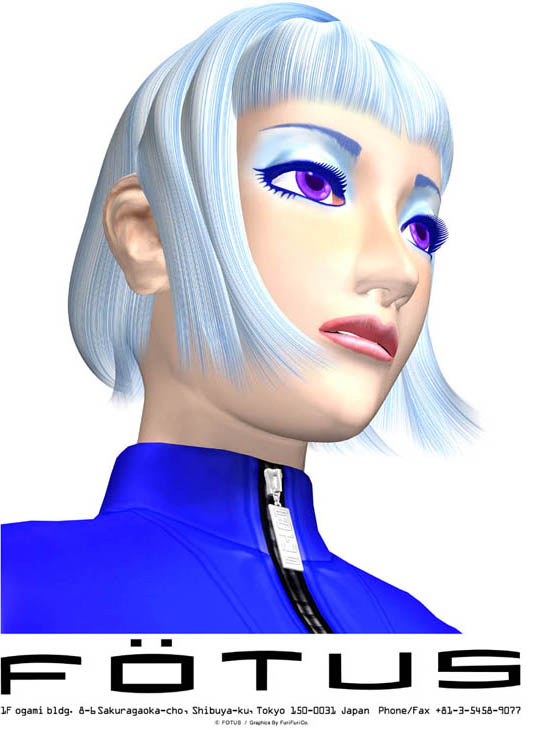 You have been producing client works such as 'FOTUS'. What do you think is the factor that fascinates Furi Furi Company clients?
Well, I'm now wondering if Furi Furi succeed for client works (laugh). As it's said that the first three years of management will tell in a company, I don't think we're successful in only one year's activity. I'm not taking an optimistic view as a manager. I'll also do my best to do good work as a creator. I'm not sure what the factor is, but if pressed I would say that it's our 'rhythm'.
Read more ...

1
2
[Help wanted]
Inviting volunteer staff / pro bono for contribution and translation. Please
e-mail
to us.