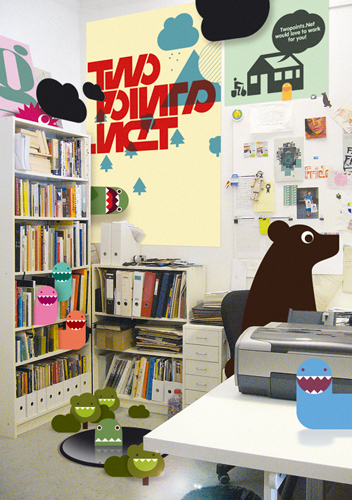 This month's SHIFT cover was designed by Martin Lorenz, a founder of Twopoints.Net based in Barcelona. As a start of year 2007, SOSO will hold his exhibition of his project called "The One Weekend Book Series" during this January. Please enjoy his exciting journey simultaneously with the exhibition, cover and this interview.

Please tell us a bit about yourself.
My name is Martin Lorenz. I am the founder of Twopoints.Net. I was born in Hanover, moved at the age of 18 to Darmstadt to study communication design. After three years i felt the need to change teachers, school and country and moved to The Netherlands, learned dutch and graduated after two years at the Royal Academy of Arts in The Hague with the specialization in graphic and typographic design. My teachers were corporate and type designers of international reputation. So i took the opportunity to specialize in corporate design and rediscover my love to type design. In 2001 i moved to Frankfurt and worked there for 4 years. We, me and my wife, traveled a lot these years and got to know a lot of places. The place we liked the most was Barcelona. The city, the people, the weather, the food, all the things that make life worth living, we found here in Barcelona. So, I learned Spanish and moved to Spain.
We now finally settled down and founded a corporation specialised in strategic design and communication. Besides doing design projects we teach in design schools, but also organize design workshops and give lectures.
Since 2000 we initiate aswell our own projects. The projects we released until now are "The One Weekend Book Series", "Chinese Whisper", "Poster Series", "Color Combinations" and "Cover Of The Week".
Besides all these activities i am doing a doctoral research on design at the University of Barcelona. This year I'll start with my doctoral thesis, which i will develop in corporation with other european universities. Often designers and academic investigators live in paralel worlds without being able to exchange information, knowlegde and experience. Even though this would mean an enormous enrichment for both fields. My aim is to expand my investigation and intersect branches as design, sociology, philosophy and economy in order to improve the capabilities of design.
How do you think the difference of art scenes between Frankfurt and Barcelona?
These both cities are impossible to compare, they are just too different. Frankfurt is a nice and cosy city. It has a very small art scene, very much connected to two art schools, the Hfg Offenbach and the Städelschule. Berlin seems to be more interesting for Artists, so at a certain point in their career they move to Berlin or other big cities. Barcelona is an incredible energetic place. My friend Boris Hoppek once said that since he lives in Barcelona he do not feel the need anymore to travel around the world. There are so many things happening here. It is like the world is visiting you all the time.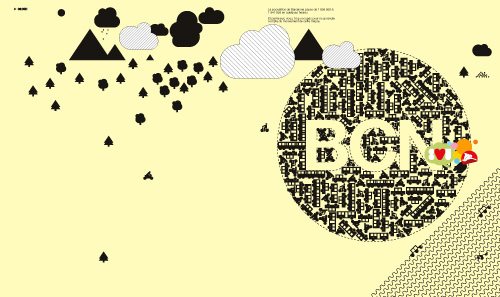 Could you tell us your recent activity including about Twopoints.Net?
Twopoints.Net founded a limited liability corporation for strategic design and communication, we rented a burau in the heart of Barcelona and got an trainee. We hope to employ one more person at the end of the year, so Twopoints.Net would consists of 4 points based at the physical bureau and many others points from our net which work with us occasionally. A good system to manage aswell bigger projects.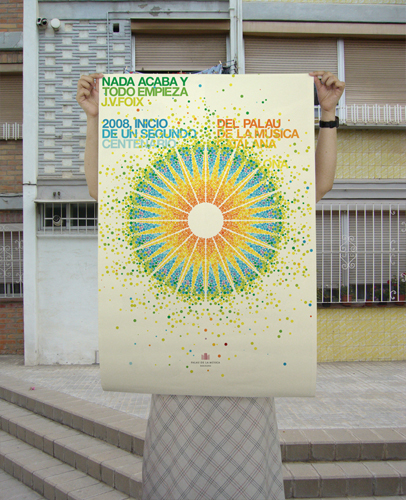 Could you tell us about the ongoing exhibition at SOSO, The One Weekend Book Series? What is the most feature you would like to emphasize?
The One Weekend Book Series is a project we organize since 2003. As the name implies we create on one weekend one book. In each book me and a guest artist are given 48 hours to experience a city, document it and create a visual diary without the use of computers. What this results to is the documentation of a 48 hour search for visual entertainment and the definition of the city visited.
On one hand The One Weekend Book Series reports of places and situations unmentioned in city-guides, on the other hand it gives an exhibitionistic view of the personal state of the reporters. In trying to figure out a city, in this case, they are mostly concerned with creating a book.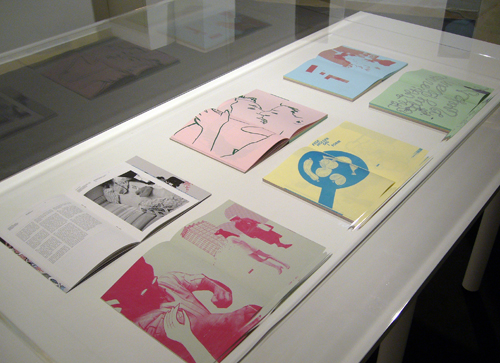 In the last 4 years we created books and exhibitions in Frankfurt am Main, Copenhagen, Berlin, New York City, The Hague, Milan and Barcelona. When the spanish publisher Actar recognized that this project became a big thing, they decided to compile and republish the first five books. This beautiful produced, 300-pages strong book is distributed worldwide since 2006. The publication will be sold aswell at the exhibition.
The exhibition at Soso Cafe shows besides the book, 15 selected uncut original prints of the book and a movie about The One Weekend Book Series by Hey-Presto from Berlin with music by Trafalgar13 from Barcelona. The exhibition at Soso Cafe is the movies world premiere. Don't miss it!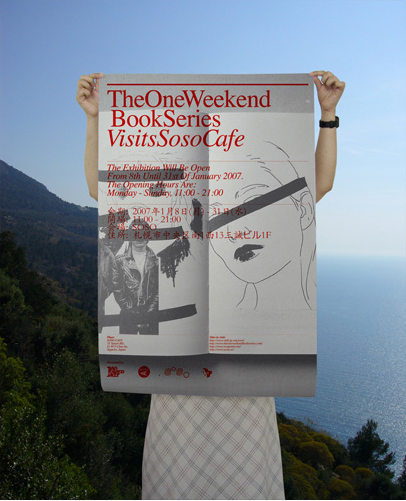 Do you have an exciting story during the journey to show us?
I do not know if this is an exciting story, but people find it entertaining when i tell it on lectures. It is the story about the hairs in the beginning of the New York City book.
We arrived on a friday afternoon in New York City. After a restless night, caused by a terrible jetlag, we arrived saturday morning at the studio of Yoshi Sodeoka. For hours we tried to get started, but our tiredness just didn't allow us to find inspiration. We went out to have a coffee in the neighborhood. Yoshis studio is located at Soho, thats the lower part of Manhattan. So, we went to one the self service coffee shops nearby. I started to sketch whatever i saw. Every piece of New York City seems to be documented on film, drawing or whatever media, hence each drawing i did, looked like a cliche, a copy of something that was already done. So i started to draw the people passing by. Everyone that knows Manhattan, knows how fast people walk. The reason why i drew a series of hairs is that i wasn't able to draw more than the hair before they passed by.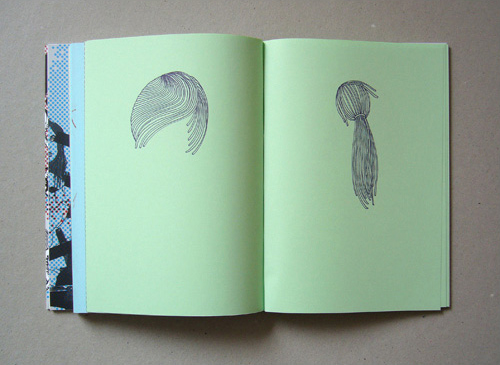 What is the real thrill of this project? And do you have any future Weekend's plan?
Let me quote Sune Ehlers, guest artist of the Copenhagen issue: "It was a grand experience, I've heard a billion cliches in the past about communication through drawings and blah blah blah. But the fact about the "The One Weekend Book Series", in this case anyway, is that this is exactly what I felt we did, communicate. I had never met my two team-players (Kasper Riisholt and Martin Lorenz) before, only talked via email. Our session was, for me at least, a visual conversation. Crouched over the pens and papers we reacted to silly doodles and a weird kind of language took form and took over. It was a thrill."
There are many exciting plans for the future, but as they aren't confirmed yet, i prefer not to talk about them. Just check our site now and then or add your email address at our newsletter mailinglist. We will keep you informed.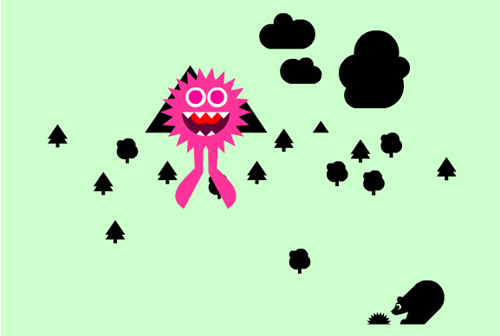 Please tell us the concept of this month's SHIFT cover.
It has a very simple message: Spend more time in nature and you will discover its secrets.
What is your next plan?
I don't think you can call it a plan, but the probably most important thing that is going to happen, will be the birth of our first son in february. You can't imagine how much i look forward to shake his hand.
Please leave a message to readers.
If you like what you saw and read, drop us a line.
Martin Lorenz | Twopoints.Net
Address: C / Bertrellans 4, Ppal 2a, 08002 Barcelona
Tel: 0034 933 185 372
http://www.Twopoints.Net
http://www.TheOneWeekendBookSeries.com
Text: Yurie Hatano
[Help wanted]
Inviting volunteer staff / pro bono for contribution and translation. Please
e-mail
to us.