Can you talk a little about the design of the magazine? Specific influences?
Well, the magazine is a mini-format, which I had seen in Europe for a long time, but it wasn't until Teen Vogue came out that I became really enthusiastic about the size because it just fit the audience and that magazine is done so well. I think it's very commuter-friendly. I love the large-format of V, but you can't exactly fit it into your handbag.
We print on uncoated stock, which I have always loved, but never had a chance to use. It feels really good to the touch and feels more like book or novel paper which refers to the story-telling, biographical aspect of the magazine.
In terms of fonts, each guest editor has their own font. I just thought it was appropriate to try to suit the font to the person. There were some concerns raised about the magazine not having a consistent logo issue to issue, but I think it helps strengthen the concept that each issue is about a different "personality."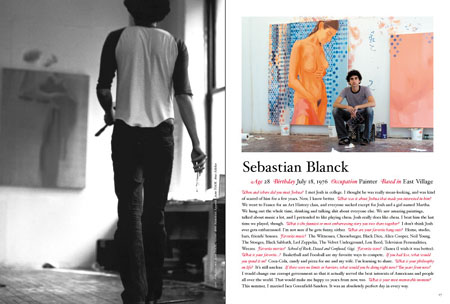 So in the end how do the guest editors feel about their lives being examined in public by their friends? It seems like there is potential for embarrassment.
I think it depends on the person. Secretly, I think that most people love the idea of having a magazine all about themselves. They also have a choice of how deeply they want to delve into their personal lives in the editing and the questions we ask their friends. I have been turned down by someone who I really wanted to do, though. I completely respect that – I'm not sure if I would want to be a guest editor, either.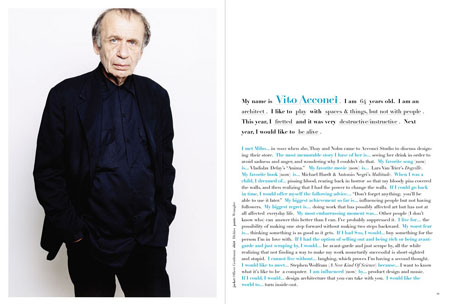 Who is the ME magazine team?
It's a very small group. Makiko Okada does advertising and Angel Chang is editor-at-large. It's more of a hobby for them, though. They both have full-time jobs, so it's hard for them to devote much time to the project. It's great that they want to be involved. I think that it's important to have that kind of support in any project you do.
So where can get a copy of ME magazine?
The second issue is out right now at the United Bamboo store in Tokyo. It's in Colette in Paris, Athaneum in Amsterdam, and in finer bookstores and museum bookstores in major U.S. cities. We have a distributor for North America, but not internationally. It's a slow process, self-distributing, and no one has the time to do it! You can also get it on our website.
Me Magazine
Address: 126 Winding Ridge Road, White Plains, NY 10603
editor@memagazinenyc.com
http://www.memagazinenyc.com
Text: Jonathan Turner


1
2
[Help wanted]
Inviting volunteer staff / pro bono for contribution and translation. Please
e-mail
to us.