A cover design of this month is created by a creative studio "Vasava" based in Barcelona, Spain which raise up the team from only two to eleven members since its establishment in 1997. We ask to Bruno Selles, one of the founder, about their secret of success and the creative posture to manage various projects keeping the balance between commercial and non-profit work.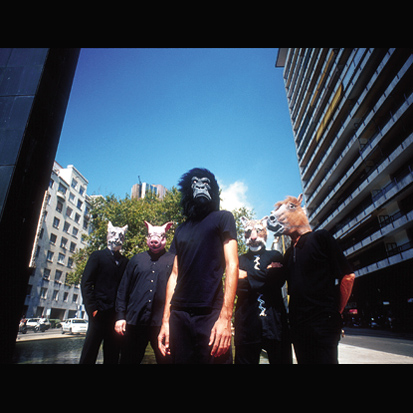 Photographed by Leila Mendez
Could you introduce yourself explaining how you set up Vasava?
Vasava came into life in the summer of 1997. Initially, it was founded by Bruno Selles and Toni Selles. Toni has been a graphic designer and advertising art director for many years and Bruno came from an illustration and graffiti background.
We both left our previous jobs because we got fed up with the usual graphic/ad studio methods and decided to set up our own studio, a place to work in the way we like and where we can control every aspect of the final product.
In these seven years the studio grew up and now the team is composed of 11 persons, with profiles divided between graphic designers, animators, programmers and a project manager, Enric Godes, who joined as partner in 2002. We don't have secretaries or account people and manage every task on our own. However, due to the very different source of our activities we count on a large net of freelance collaborators to work with.
What is your activity?
We are not a studio specialised in any particular field, we have always enjoyed and been very eager to stimulate ourselves with challenging new goals. We have been developing projects in many different fields such as identity, typography, interactive design, publishing and film. Our feature is that we always try to have a balance between commercially commissioned projects -such a festival identity or a logo- and our own projects -such as Place or Vasava Fonts-. We have a new way of dealing with the creative process based on experiment and commitment, and the search for new communication values, trends and fresh ideas is what inspires us.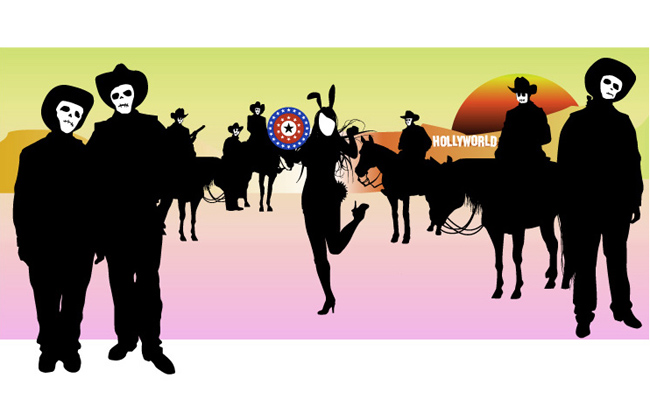 How do you work on a project from the point of view the process? There are eight members so do you often clash with each other over different ideas?
We all have different skills, but we match in the way we like to spread a message, during the first few steps of a project we do brainstorm to find the basic concept of it, and the idea could come from anybody in the studio, once it is clear we manage to share the project tasks until it's done. We never clone previous experiences because we like to give custom made solutions instead of predictable and standard solutions.
Please introduce the latest project?
For commercial work I should mention "1X1. Pixel based graphic design and Illustration", 320 pages book covering all range of pixel applications, from mosaic or cross-stitch (analogic) to interface design or illustration (digital). It includes the work of 73 outstanding worldwide artists and it's available in VALeisure.
For non-profit work, we are finishing a one and a half year project called Place. It is a travel book (290 x 370 mms) that itself travels around, packed with a video camera and a blank T-shirt visiting 36 designers of all over the earth, these artists use these three items to give us their own vision of the culture surrounding them and how it influences the work they do. The project will end with the Place exhibition in Barcelona in November 2004 and the publishing of the Place book. On the website you can see an up-to-date view of how the project is currently developing. Place is a Vasava project sponsored by Caroche Jeans.
We interviewed you in 2001 in the issue featuring Spanish designers. Only three years have gone since that time but do you think your activity or working style and the environment around you (design industry/web) has changed? If so, how is changed?
Yes, of course it has changed, -it has become three years older-. It has matured, many companies have fallen by the way, but a few keep pushing out good work and that is the point to survive, time acts as a filter between solid and weak work.
For Vasava, these three years have been a time to make the studio more professional, and commissioned international works have increased, which makes us happy. However, we have kept the studio to a small size, we do not want to be a 200 person company where the special touch is lost.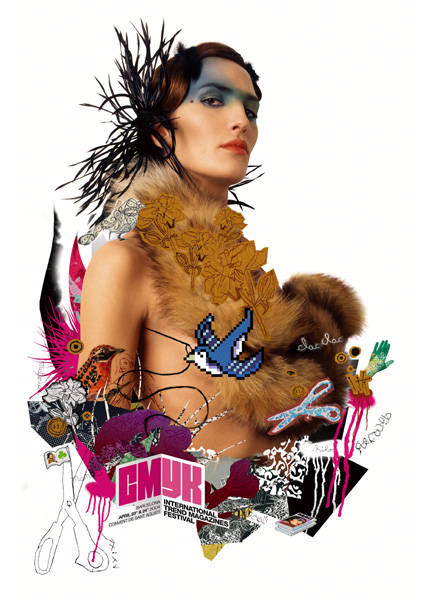 Barcelona has been chosen for a place to hold several international festival such as CMYK, SONAR and OFFF, so we guess we could say this city is a meeting point of international design. Could you give me your opinion why Barcelona (Spain) has developed as such place?
It's amazing how many Festivals and events are happening lately in Barcelona. We are not sure of how all this can be summed up but it makes sense when you go deep into the Barcelona strategy and you realize that is a city that is making a brand of itself. You add warm weather and open-minded citizens hungry for culture and new things, and you get that brand new Barcelona. Probably, the influence of immigration is one of the drivers for this movement.
What's the concept of this issue's Shift cover design?
Its a representation of heaven, in this case Internet's heaven, The mouth is the audience feeling when looking at Shift, slobbering in front a new issue.
Your studio looks fun with green floor and pinball game. Is there any vogue among you (Vasava staff) at the moment? (any game, word, fashion, whatever..)
Recently, we have discovered that we can play studio-squash using a table tennis ball and racquets on a free wall. That's our main leisure occupation now.
Is there any plan or things you want to challenge from now on?
Vasava Artworks' first solo exhibition at ARTAZART (83, Quai de Valmy, Paris) will be held from May 6th to 26th, 2004 showing retrospective of our works and an introduction to our 1X1 book. I hope that all the parisiens will come to visit it!
Also for 2005, we are looking for a new place for the studio and to set up a VA Leisure showroom-shop there.
Please leave a message to Shift readers.
Always read the fine print. Be nice to pets. Reject war.
Vasava Artworks
Address: Travessera de Gracia 314, 1-2 08025 Barcelona, Spain
Tel: (+34) 93 5396430 – Fax: (+34) 93 3211519
vasava@vasava.es
http://www.vasava.es
Text: Naoko Fukushi
[Help wanted]
Inviting volunteer staff / pro bono for contribution and translation. Please
e-mail
to us.