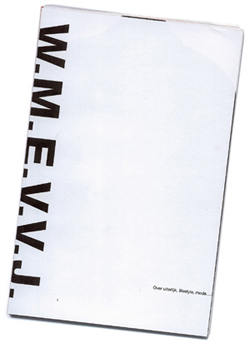 Dutch artist and fashion designer Simon de Boer has created a new collection of "rags" based on the ancient principles of the Cynics. His brand is called W.M.E.V.V.J., Wees Meester En Vormgever Van Jezelf (loosely translated meaning: be master and creator of oneself) a quote from Friedrich
Nietzsche's. W.M.E.V.V.J. does not have a store, it does not have any points of sale. It exists and disappears, only to surface again unexpectedly, wherever. Inspired by the lives and thoughts of ancient cynical philosophers, W.M.E.V.V.J. is trying to redefine the meaning of lifestyle in today's society.
The Cynical Philosophers; The Cynics, who lived c. 445-365 BCE, believed that living a virtuous life, which they also identified with living according to nature, is necessary and sufficient for attaining happiness. They disdained conventional values, such as wealth and social status, which they thought were opposed to living according to nature. The Cynics were never a well-organized philosophical school; Cynicism was more a way of life than a philosophical system. One of the reoccurring characters in all of W.M.E.V.V.J.'s creations is Diogenes.
Diogenes was a Cynic philosopher. He attached himself, as a disciple, to Antisthenes, who was at the head of the Cynics. Diogenes fully adopted the principles and character of his master. Renouncing every other object of
ambition, he distinguished himself by his contempt of riches and honors and by his invectives against luxury. He wore a coarse cloak, carried a wallet and a staff, made the porticoes and other public places his habitation, and depended upon casual contributions for his daily bread.
W.M.E.V.V.J. Stylebook; W.M.E.V.V.J. & Lemon scented tea have created a book, a catalogue if you will. This so called "stylebook" forms the heart of W.M.E.V.V.J.'s new collection of "rags". It's an indecent book in which the story of the cynics and the newly created W.M.E.V.V.J. "rags" comes to live. The book tries to redefine the meaning of "lifestyle". Today lifestyle has become synonymous with a polished world that merely seems to exist of happiness, health, eroticism, beauty and success. It is being dominated by commercial targets while mass-media constantly try to create new trends and hypes.
The new collection is quite pragmatic and has been split into a number of very distinctive "chapters" or themes.
W.M.E.V.V.J. Homeless: the cynics only wore "rags", left over from others. By selecting and using second hand clothing W.M.E.V.V.J. has found a way to express contemporary cynicism. Different items are combined with each other in imaginative ways, the pocket and left over pieces from one coat become a back-pack, sleeves are switched from coat to coat, two dress shirts combined into one and so on.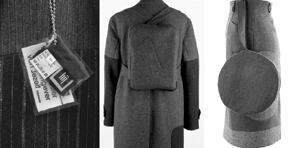 W.M.E.V.V.J. Bankrupt: All the cynic's possessions were to be carried along. One day Diogenes saw a child drinking water using only his hands, without hesitating he reassuringly threw his flask away. Yet another consequence of his struggle for total freedom. As a tribute W.M.E.V.V.J. created a masterly crafted and scissor cut necklace made from an actual Thousand Guilder banknote ($500). The motto: don't spend it just wear it.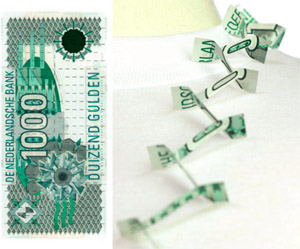 W.M.E.V.V.J. Fashion: a video made from a streaker wearing a paper Mask with face of a homeless person and carrying a sign saying "Yesbody" on the Amsterdam Dam square. The video has become an ironic document of the actual streaking event and the eventual arrest of the streaker, who was charged with "indecent exposure" and "disturbance of a public place". In the accompanying police report it mentions that the streaker was inspired by ancient philosophers.
W.M.E.V.V.J. Fragrance: Diogenes apparently said: "I'd rather perfume my feet because the perfume I spray on my neck and face dissolves into the air while perfume on my feet will end up in my nose". This was Diogenes at his
best, an expert in the field of moralizing ethics. "Staying within the boundaries of the experience" was an often used statement by the cynics and the jargon for this statement is the word "immanent", the magical name of W.M.E.V.V.J.'s fragrance which does not actually exist yet and may never see the light of day. As it was Diogenes again (to whom this fragrance is an homage) who praised those that firmly set out to do something and then decided not to.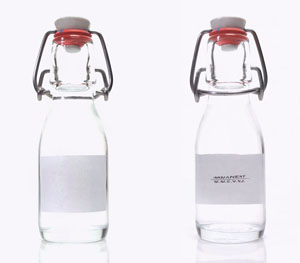 W.M.E.V.V.J. Barbarious: A true "fashion" statement that can only be self-administered, a beard (beard which originates from the Latin word barba, hence barbarious). The cynics wore long rough beards untouched sometimes for years. Today especially it can be a strategy to become bewildered and free in order to break with today's Adonis-tic ideals…
W.M.E.V.V.J. Accessories: maybe the most humorous and fun as this part of the collection consists out of a W.M.E.V.V.J. "fan" scarf (which can easily be mistaken for an Ajax Football Club scarf), Pins (saying subversive things like: Austeiger, Yesbody, Nudist, Outdividual) and last but not least, brilliantly reinvented football jerseys (each shirt made out of two to three "old & second hand" football jerseys).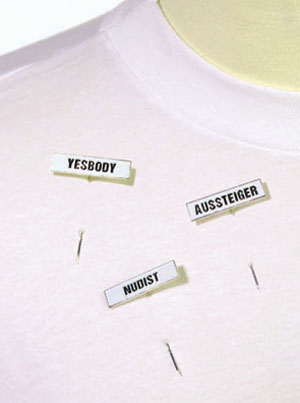 W.M.E.V.V.J. Dress rehearsal rag: The cynical philosophers were true democrats always attempting to find large crowds to address in order to convey their original ideas even though their views could easily be perceived to be strictly elitist. Thursday the 29th of November W.M.E.V.V.J. held its show in Club More in Amsterdam, freely accessible for everyone and anyone. The following movie shows an impression of this barbarious evening, filled with subversive ideas, nudists and some modern day cynics.
Future Rags The "stylebook" is, for now, only available in Dutch but may be published in English in the near future mostly depending on foreign requests and pre-orders. For more information on W.M.E.V.V.J. and the possibility of ordering some of the above mentioned items please visit W.M.E.V.V.J. online. Let's hope it won't be long before W.M.E.V.V.J. surfaces again with a freshly made collection of "rags" or maybe sportswear even.
W.M.E.V.V.J.
www.wmevvj.com
info@wmevvj.com
Text: Bastiaan Rijkers from Lemon Scented Tea
[Help wanted]
Inviting volunteer staff / pro bono for contribution and translation. Please
e-mail
to us.