I first wondered why they chose Osamu Tezuka now and why they picked up 'Metropolis' for the movie from a great number of his works.
Japanese animation has been called 'Japanimation' and regarded highly due to 'Naussica of the Valley of the Wind' and 'Ghost in the Shell'. Osamu Tezuka is the most important pioneer of the anime boom in Japan. However, there are not so many films from his work. Besides, none of them is regarded as the greatest film. Why? I think this question would be the start of making this film. In a sense, it is ironical that his work has a sort of European atmosphere because of the quick tempo and sophisticated impression. There are not so many 'Japanese' parts. It is really interesting as movie material.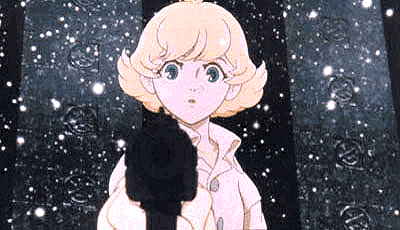 © Tezuka Productions
Katsuhiro Otomo who is famous for 'Akira' and is one of the top creators in the Japanese animation scene and he wrote the script this time. Of course, he must have been influenced by Tezuka's works. He might have wondered why there are no works by Tezuka been proud in the world. Then, why did they choose Metropolis from Tezuka's works. The answer for this is simple, because we can easily guess he might have wanted to reset his favorite area and recreate it. Furthermore, this might be his hope to break the recent boring 'landscape of the future' so that he could recompose through a classical image of the future. He put his sense in Tezuka's style to keep this movie from just being nostalgic. The visuals of 'Metropolis' is a mixture of "Tezuka's works' and 'Otomo's world". It is graceful as well as strained.


© Tezuka Productions
The following is the outline. The hero 'Kenichi' has an uncle called 'Higeoyaji', who is a detective. Higeoyaji is visiting Metropolis to chase a criminal scientist. While they investigate with robot detective 'Pero', Kenichi meets a mysterious girl named 'Tima'. The leader of the Maldok Party secretly created by Sir Red, 'Lock' is an influential person of Metropolis and he aims their lives. Tima and Kenichi run away and they have slight affection for each other. A fearful plot by Red. A movement against Metropolis. They are shown in the powerful landscape by the latest CG.


© Tezuka Productions
The popular characters of Tezuka's works such as Higeoyaji, Lock, Skunk, Ham and Egg appear in Metropolis. The landscape of the huge Metropolis with its great number of people is screened many times and that is the highlight of this film. At the same time, the dark atmosphere of the basement city and maniac taste in the scene of rifle fire definitely reminds us of Otomo's style. The point is Osamu Tezuka cannot participate in this work anymore, and the nuance of style would be really difficult, but they did well. The staff are from the generation called 'Tezuka's children', so they could express a particular tenderness and elegance of his work with the latest visual techniques and their tastes. This is really significant for this film.


© Tezuka Productions
This film also has a face as human drama. The relationship between 'Men and Robots' is not just a fantasy. Crooked love, human desire, dreadfulness of violence has been clearly discribed around Kenichi's pureness and righteousness. We should keep the huge sadness and the next start in our mind. I would say that this film is not for celebration.
Metropolis
2001 / Japan / 35 mm / DOLBY Digital, DTS-ES / vista size /127 min
Authored: Osamu Tezuka
Directed: Rintaro
Scripted: Katsuhiro Otomo
Music Composed: Toshiyuki Honda
Produced: Mad House
Presented: Metropolis Executive committee
Distributed: Toho
http://www.metropolis-movie.com
Text: Shinichi Ishikawa
Translation: Naoko Ikeno

[Help wanted]
Inviting volunteer staff / pro bono for contribution and translation. Please
e-mail
to us.