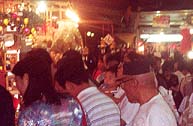 People are nostalgic creatures. I often recall the wooden shack down the street, not far from my house that use to sell snacks. While my mother reminisces on the chickens that ran under her room floorboards. Everyone clings onto part of the past. Something, which they long for. Something, which they miss.
I for one miss the atmosphere of night markets and amusement parks. Prior to arcades and local area network gaming, there existed an amusement park called Kallang Park Wonderland. All that I can remember is that the roller coaster had a lion's head in front, and that there was this dingy stall selling Char Kuay Teow (aromatic noodles fried in sweet sauce). The electric atmosphere of screaming people (from the roller coaster) and the temptation of cotton candy were a tad overwhelming for a little boy like me.
In cosmopolitan Singapore, the new economy has caught on and lifestyles have changed. These memories seem to be non-existent. They say that the hustle and bustle of the night markets are gone, and that no matter how they conserve Chinatown, the throngs of people that use to make their way to roadside hawkers just to savor turtle soup will not materialize. They say that those are things of the past. Or is that so?
Sure, street hawkers have been relocated to hawker centres for hygiene reasons. Theme parks like Haw Par Villa (more popularly known as Tiger Balm Garden) and Tang Dynasty Village have been proven to be commercial flops. Sprawling shopping malls that have everything (well, almost everything) have taken over High Street (The most popular shopping belt during the 60s). Surely that is enough evidence to deem the past history?
The past never really did leave us. It merely grew with us.
In recent times, the lives of the night markets and funfairs have been revived. They have gone mobile (like Mobile TV – a television service on Singaporean public buses). With a motto of "if you don't come to us, we will come to you", Pasar Malams (night markets) invade the housing estates throughout the island with makeshift canvas scaffoldings for two to three days hawking their wares. These can range from Compact Discs, Video Compact Discs, food, plants, fruits and even to mattresses! The combination of food and music sets the mood for a festive carnival with children excited over candyfloss and popcorn.
The funfair though limited, brings back memories of childhood with a new twist. Those seemly primitive games are still here, and as before, are still hard to win. While there are additional rides (all synchronized to techno beats), old rides like bumper cars are set to stay. Afew days later, the fair packs up and life is back to normal. A little distraction to recall our childhood past.

Okay, so they are not proper night markets. Thank goodness for Bugis Village. This full time "night market" electrifies the air even in daylight! The original site for transvestite shows in Singapore, Bugis Village has through the years transformed herself into a mix of sorts. Though no longer holding shows, who would have seen the potential of it as a shopping haven? Cheap electronics can be found here (I should know, I got my headphones here). A fashion treasure throve, as wannabe entrepreneurs set up their pioneer fashion stalls here due to cheap rent. Ranging from body bags to Ayumi visor sunglasses, you will never know what fashion treasure you may stumble upon. Food galore, with open air seafood restaurants, a food court, fast-food outlets, numerous snack stalls and fruit stalls, you better forget about that diet and start eating! Bargain hunters shouldn't give this a miss, as there are antique and furniture stalls and even stalls specializing in Hello Kitty products. The list is endless. The feel is nostalgic. The memories keep coming back.

Spills and thrills
Flashes and splashes
Smiles and frowns
Various prizes to be won
The memories to be
The ones that I see
The rush
The gush
For all to enjoy
The past never really did leave us. It is a part of us. It is within us.
Text and Photo: Fann ZJ From npsea Enterprise
[Help wanted]
Inviting volunteer staff / pro bono for contribution and translation. Please
e-mail
to us.