Also tell us KDDI Art Gallery Digital Guide + Emile Galle AR experience.
From April 7th, 2021, at the KDDI ART GALLERY, which exhibits a variety of artworks including Western-style paintings, Japanese-style paintings, and glass artifacts, KDDI developed a digital human guide to the artworks in the gallery using Mawari's 3D/XR Content Streaming Platform and au 5G MEC as the delivery methods.
In addition, French artist Emile Gallé's vase "Vase with Landscape Design" has been completely reproduced in AR. It appears seven times larger in space, dynamically expressing angles and the world inside the vase that are usually unseen.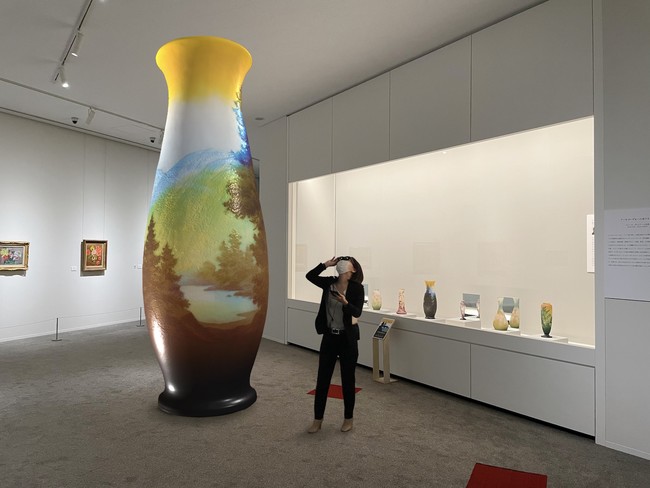 Emile Gallé "Vase with Landscape Design" AR
Could you tell us about "3D/XR Content Streaming Platform"?
Mawari's XR-enabling solution moves the 3D content rendering burdens upstream to the cloud, then streams that content in real time using a proprietary 3D Streaming coding and decoding algorithm or CODEC. Mawari's solution allows developers to seamlessly integrate cloud rendered 3D content with on-device rendered content. Companies have been calling this split-rendering, the ability to select what elements to render on device and what elements to render on the cloud.
Uniquely, Mawari's patent-pending 3D streaming CODEC enables the highest visual quality to be streamed to mobile XR Devices by substantially lowering the heavy processing requirements of rich interactive and ultra-realistic 3D content like real-time digital humans, reducing cost, data size and battery consumption while unlocking scalability.
Mawari's platform is compatible with modern web browsers or applications built with Unreal Engine and Unity, most importantly it is cross-platform and cross-engine by design. The platform's split rendering capability allows developers to decide what content should be rendered in the cloud versus on the end-user device where, for example, UI or lightweight content might ideally be rendered.

Digital Human as a Service (DHaaS) using AWS Wavelength
Could you tell us bout "Digital Human as a Service"(DHaaS)?
Mawari to launch a Digital Human as a Service (DHaaS) using AWS Wavelength on December 15th 2021. Digital Human assistants along with seamless indoors-to-outdoors navigation. This proof of concept features a multilingual, Digital-Human Guide who provides seamless indoor and outdoor wayfinding services in Ginza, Tokyo, all delivered with AWS Wavelength (and the KDDI au 5G Network). For example, users can experience easy navigation from the subway to a shopping mall, and upon entering, navigate to specific shops and find special offers.
Outdoor navigation capabilities of the system utilize Sturfee's Visual Positioning System (VPS) based on high-definition satellite imagery, while indoor navigation utilizes Immersal's VPS based on maps made with pre-scanned images of interior spaces. When moving from outdoors to indoors the system transitions smoothly providing an uninterrupted user experience.
Content delivery to mobile devices is powered by AWS Wavelength (KDDI's au 5G network) and Mawari's proprietary XR Streaming CODEC that enables the highest content fidelity to be streamed to smartphones by substantially lowering the heavy processing requirements of real-time digital humans, reducing cost, data size and battery consumption while unlocking scalability.
In addition, a demo of the Digital-Human Guide will be available in the AWS Marketplace in mid-December, showcasing Mawari's patent-pending 3DXR Content Delivery Platform (CDN) for the Metaverse. This is the first of many services that will be running on Mawari's 3DXR CDN, and the partners anticipate 3rd party deployments of these capabilities globally in locations spanning sports facilities, universities, hospitals, tourist destinations, museums and educational centres.
Is "3D/XR Content Streaming Platform" like 3D/XR real-time CDN?
As the real-world Metaverse materializes in various ways – accelerated through these motivated and massive tech-giant investments – we get closer to a day when AR activation opportunities surround us. And we'll need smart architecture and enabling tech to deliver it.
While others talk about the metaverse future, we are making it happen today. Our technological innovation is purpose-driven – our mission is to provide creative companies and developers around the world with the right tools and infrastructure, empowering them to bring the physical-world metaverse to life on as wide a range of mobile XR devices as possible… as soon as possible.
Like Akamai powered the web behind the scenes as the first modern content delivery network (CDN), Mawari wants to bring the physical-world metaverse to life as the first interactive 3DXR content streaming platform for the metaverse
Do you believe Metaverse is next internet?
It is a natural evolution of today's internet to move toward synthetic reality or what we are calling 'the real world metaverse' – this is where the physical and virtual worlds meld into one – telepresence of both real and virtual humans will be a leading application.
So, what do you think future of our life, using rich interactive 3d rendering contents?
When we talk about MR everybody thinks about telepresence, but they only think in holographic communication (streaming yourself in a 3D communication) however, once we archive the true real-world metarverse, everything from people, their locations, objects and content will be in 3D mixed with the real world. Our ambition is that Mawari's technology is the backbone that is seamless and invisible, connecting everyone in real-time and, most importantly, supporting ongoing innovations.
Text: Editor

[Help wanted]
Inviting volunteer staff / pro bono for contribution and translation. Please
e-mail
to us.