Launching in Montreal, MUTEK.JP 2018 (MUTEK.JP), an event with digital art and electronic music making full use of state-of-the-art technology, was held from November 1st to 4th. MUTEK started in Montreal, Canada in 2000 as the world's most advanced digital art and electronic music festival with a view to develop digital creativity, electronic music, creativity of audio and visual arts, and to disseminate cultural and artistic activities, to work on proposing new live entertainment and to discover and cultivate talented human resources related to cultural arts. MUTEK has been held around the world, including Mexico City, Buenos Aires and Barcelona. It was held in Tokyo for the first time in 2016, and it will be the third time this year. As last year, the National Museum of Emerging Science and Innovation (Miraikan) was a main venue for the event. In addition to that, this year, it also got expanded to 4 days and 4 venues with various works, live performances and programs such as conferences and free workshops of video and music software with more than 70 groups of artists from 20 countries.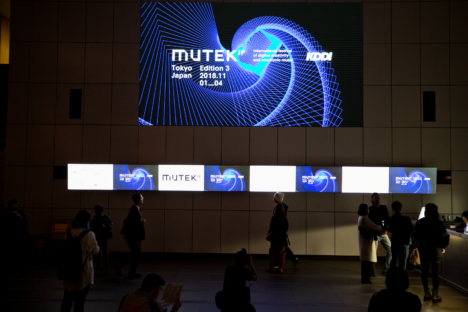 © MUTEK Japan
In addition to a permanent exhibition of the cutting edge of science and technology, Miraikan offers exhibitions and experimental classrooms that children can also enjoy it. At the same time, it is also known as a core music event venue where Bjork has performed with Tesla Coil as a part of its VR music experience exhibition and screening planetarium works by Rai Harakami and Ikuko Harada from Clambon in the past. A staff member of the Miraikan happened to visit the first MUTEK.JP in Japan in 2016, then it started to be held at the Miraikan from the following year. The theme for this year's MUTEK was "BLOCK UNIVERSE." Based on the idea that Spatio-temporal space follows the theory of Block Universe and contains "Future – Past – Present" at the same time, the event offers contents filled with digital creativity exceeding the concept of time that audiences can experience only in the space. This article mainly covers digital art of the event.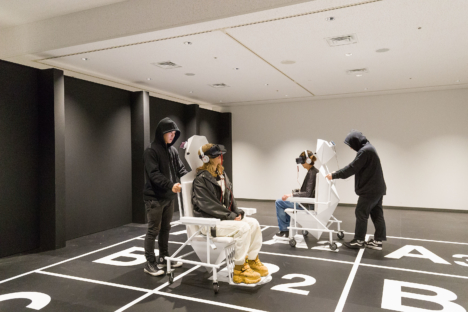 I\I I I\I IE feat. FAMM'IN – 2nd Function, KDDI © MUTEK Japan
Avex's creative label "2nd Function", which has been introducing avant-garde works one after another in music VR / AR content, has collaborated with KDDI to create AR content "I \ III \ I IE feat. FAMM'IN." This work was created in a cubical studio, which is approximately 5 meters in width, depth and height, constructed to effectively utilize 360 ° stereoscopic VR technology independently developed by Avex's VR special team. A pair of two each wears goggles and headphones, and sits on a rotating chair. Then a video and music will start. What looks ahead of the goggles is a pure white cube-shaped space. The surroundings are separated by curtains, and it could look like there is another room at the tip of the curtain. As the guide pushes chair and moves forward in the cube, a partner of the pair on the other chair appears as a completely different person in the virtual space and acts like fueling every time they pass each other. Since they walk around the circle in the room, the sense of direction gradually gets deprived and they end up with not knowing where they are facing. It is a new sensational AR content that people can enjoy the process of reconciliation of fictional and non-fictional worlds. The teaser movie released before the event.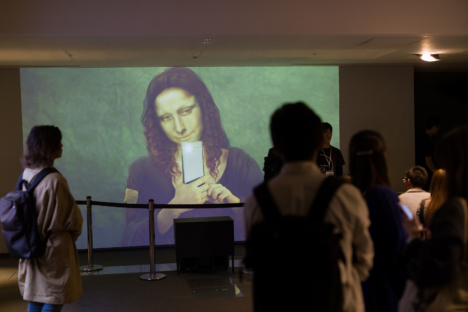 Block Universe #001 – KDDI, da Vinci ers © MUTEK Japan
The art work "Block Universe # 001" by KDDI Research Institute and the creative group DA Vinci Eris is an installation using free viewpoint VR and sound VR technology. Audiences can see Mona Lisa restored in three dimensions through smart glasses. Once they wear smart glasses and headphones, Mona Lisa appears in the back chair and waves. As they walk along the railings, the sound from the headphones also changes. This lets them experience the feel of sounds approaching each time they take steps. Taking a closer look, they will see that it is a whole-body, three-dimensional Mona Lisa with her face down and trying to take a picture with a smartphone. In order to create this Mona Lisa, video footages of an actual model with special make ups were taken with eight cameras in advance. Then, these image data get automatically extracted and combined to create a natural 3D image. It is also possible to convert the video image to 3D in real time. "In the 5G era, days to watch live concerts from a free viewpoint VR even if you do not visit the venue and to communicate with far-away families and lovers in 3D will come very soon." said Mizuta, product planning manager of KDDI.
Read more ...

1
2
[Help wanted]
Inviting volunteer staff / pro bono for contribution and translation. Please
e-mail
to us.