Why do you base and setup your office in Tokyo, Japan?
I've been living in Tokyo for 10 years, we just happened to be here. Takeo and I wanted to challenge the status quo and show that a company from Shibuya can be global from the start.
Could you tell me encounters with Takeo Yatabe?
I've know Takeo since 2012. We first became friends before collaborating professionally. We both have a Electronic music background and we were introduced by mutual friends. In 2015 Shuichiro Iwanami and I decided to challenge the status quo of the underground Music industry in Japan and embarked to bring Mutek to Japan. We travelled to Mexico and Montreal to meet the MUTEK founders and agreed to start the festival in Japan from 2016. Takeo joined us shortly after, in other words Takeo and I are co-founders of Mutek JP. We were in the organization until 2017. By working with digital artists pushing the boundaries of technology, we realized there were too many limitations and technical bottlenecks for immersive art (XR) and decided to start Mawari. Once we established Mawari we left MUTEK JP to concentrate in our vision.
Why dose R&D office based in Tyumen, Russia?
I met Aleks our CTO through online / telework collaboration. After a successful project we realized we had similar objectives and visions and invited him to join Mawari. Since he is based in Tyumen Russia, our main R&D office is based there.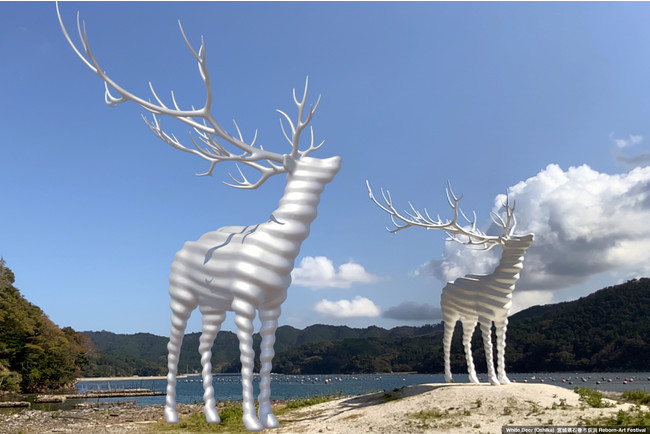 White Deer_AR
Please tell us "AR x ART" project with KDDI.
This is an iOS compatible application for iPhone and iPad, planned and developed in collaboration with KDDI as part of the "au Design project", which aims to bring new experiences to contemporary art leveraging au 5G network and the latest AR technology. The first phase of the project is a collaboration with Kohei Nawa, a sculptor who is drawing attention from around the world.
AR technology, advanced LiDAR sensors in the latest iPad and iPhone series, as well as Indoor Mapping, are used in "PixCell AR", which turns everything in front of you into a "PixCell", Nawa's masterpiece, in real time. In addition to "PixCell AR," we also have "AR x ART COLLECTION," which allows you to view the ARized collection in various real-life spaces, and "White Deer AR," which takes you on an artistic journey to find the divine beast "White Deer," providing an unprecedented art experience.
We also provided and developed the XR streaming technology for the AR content "Metamorphosis Garden_AR", a collaboration between sculptor Kohei Nawa and choreographer Damien Jalet, which started showing at GINZA SIX on June 8th.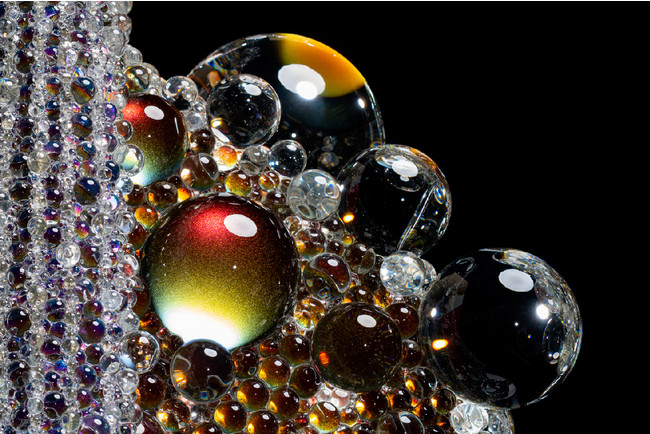 PixCell_AR
Please tell us about the difficulties you faced in the App.
For Metamorphosis Garden AR we leveraged Mawari's XR Streaming compression technology, however in order to reproduce the artistic vision of Mr. Nawa and meet his quality standards, we pushed the boundaries of what is technically possible. In "PixCell AR", we also pushed boundaries of real-time 3D rendering technology to realize the correct expression of the light coming through the reflecting glass of each PixCell bead.

Metamorphosis Garden AR
Could you tell us more about "Metamorphosis Garden AR"?
#ART meets the #metaverse: Metamorphosis Garden AR is an augmented reality installation based with the theme of a world where life and matter, and something in-between coexist. The real and the virtual are in perfect harmony creating a constantly changing world. The installation is located in the atrium of GINZA SIX, the largest shopping mall in Ginza, Tokyo. Users can experience this performance through the ARxART app on their smartphones and tablets.
The experience is powered by Immersal SDK combined with Mawari Inc.'s unique compression technology → we enabled smartphones to watch the performance of an animated point cloud with 200,000 elements streamed via 5G pushing the boundaries of state-of-the-art technology.
When users hold the "AR x ART" application over the actual sculpture, they can experience a new world where the sculpture and the virtual performance are integrated by the spatial recognition technology VPS (Visual Positioning System) and change in real time. Contemporary dance performances co-produced with choreographer Damien Jalet.
Read more ...
[Help wanted]
Inviting volunteer staff / pro bono for contribution and translation. Please
e-mail
to us.