With the opening of the huge Museums Quarter (MQ) in June 2001, Vienna shook off its aesthetic conservatism and moved into the forefront of modern and contemporary art. One of the ten largest cultural complexes in the world, the MQ is a controversial architectural blend, plopping a pair of massive cubes in the midst of cream-coloured Baroque stables of the former Austrian Royalty, now revitalised and converted into exhibition and performance spaces.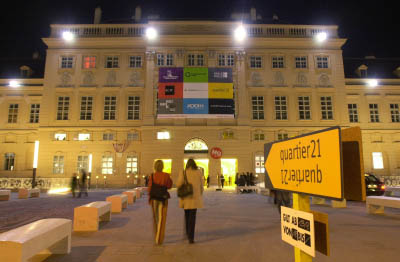 © Ali Schafler
Some 4,200 square metres of this complex – the ground floor of the Fischer von Erlach Wing and the top floor of the Oval Wing, to be precise – have been earmarked for "Quartier 21" (Q21), an interdisciplinary cultural lab for the production, exchange and presentation of contemporary art. In September 2002, twenty independent cultural initiatives, media studios and office units, a multifunctional event arena, and live-in studios for artists-in-residence have finally opened their doors. An art bookstore, small local amenities, and a bar complete the range of services offered by Q21.
According to MQ director Wolfgang Waldner and Q21 concept developer Vitus Weh, the project has been based on the idea of providing an appropriate location for the production, exchange and presentation of contemporary art and culture. The architectural concept follows the rules of urban avenues with their heterogeneous residents, streetlife and permanent changes. The loose pavilion structure enforces the architectural tunnel character of the construction, which, due to building preservation, is not directly linked to the Baroque building substance.
The initial concept of Q21 proposes three central focuses: an area called "Electric Avenue"; the "transeuropa" area; and a multifunctional event space. The "Electric Avenue" stretches along one half of the ground floor of the Fischer von Erlach Wing and is meant to reflect electronic aspects of modern society, such as electronic music, video art, net activism, and futurology. Present contributors to "Electric Avenue" are "Institut Funfhaus", "Medienquartier21″, "Monochrom", "Quintessenz", and "Spoiler".
The other half of this wing is similarly structured and will be utilised by changing international institutions, cultural initiatives, artist groups, a platform of the Austrian provinces, and the Artist-in-Residence programme. Called "Transeuropa", this venture views itself as a cultural hub in the steadily growing European alliance. It will focus on everyday culture in Europe, new trends and initiatives.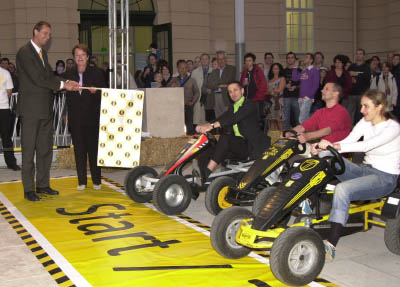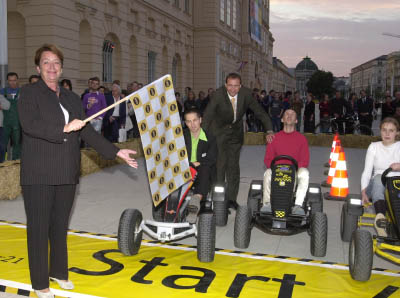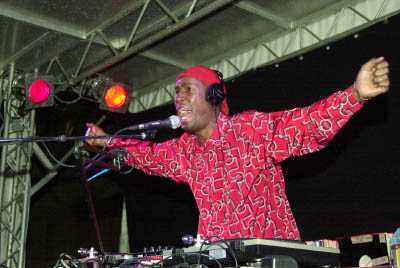 At present, "Transeuropa" hosts "KulturKontakt" , an organisation well known for its commitment to contacting artists in South Eastern Europe; the fashion room "Found For You" of the Austrian designers >Wendy & Jim; and the secondhand shop "Polyklamott". Finally, the Erste Bank Arena, a multifunctional event space with a flexible stage, is available for lectures, screenings, presentations and the like.
The what is called Artists-in-Residence programme of Q21 offers international artists and cultural managers the opportunity to stay in one of the live-in project studios on the top floor of the Oval Wing, where they can create and present their works of art during their stay in Vienna. The idea is that international artists make contact with local artists and keep in touch with the cultural institutions within Q21. The aim of this project is to foster a continuous, cross-border exchange of contemporary art and culture and thus provide the public with an exciting blend of local and international art.
All in all, the mixture of cultural and commercial use in Q21 guarantees a varied networking potential for cultural providers in an entrepreneurial centre that nearly supports itself economically. As all leases offered to institutions and initiatives in the field of digital media, music, photography, film & video, theatre & performance, literature, design, architecture, cultural theory, and crossover initiatives in general are limited to a two-year term, Q21 will always be able to respond to new cultural trends rapidly and flexibly.
Museums Quarter
Open: 10:00 – 22:00
Address: Museumsplatz 1/5, A-1070 Wien
Tel: +43 1 523 5881
office@mqw.at
http://www.mqw.at
Text: Christina Merl

[Help wanted]
Inviting volunteer staff / pro bono for contribution and translation. Please
e-mail
to us.