Chapter 3: Unconditional Communities – Networks of Empathy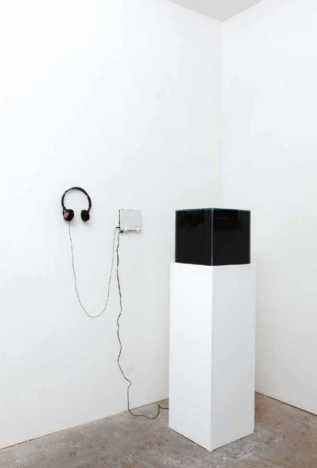 "I as art manifesting I as art", 2010. Glass, paint, audio CD, CD player, headphone, dimensions variable. Co-operation: Manabu Matsushita © Chim↑Pom Courtesy of the artist and ANOMALY
I stopped flipping through pages as I saw this uncommon minimal work. By eliminating unnecessary information, it forms a serene space to face ourselves. To feel empathy toward ourselves. To feel empathy toward others feeling empathy with themselves. There is a mysterious network between everyone overlooking the situation.
Chapter 4: Ballooning Desire – Living for Today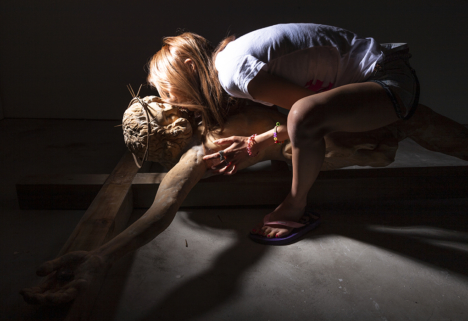 "King & Queen", 2009, Lambda print, 116×77.3cm, Photo: Kenji Morita © Chim↑Pom Courtesy of the artist and ANOMALY
I felt a challenge and desire from Ellie mounting and kissing a plaster sculpture of Jesus. How come? There is no logic to explain why it is a taboo to kiss Jesus. Perhaps it is from an unconscious bias toward religions. The observance of a taboo is necessary to maintain the world and communities. Chim↑Pom focuses on such a social structure.
Chapter 5: Hyper-Surveillance Society – The Will to Freedom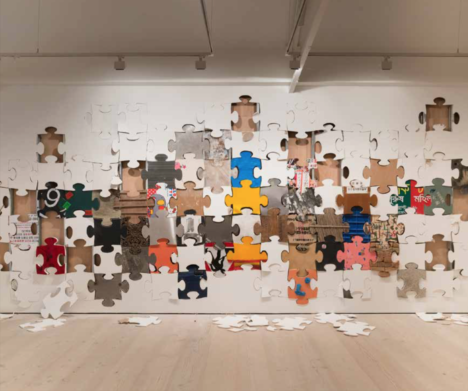 "It's the wall world", 2014-, Installation © Chim↑Pom Courtesy of the artist and ANOMALY
It is a project hollowing out walls of art museums and galleries all over the world. Due to the development of technologies such as the internet, we tend to misunderstand the world as small and close. However, it means nothing if we don't touch and feel things using our living body. This installation moves the actual parts of the walls, reminding us of the importance of physicality.
A new era has arrived, where information and knowledge own power. The amount of information possessed determines controls over one another. Everyone nowadays takes photos of exhibitions and casually post them on social media. Those posts go viral, get attention, and get judged of its value. Chim↑Pom is going the opposite direction, while some art allows photos for such purpose. They provide physical experiences that you can only find by visiting the site. I feel Chim↑Pom will keep existing by interacting with society. It is the privilege of us humans living in this modern society, to see their destination.
Chim↑Pom "We Don't Know God: Chim↑Pom 2005-2019"
Price: 5,500 yen (tax not included)
Publication Date: 4 June 2019
Specification: B5, 292 pages, hardcover, wax coated, deboss printing
Published by: United Vagabonds
http://www.unitedvagabonds.com
Text: Hikaru Nakasuji

[Help wanted]
Inviting volunteer staff / pro bono for contribution and translation. Please
e-mail
to us.