The six courses menu is the four courses menu plus veal on rye crisp and the entrance of Oysters and Mahogany clam. You can take the consommé or bouillon directly from the shell – it really gives you a taste of ocean – together with the oyster from the grill, which has a fabulous pungent taste. The wine selected for this entrance is a Greek nature wine 2017 Tetramythos "Rodotis Nature" Ano Diakopto, Patras, Greece.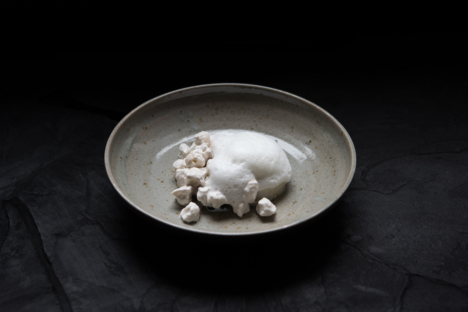 Cod, Cauliflower, Oyster © VOLT
The Scallops come accompanied with black currant, virgin butter and pieces of leek. Therefore, it is served with a traditional bread made in stone oven to dip in the oil. Crazy good.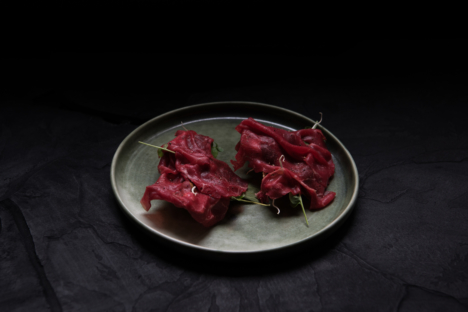 Veal © VOLT
Apparently, the veal on rye bread and ramon sauce is one of the signature dishes. The sauce is a smoked marrow sauce. "We serve it with elk during autumn, Carpaccio style. We serve the crisp with grey peas too," Chef Fredrik Johnsson confirms. The veal has the texture of Carpaccio. French red wine is the common companion of the veal. 2017 Les Foulards rouge "Le fond de l'air est rouge" Montesquieu des Albères, Languedoc Roussillon, France.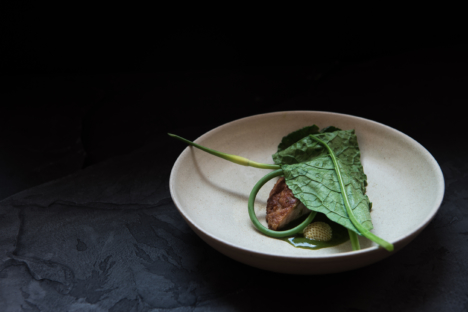 Hen © VOLT
Beetroot is a savoury course which comes with birch sap syrup with woodruff (Swedish Myskmadra) on a pancake. The birch is one of the most characteristic trees from the Scandinavian landscape, commonly known as Björk.
Arguably, the Guinea fowl is one of their top exceptional dishes. In Sweden, the hen or fowl was pretty popular during the past centuries but it became less and less popular due this meat is not as tender as chicken. Hence it is not that easy to cook it well. At VOLT, they rescue this Swedish style serving the breast of fowl with an impressive finish on the meat: people think the skin needs to be crispy but in fact they served tender spiced with kelp from the clear shallow waters of the Baltic sea; it is delicious. Everything is found in Sweden. What it is special about VOLT and how Fredrik Johnsson works is what you can find in Sweden and what can you do with it. This this was accompanied with a 2017 Clotaire Michal "Les Vignes Centenaires" Brouilly, Beaujolais, France.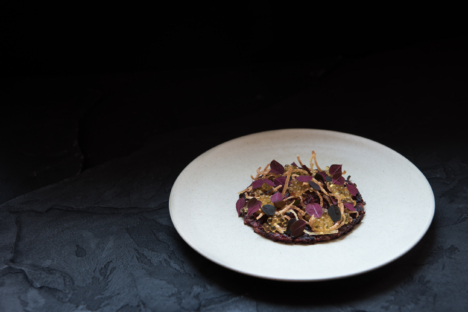 Beetroot, Birch Syrup, Muskwood Mahogany (Myskmadra) © VOLT
The Rhubarb dessert at VOLT is made with forced rhubarb. Apparently, in Yorkshire England they started to grow rhubarb like white asparagus in totally darkness and also in heated rooms. Hence you "fool" the rhubarb to think it is summer, but still is winter. VOLT works with one farmer only, Lilla Labäck, in Sweden who can do this. The chefs grill them and serve them with rhubarb syrup that is flavoured with oil infused with rhubarb root. A side serve is colostrum. Raw milk from cow, it is the first milk from the cow when they give birth to a baby cow. By far, this milk contains more proteins, so the chefs baked it in the oven like a pannacotta but only using raw milk. Then they whip it and mix it with whipped cream. It is served with baked caramel on top. This created a bitter-sweet experience in your mouth. It is served with Riesling Aisles from Rita and Rudolf Trossen from Mosel valley in Germany. "017 Vom Berg Auslese.
To top it off, the famous Swedish sponge cake AKA sockerkaka, it's a total classic at VOLT – the sponge cake with coffee. It's been in VOLT's menu since day one. Arguably this is the best sockerkaka in Sweden. The "fika" time is a traditional gathering in Sweden to take a break from your routine and have some coffee in company. Once again, VOLT delivers a traditional Swedish experience with a modern turn. The coffee is provided by David Haugaard, who works for the Swedish Royal House.
VOLT restaurant
Address: Kommendörsgatan 16, 114 48 Stockholm
Opening hours: 18:00 – 0:00 (Saturday from 17:00)
Closed on Sunday and Monday
Tel: +46 (0)8 662 3400
info@restaurangvolt.se
http://www.restaurangvolt.se
Text: Victor Moreno
Photos: Andrea Jernmark


1
2
[Help wanted]
Inviting volunteer staff / pro bono for contribution and translation. Please
e-mail
to us.