Few professions have experienced more digital disruption than photography. From the arrival of the first iPhone with camera in 2007 to Kodak's bankruptcy in 2012 – many of their patents were sold to companies such as Apple, Google, and Adobe – the shift from analog to digital has been pervasive. The effect? A massive disruption in the business models of editorial work and magazine publishers as they scramble to monetize in a modern marketing ecosystem. Publishers have rushed online, opened creative content bureaus and are looking for new business models to leverage their assets. They morphed into marketing gurus, offering creative services based on their expertise and visionary ability to understand the DNA of brands and mindset of their consumers. Today, in this digital context, an image can be shared and tell a story to thousands of people in no time. It is against this background that The British Journal of Photography (BJP), arguably the most important institution celebrating photography since 1854, recently embarked on a new mission – to connect image-makers with brands, using image-led branded content and experiential campaigns across print, digital, social media and event channels. The studio is partnering with brands to explore cultural and the artistic aspects of modern society. "The concept is simple," explains Marc Hartog, CEO at 1854 Media, the publishing house taking care of the journal among all its parallel activities, "Studio 1854 commissions and promotes standout content for global clients while creating opportunities for our community to earn income making new work."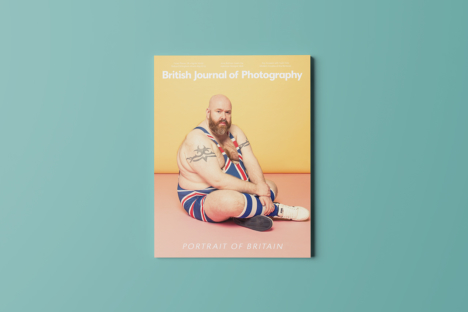 Issue #7876: The Portrait Issue
Photography is BJP's main tool. It believes that photography is humankind's most accessible, powerful and democratic form of communication. Photos have the power to transcend cultural boundaries, provide a unique point of view and create feelings otherwise never achieved. 1854 Media is the creative studio behind the core idea of a visual content agency. It represents an interesting development of the intersection between art and commerce – a new opportunity for photographers to create project-based work in the modern marketing ecosystem. For the task, they run competitions creating paid opportunities for artists to make new work.

Tom Hegen: The Salt Series
For instance, in November 2017 the studio launched DJI Drone Photography Award to spark new ideas and storytelling via drone-shot projects – nothing for the sake of visual aesthetics but more compelling narratives and subject matters. DJI is the world leader in civilian drone and aerial imaging technology. In this case, a drone gives the opportunity to reach places and point of views inaccessible to the human being. Markel Redondo and Tom Hegen were selected as winners. Tom Hegen's "The Salt Series", whose aerial photography explores the impact of human intervention on natural environments whilst Markel Redondo's "Sand Castles (part II)" offers a new perspective on the 3.4 million houses that currently stand empty and deserted across Spain.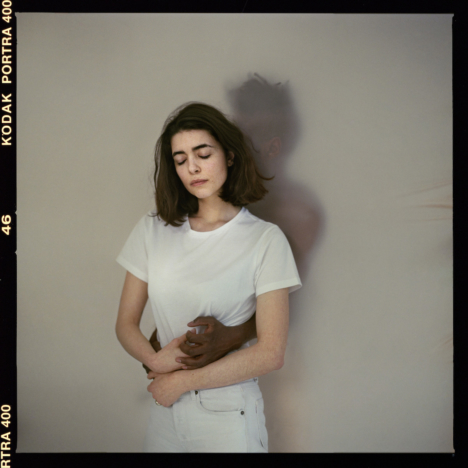 Caroline and Kadeem © Laura Pannack
Apart from prizes and exhibitions, Studio 1854 offers commissioned work for photographers individually. Recently, the studio explored the consequences of Brexit in the UK, raising the question "What does Brexit mean for love?" The studio commissioned award-winning photographer Laura Pannack to create a series of portraits that explored couples forced to contemplate separation in the wake of Brexit. For the task, they established a partnership with Affinity Photo, a professional image editing software for desktop and iPad. Pannack photographed 14 couples whilst the Studio produced several films with behind-the-scenes footage and interviews to deliver a closer approach to the story.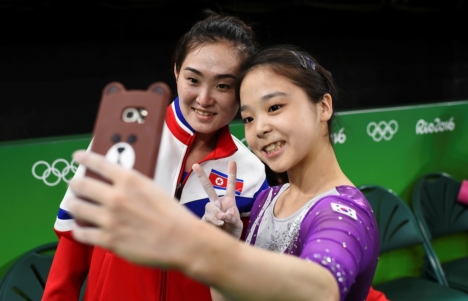 2016 Rio Olympics – Gymnastics training – Rio Olympic Arena – Rio de Janeiro, Brazil – 04/08/2016. Lee Eun-Ju (KOR) of South Korea (R) takes a selfie picture with Hong Un Jong (PRK) of North Korea. REUTERS/Dylan Martinez
In parallel with the rise of social media, photography has arguably acquired greater power and impact in our society than ever. A single image can be shared by thousands of people in no time. For instance, at the 2016 Rio Olympic games, gymnasts Lee Eun-Ju, of South Korea, and Hong Un Jong, of North Korea, took a selfie together. A photo-journalist immortalized the moment – which came in perfect timing at the peak of both countries' political confrontation – and shared it on Twitter, gaining 18,000 retweets in a matter of hours. In this society we live in, images have the strength to instantaneously communicate a message, or tell a story, to vast audiences. In this respect, traditional TV has become an obsolete channel. By 2019, for example, it is estimated that digital will account for more than 50 per cent of all global advertising spend. Today, people engage and interact with the content of their choice. The old one-way broadcast medium of paid advertisement that was forced in your face is definitely over. As a result, brands are looking for new ways to communicate their values in a manner that people can relate to – new experiences that spark people's attention and reach consumers in a rather honest way.
It is this honest approach to visual storytelling – blurring the boundaries between commercial, journalism, and art – that gives BJP's 1854 Creative a unique approach. It is supported by their longtime expertise and network within the photography world, making them a solid choice for brands for novel visual ways to tell their story. Another example is their collaboration with Ecotricity, a company in England selling green power and owner of the largest windmill in the U.K. The brief: capture the untold stories around fracking, which threatens to industrialize the British countryside and have adverse environmental impact. 1854 Creative offered photographers the opportunity to document and tell their own story by documenting fracking in the U.K. Another example is how Creative studio partnered with a tourist affairs agency Visit California to document the state by visually exploring an ultimate vision of the Californian identity.