You are the only Japanese among the nine artists who were selected from various parts of Asia in the exhibition "Imaginarium: To the Ends of the Earth" for children of Singapore Art Museum. What kind of work did you exhibit? What do you want to tell the children?
I am very fortunate that my representative, Sullivan+Strumpf, has been showing my work at Art Stage Singapore and Art Basel Hong Kong, along with developing the initial relationship and meeting with Singapore Art Museum curators on my behalf. They recently opened a gallery in Singapore, and were so supportive in liaising with Singapore Art Museum and coordinating the logistics.
For this project, I adapted a work called "Lizard Tail", to create a large-scale installation for children aged 3 – 12 years. The work is inspired on the unique ability of the lizard to drop its own tail when feeling threatened, and grow a new tail.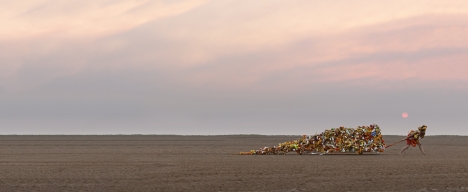 Hiromi Tango, Lizard Tail (Breaking Cycle) #3, 2015, Pigment print on paper, Edition 1 of 6 + 2AP, 810 x 1,700 mm
As part of this work, I created a children's story about three friends named Lizzy, Telly and Zarr, who use their powers of music and dancing to cheer their friend up who is feeling very sad. I wanted to create something that encourages children to talk about how they are feeling, and to use the healing powers of arts engagement to help express themselves, and help themselves and their peers to work through times of sadness or fear to become more resilient. I would like children to keep imagining, and to be resilient by living through Art.
Singapore Art Museum John Tung curator and the team there were so helpful to realize my vision as closely as possible, painting the design on the wall for me, and creating lizard tail shaped tables which were used for the workshop and dance performance. I am so impressed with their commitment and professionalism. I deeply sensed that Singapore Art Museum team was planning the exhibition from a child's viewpoint, considering this perspective at every stage of exhibition planning. I was very touched by this commitment, and very much related to their approach.
NUS Dance Ensemble created incredible momentum for the Lizard Tail project through their opening performance, and I believe children were inspired and their imaginations grew, as a result of their work. I saw myself how the children's eyes were wide open and very watery, which was one of the most beautiful moments I experienced through the exhibition.
Dr. Patricia Jungfer generously supported the production of the booklet, allowing children to take the booklet home to read and colour-in.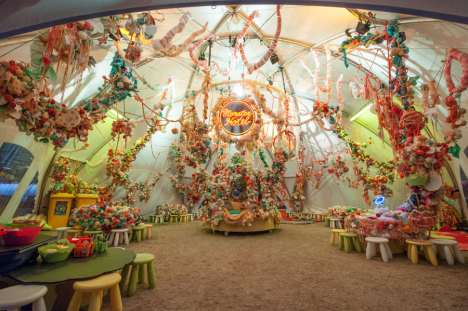 Hiromi Tango, Monster Hotel, 2014, Photo: Mark Sherwood
Installation "Hiromi Hotel" and "Monster Hotel" are unique works. How was the viewer's reaction and impression?
"Monster Hotel" was another work created for children, as part of a festival for young people under 8 years of age. In acknowledging that we all have 'monsters' – fears, feelings, ideas, memories etc, that may be hard or unpleasant to deal with – and giving them a place to come out where we could get to know them better, a goal of Monster Hotel was to help these things be a little less scary for young children. Response from both children and their parents was fantastic – the things that children come up with when you encourage their creativity and honesty about what they are thinking and feeling is just amazing.
"Hiromi Hotel" is a more grown-up version of giving people a place where they can be comfortable to be themselves, and just to rest for a while. The idea of creating a space where anyone can come and chat, and feel comfortable enough to share something of themselves grew out of the earlier experiences of inhabiting public spaces. Hiromi Hotel takes it to another level, where I don't necessarily need to be physically present to encourage someone to share, but the nature of the space creates the conditions for comfort and the inspiration to unwind and perhaps unpack some emotional or intellectual baggage. Given the opportunity, adults respond with a range of ideas, memories and emotions. It is fascinating what we all carry around with us everywhere, behind the façade of what is necessary for our work, school and social structures.
You participated in ART SETOUCHI in Shikoku which is your hometown in 2013. Please tell me about your relationship with the community through the work.
This was a very special project, which brought me close to home. As the traditional fishing industry has been on the decline, many young people have been moving away from the area for career opportunities. We engaged with many older community members who had spent their whole lives there, also with young children who face some uncertainty about what their future will hold without the traditional industry for livelihood. Part of the goal of ART SETOUCHI was to promote tourism, and we created a work together that referenced the fishing industry, using the traditional blue rope and netting as a starting point for a sculptural installation. We worked with people of all ages in the community to create the work, also to participate in a celebratory performance. It was an incredible experience to see young and old coming together in a new way that acknowledged and reflected on the traditional ways of the villages and expressed a new hope for the future.
Read more ...
[Help wanted]
Inviting volunteer staff / pro bono for contribution and translation. Please
e-mail
to us.