In regards to the art presented in this exhibition, his artwork Chinese Art Nouveau recreates a child's view in the dining room of a British style restaurant in Shanghai, and through the window of this artwork we can see how war was burnt onto his eyes while beautiful advertisements fascinated him. Once the war ended memories which were contained within him for a long time have finally been revived within his own colourful artwork.
His art piece from 2014, Tianjin Branch (Chinese Art Nouveau), features a Tianjin restaurant front window, but in place of cake there is a model of a battleship with a doll stuck on the mast. It is not a war painting that recreates the misery of war from an adult's eyes, it is the perspective of a child with an innocent pretend war, and it is characterized by the mixing together of a place where one eats and a place of life and death.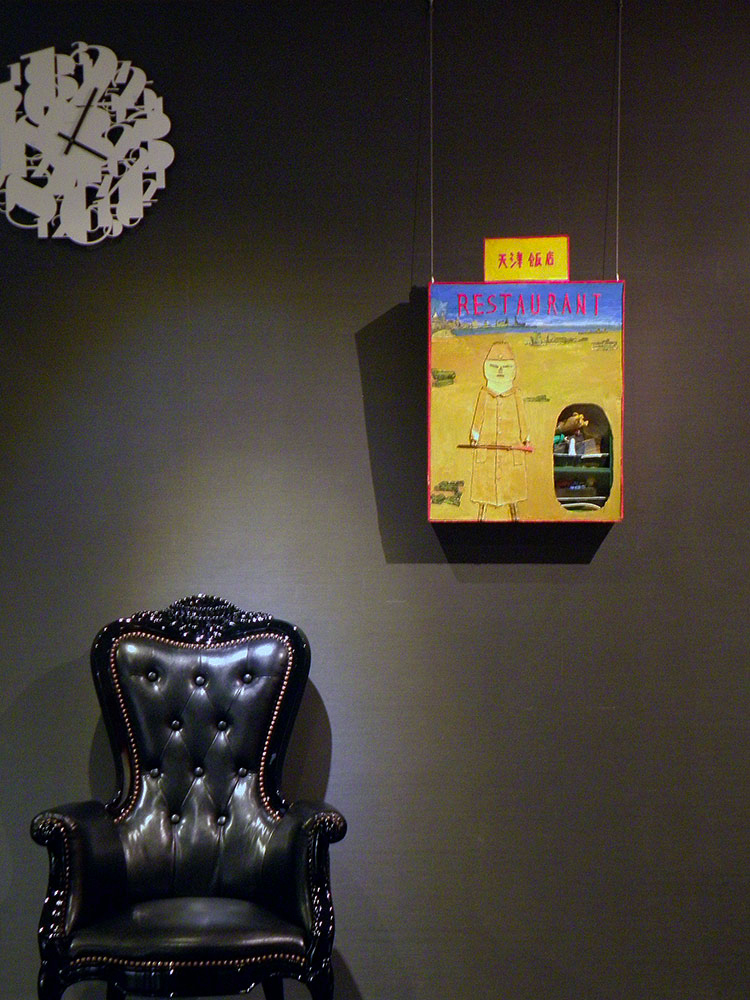 "Tianjin Branch (Chinese Art Nouveau)" 2014, 690 x 470 x 115 mm, Mixed media, A piece of set work, Cross Hotel Sapporo
Being a Pop Art piece which uses advertisements while being a war painting it was not appreciated by the art world in Hokkaido and for many years it was given the cold shoulder, but despite this hostile reception he carried on making his own art. When he won the Excellent Award in the Kirin Art Awards in his 60s it signalled a change in the wind of fortunes for him and since then he has been awarded one international art prize after another.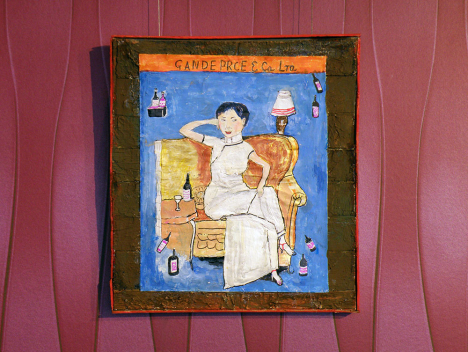 "Chinese Art Nouveau" 2016, 405 x 365 x 25 mm, Mixed media, Cross Hotel Sapporo
His 2001 artwork, Kirin Plaza Osaka Art Museum, is a painting that features the view of Osaka from this very building. It is a collage piece of art that allows the landscape to emerge as a 3D object. When he quit the Zendouten association he became a member of AU Osaka and his work was accepted by famous contemporary artists like Tadanori Yokoo. He received encouragement from professors of prestigious institutions such as Kyoto City University of Arts and Osaka University of Arts while being inspired by the work of other AU members.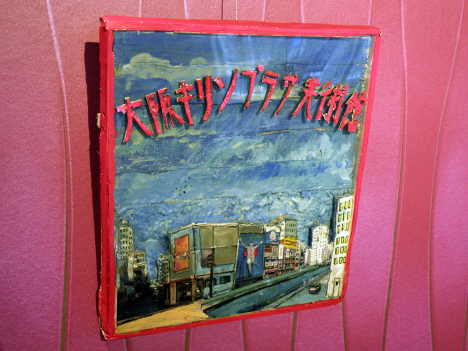 "Kirin Plaza Osaka Art Museum" 2001, 320 x 290 x 25 mm, Mixed media, Cross Hotel Sapporo
Hayashida's techniques are a result of his own self-expression, and while it is conceptual it is also raw art, and so he has attracted international attention including from Art Brut representatives. In particular, he has had received a continuous stream of exhibition requests and is being internationally exhibited by Shiga Prefecture Borderless Art Museum NO-MA, as well as being presented by Tomakomai City Museum's 3rd anniversary special exhibition, with a planned exhibition at the Katarube no Mori Art Museum, his work will be shown at the Hokkadio Art Brut Exhibition being held by Hokkaido Art Brut Network Association at Gallery Odori Museum, and finally he is a specially invited guest artist at the Hokkaido Art Brut Exhibition being held at the Cross Hotel Sapporo at the same time.
Reichi Hayashida Pop Art Exhibition is currently being held at Cross Hotel Sapporo, while also another exhibition featuring his work called Love Love Show The Second is being held at Aomori Museum of Art. This is a collaboration exhibition with an ethnic folklore researcher (deceased) who made records about Manchuria. We can only expect more and more success and appreciation of his work in the future.
MACHINAKA ART-X_edition vol.24
Reichi Hayashida Pop Art Exhibition
Date: April 4th – June 30th, 2017
Place: Cross Hotel Sapporo
Address: North 2 West 2, Chuo-ku, Sapporo
Organized by Cross Hotel Sapporo (Planning department +81 11 272 0051)
Curation: Clark Gallery + SHIFT
Supported by Hokkaido Art Brut Network Council, Mido Harada, Machinaka Art
http://www.crosshotel.com/sapporo/
Text: Ayumi Yakura
Translation: Mike Sullivan
Photos: Ayumi Yakura


1
2
[Help wanted]
Inviting volunteer staff / pro bono for contribution and translation. Please
e-mail
to us.