HIDEKI INABA EXHIBITION "VECTA"
An exhibition called "VECTA" by artist Hideki Inaba of Clark gallery + SHIFT is now being held in the Cross Hotel Sapporo. This exhibition is curated by SHIFT as the 9th Machinaka Art (art in the town) Cross Edition. Machinaka Art is a project which aims to surround the town with art and allow people to enjoy the environment. Galleries, artists, and shops are working together to create an everyday life which includes art.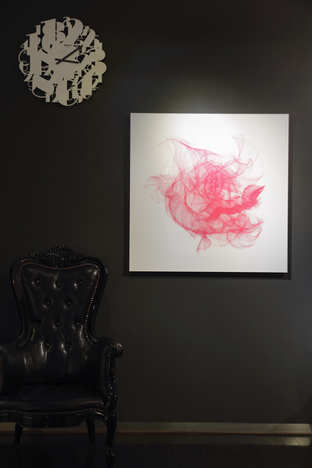 Untitled, 2012, 900 x 900 mm, Giclee Printing with Acrylic Mount
Hideki Inaba started his work from the late 1990s and introduced a graphic art series called "NEWLINE" in 2004. After that he has been having exhibitions inside and outside of Japan. He has also been creating graphic art for Espace Louis Vuitton Tokyo since 2011. The title of this exhibition, "VECTA," was named for the project, which starts from Sapporo, whereby he tries grasping a "new vector". His exhibition in Sapporo is the first one since the exhibition "NEWLINE" at SOSO in 2004.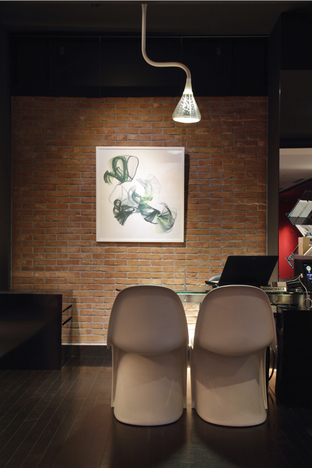 Vecta Newline, 2013, 867 x 800 mm, Giclee Printing on Matt Paper
"VECTA -NEWLINE" is set by the front desk and is the main visual display of this exhibition, it is a developed piece from the first "NEWLINE" exhibition from SOSO. As the word "NEWLINE" means itself, this name comes from a computer control code. When the display and printer find this code they move the position of the output to the head of the next line. The work means a new line policy and a new start. Inaba used to draw in the field of science and engineering, and thus this "new line" would be the most attractive form and the best way of communication for him.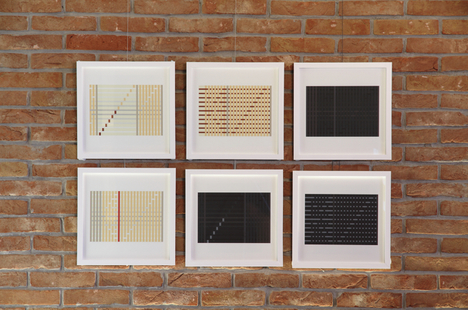 Vecta Grid, 2013, 300 x 300 mm, Giclee Printing on Matt Paper
6 new pieces called "VECTA GRID" are set in the meeting lounge. These are also basic elements of varied construction and you could see his concept of next vector and new line here. It is interesting that the complicated lines and the arrangements inspire people, while there are many "Untitled" works.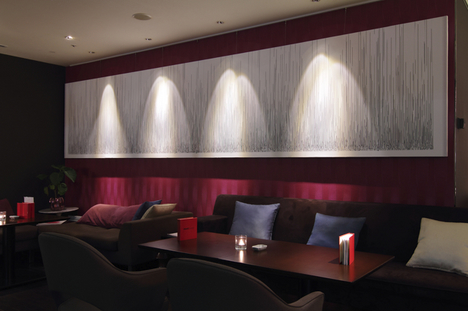 Burst Helvetica 2, 2010, 1,100 x 5,000 mm, Inkjet Printing on Matt Paper
If you go further into the meeting lounge, "Burst Helvetica 2" powerfully catches people's attention. It is a piece 5 meters long and this series was selected as the recommendation by the jury of the 14th Japan Media Arts Festival. The shape of "Burst Helvetica" is inhuman, however, at the same time, based on the typography of Helvetica which is the most popular font in the world, it has convincing strength. The view of the letters randomly meeting and parting is really worth seeing.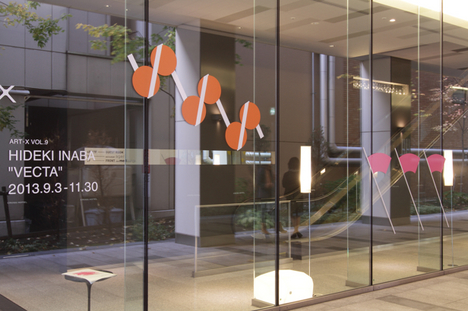 A work that is located on the glass side of the entrance of the1st floor is different from the ones of minute lines mentioned above. This work of successiveness consists of pop colors like a magical pattern and produces a cheerful hotel entrance.
Inaba has done a lot of projects with SHIFT. He has been in charge of the art work of advertisement pages for SHIFT since the first issue of "Web Designing", and this became the opportunity for him to create his own work. Now you can't miss the advertisement page in which his unexpected unique design appears every month.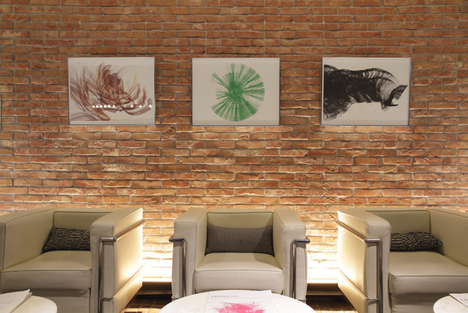 Vecta Newline, 2013, 508 x 659 mm, Giclee Printing on Matt Paper
These works will be exhibited in Taipei and Shanghai. We can't wait for Inaba's next challenge to the world.
Hideki Inaba Exhibition "VECTA"
Date: September 3rd – November 30th, 2013
Place: Cross Hotel Sapporo
Address: North 2 West 2, Chuo-ku, Sapporo
Organized by Cross Hotel Sapporo (Planning department)
Curated by SHIFT
Collaboration: Machinaka Art, Shobunsya
http://crossmet.jp/sapporo/
Text: Satsuki Miyanishi
Translation: Fuyumi Saito
Photos: Yoshisato Komaki

[Help wanted]
Inviting volunteer staff / pro bono for contribution and translation. Please
e-mail
to us.