You have created "ici" (means stone) series by all-wool as your lifework. It looks like a real stone, heavy, hard, and cold. However actually it is light, soft and warm. The gap between vision and tactile is very unique.
This is my first wool-artwork and I have been working till now. Most of motifs I choose for my work are something familiar in our daily life. Stone is a good example of those. Nature things such as stones express many things without words. I think that's why many people love it. The reason to start this project was, firstly, I love the stone of course.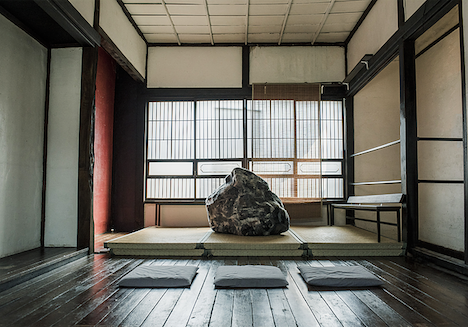 "ici", 2016, 600 x 400 x 1,000 mm, Wool 100%
Another reason is that I hope my audiences feel it is interesting to pay attention to familiar things in their daily life, that is, everything can be more interesting by a little change of the point of view. My artworks cannot be real stone after all. However, the more I create, the more the existence of real stones would be emphasized. I feel my artworks tell me more things as I create. That's how I can keep motivation to do my work.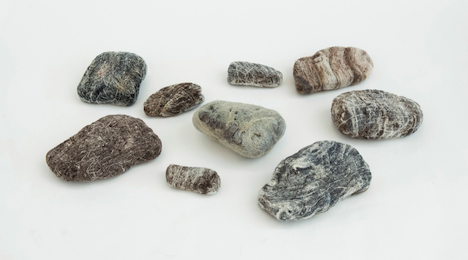 "ici"2011-, Wool 100%
Some of your works are available on the online store of "Museum". We can imagine the stories, past memories, and future possibility of stones from each title.
Each title of my works came from the stories, which are based of the images I found during my creation and composed by short sentences. This is only an extract from long history of each stone. Therefore those stories would stir your imagination. I think it will be very fun to imagine what stories wayside stones might have.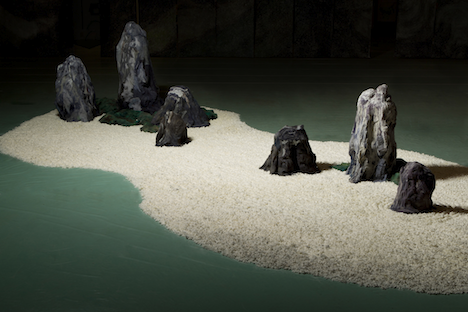 "niwa", 2013, 1,500 x 8,000 x 5,000 mm, Wool 100%
You will have personal exhibition at Clark gallery + SHIFT in January 2017.
It will be the exhibition that focuses on the series works of "ici". One of the exhibits is "niwa", which is a large wool-stone made garden and its maximum width is 8 meters long. Any specific motifs were not used in the wool-stones that I created. These stones represent the concept of stones in my head. The culture of stone garden is a kind of shapes of nature expressed by the owner. The stones that I have created are exactly like that. The series work of "ici" are started from the idea that I wanted to I express the nature and as revolutionary approach, I wanted to express this concept spatial.
Please let us know your feature plans.
My desires for creations are really huge. In addition, I've got much idea of where to exhibit my works on the both field of art and textile. I hope I can realize my ideas one by one.
Text: Ayumi Yakura
Translation: Haru Murayama, Shigeru Nakamura

[Help wanted]
Inviting volunteer staff / pro bono for contribution and translation. Please
e-mail
to us.